R. Kelly and the Year of Celebrity Semi-Reckonings
Allegations against the singer are making headlines again. But 2015 has shown how little headlines sometimes matter.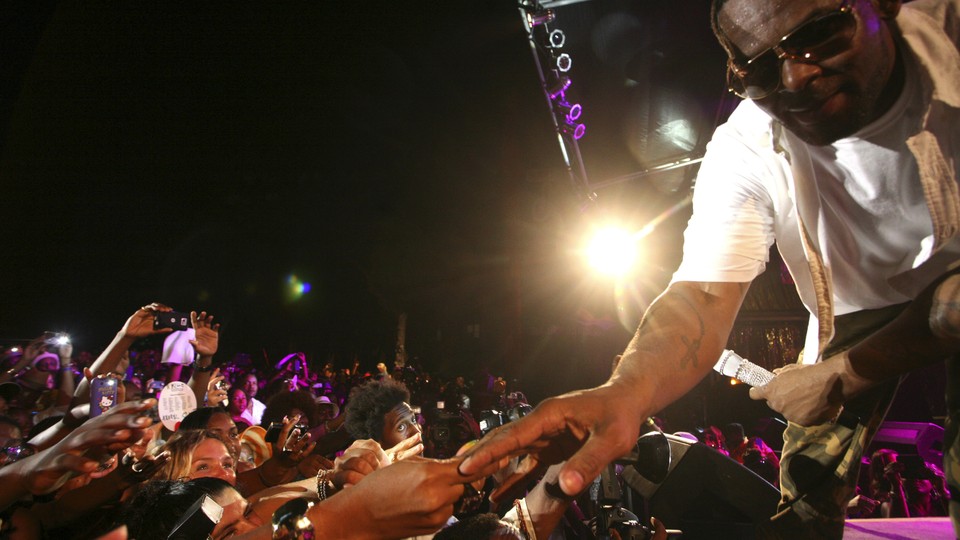 The question of what should happen when popular public figures are convincingly accused of private vileness is difficult, and it's not going away. It's a question both on an individual level—can I enjoy this person's music, or movies, or athletic feats, knowing what they might have done?—and a cultural one, about whether to stop rewarding folks who may have gravely hurt others.
Those are both questions of should. But the answer to the question of does—what does happen to these people?—is different. This past year has been full of examples of celebrities' ugly actions suddenly becoming public—and their careers surviving, except for in the most extreme cases.
On Monday, R. Kelly walked out of an interview with Huffington Post Live after Caroline Modarressy-Tehrani brought up his alleged history of preying on underage girls. Actually, she didn't quite bring it up: She politely, confidently asked about the fact that sales for his new album The Buffet were lagging, and read tweets from fans who love his music but are creeped out by him personally. He then started to babble, mostly to keep her from asking follow-up questions.
But that filibuster contained an interesting depiction of the dynamics around a figure like Kelly, who's been making successful R&B for two decades but who's been repeatedly associated with—though never convicted of—having sex with minors. Kelly's response, basically, was: I'm still selling out concerts, I still have fans who love me, who are you to tell me that my personal life is interfering with my professional career? "When I step on that stage, which is my office … if I hear what you just said, I will never show up to that venue and any other venue again," he told Modarressy-Tehrani after she read a skeptical fan tweet to him. "Until then, I'm going to continue to do my R. Kelly."
The logic isn't airtight. Obviously there are many people who struggle with reconciling R. Kelly's music and persona; if they're in the front row at one of his concerts, they probably aren't going to air that frustration there. And yet, Kelly is right that he has a core of fans who don't care about, or don't know about, or don't believe, the accusations against him. In a feature for New York earlier this year, David Marchese talked to concert attendees who fell into that category. "If he was found guilty in court, that's a different thing," one woman said. "But there's life and there's music, and I can separate the two." Another guy hadn't heard of any scandal, period.
The accusations against Kelly are very old, with many of them dating back to the '90s and early '00s. Yet they've received renewed attention recently, in part because Kelly's lyrics have become explicitly filthy for the first time in a while, but mostly because of media coverage gaining traction online. It's impossible to say whether the poor sales for The Buffet can be blamed on this scrutiny. But the way that his awkward HuffPost interview went viral this week certainly means that a lot of people have just been reminded of the stories about Kelly's past.
It's tempting to use the delayed backlash against him to spin a narrative of 2015 being the year when celebrity bad behavior finally faced a reckoning. Bill Cosby is the ultimate example, with the longstanding accusations that he drugged and sexually assaulted women suddenly getting major press attention, resulting in revoked honorifics and new lawsuits and criminal investigations against him. It was a long fall, one that only happened after dozens of women came forward publicly with horrifying details and a judge unsealed a damning deposition from Cosby. 2015 began with a number of Cosby's friends and former co-stars standing up for him; by now, though, he has almost no public defenders other than his lawyer Monique Pressley, who recently filed a defamation suit on Cosby's behalf against seven accusers.
Dr. Dre also caught flack in 2015 for very bad behavior in his past. The release of the N.W.A. biopic Straight Outta Compton and his comeback album Compton: A Soundtrack led some women to repeat stories of being abused by him in the '90s—stories that he'd never really denied. This time, after the former music journalist Dee Barnes wrote a powerful essay for Gawker about the time he attacked her in a bathroom, Dre publicly apologized to "the women I've hurt." Apple, who employs him, then put out a statement saying they "have every reason to believe that he has changed."
Cosby aside, the attention given to famous accused abusers' pasts this year hasn't clearly affected consumption patterns from the public. Straight Outta Compton ended up as one of the breakout Hollywood successes of the year, and it was just announced that N.W.A. will be inducted into the Rock and Roll Hall of Fame. Terrance Howard's run-ins with the law because of domestic-violence accusations haven't cost him the leading role on the very popular Fox drama Empire. R. Kelly's The Buffet might be tanking, yes, but albums tank for all sorts of reasons; his 2013 release Black Panties, which was also accompanied by media focus on his past, did pretty well. The new album from Chris Brown, a name forever associated with violence against women, is on pace for a respectable debut week of at least 125,000 sales.
Most vivid is the case of the boxer Floyd Mayweather, whose battery of women is well-documented in brutal detail. His domestic-abuse record received a good amount of publicity around the time of his $100 million prize fight against Manny Pacquiao in May, but that didn't seemed to put a damper on his opulent retirement lifestyle. Ahead of his final fight, as my colleague Megan Garber recounted, a reporter asked what message Mayweather's success in the boxing world "sends victims of domestic violence." Mayweather responded much in the R. Kelly mold, by changing the subject and telling people to tune in to the Mayweather/Pacquiao fight. 4.6 million people then paid to do so.
In the now-infamous Huffington Post interview, R. Kelly insisted that he almost never hears negativity towards him from rank-and-file fans. It's only from the media, he said: "The people that I'm interviewing with dispute me. And they make up that other people are disputing me."
After some talking over each other, Modarressy-Tehrani was able to assert that no, in fact, there are real members of the public who are "conflicted" about Kelly.
His response summed the entire issue up: "Can you count 'em?"