Can the Feds Free Wu-Tang's Album From 'Pharma Bro'?
With Martin Shkreli's arrest on securities-fraud charges, there's new hope that Once Upon a Time in Shaolin might become public.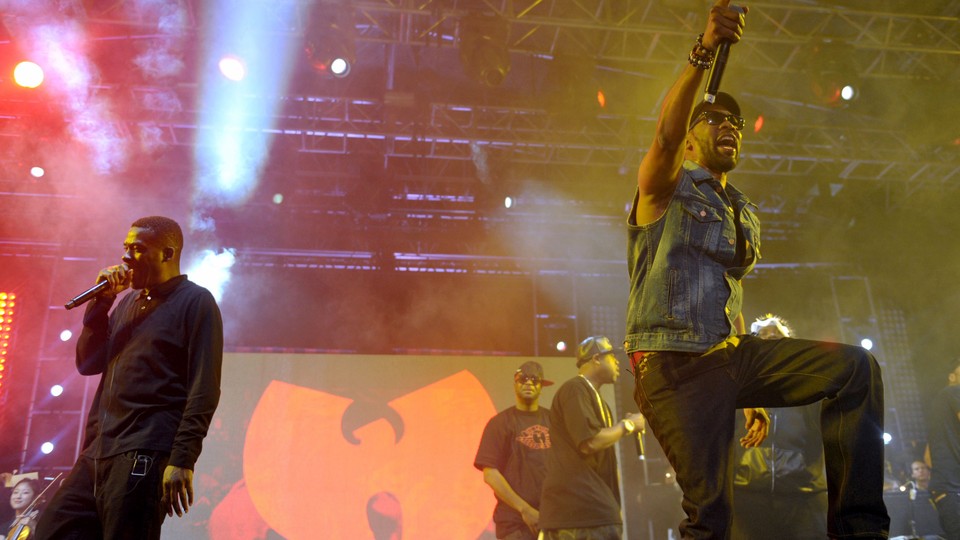 Updated on Thursday, November 17 at 4:20 p.m.
Americans are a principled people. Gouge sick people for pharmaceuticals, and they'll be angry. But buy the sole copy of a Wu-Tang Clan album for $2 million and they'll start demanding action.
Thus with the arrest of Martin Shkreli—the reviled "pharma bro" famous for jacking up the prices of life-saving drugs—many people immediately had the same thought: Whither Once Upon a Time in Shaolin?
It was just last week that Businessweek revealed Shkreli had bought the sole copy of the album, paying around $2 million. My colleague Spencer Kornhaber took this as the final proof that Wu-Tang's stunt of producing an album with only one copy and selling it to the highest bidder had backfired. (I'm not sure I agree: After all, what poetic justice is greater than price-gouging a price-gouger? But I digress.) Shkreli's intentions for the album are unclear. On the one hand, he teased the idea he might play some pieces for the public; on the other hand, a recording was released in which he allegedly says, "I don't know. I'll probably never even hear it. I just thought it would be funny to keep it from people," which would be fitting with the cartoon-villain profile he's cultivated.
The question is, can the securities-fraud charges against Shkreli free the album? First, a quick rundown of the charges, for which he was arrested Thursday morning in (of course) Manhattan's Murray Hill neighborhood. "Federal prosecutors accused Shkreli of engaging in a complicated shell game after his defunct hedge fund, MSMB Capital Management, lost millions," Bloomberg reports. "He is alleged to have made secret payoffs and set up sham consulting arrangements." Prosecutors allege that Shkreli stole stock from Retrophin, a biotech company he founded in 2011. After being ousted from Retrophin in 2014, Shkreli founded Turing, the company accused of price-gouging.
There are three immediately apparent ways this arrest and case might let Once Upon a Time into the public.
The first is asset forfeiture, a controversial practice in which law enforcement seizes cash and other goods without a warrant. Police might, for example, stop someone with thousands of dollars in cash, surmise that the money is involved in drug transactions, and seize the cash. The problem here becomes clear fairly quickly: Not everyone carrying cash is a drug kingpin; some are (for example) just traveling with their life savings. (Sarah Stillman tells some heartbreaking stories here.) In recent years, a coalition of leftist police reformers and libertarians has mounted a major charge against the practice. But with the Shkreli arrest, even some faithful liberals wondered if this was the one time when seizure might be justified, and the indictment suggests the feds just might try: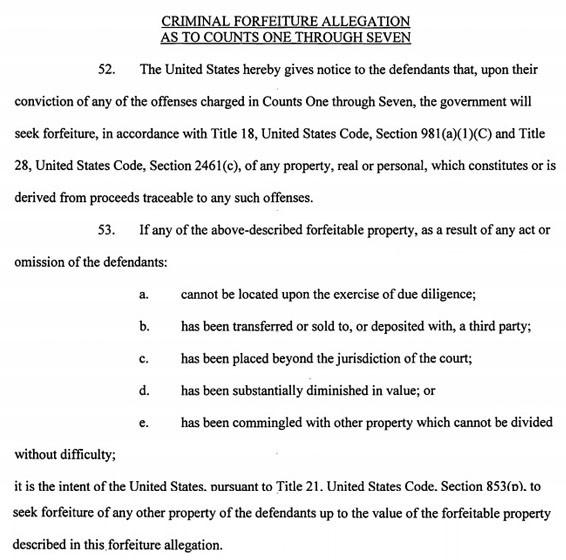 But experts seem to doubt it would work. Louis Rulli, a professor at the University of Pennsylvania Law School who is an expert on forfeiture, explained in an email:
The government would need to either demonstrate that the property represented the direct proceeds of illegal activity or that there is a nexus—a substantial connection—between the underlying criminal offense with which he is charged and the property the government wishes to seize (and ultimately forfeit). As a general proposition, the government may only seize contraband (is the property per se illegal, such as drugs), the direct proceeds of illegal activity, or property used to facilitate illegal activity (did the property make the commission of the offense easier).
There's one wisp of possibility: Where did the money come from to buy Once Upon a Time? Did it come from ill-gotten Retrophin gains? "I suspect that it would be very hard for the government in this case to directly tie the album (or its purchase funds) to the underlying offense, but I wouldn't be surprised if prosecutors aren't taking a hard look at all of Shkreli's property and expenditures with this thought in mind," Rulli said. U.S. Attorney Robert Capers said during a press conference Thursday that he did not know where Shkreli had acquired the money used to buy the album. The FBI also confirmed in a tweet (!) that it had not seized the record on Thursday:
#Breaking no seizure warrant at the arrest of Martin Shkreli today, which means we didn't seize the Wu-Tang Clan album.

— FBI New York (@NewYorkFBI) December 17, 2015
A second possibility is that Shkreli might need to fork over money at some point in the future. For example, he could sell the album to raise funds to pay for his defense. It's hard to find a reliable tally of Shkreli's worth, but it's likely in the tens of millions of dollars, so that reselling an album he bought for $2 million might not raise much money; besides, he clearly enjoys owning it to spite others. That said, it might be a faster way to raise cash than selling off other properties; Once Upon a Time in Shaolin is a liquid sword asset; cash rules everything around him, too.
Alternatively, if Shkreli is convicted, he could lose the album when the case is resolved. "If the government secures a conviction and gets a money judgment against Shkreli, they can forfeit anything—even clean assets—to execute their judgment," Steven L. Kessler, an attorney and forfeiture expert, wrote in an email. "If, at the end of the day, he has none of the proceeds of the crime, the government may then forfeit the Wu-Tang Clan album together with grandma's inheritance to satisfy their judgment."
But there's one more possibility. What if the charges against Shkreli are part of an elaborate plot? According to the Internet (caveat lector!) there's a clause in the contract for the sale of Once Upon a Time in Shaolin that reads as follows:
The buying party also agrees that, at any time during the stipulated 88 year period, the seller may legally plan and attempt to execute one (1) heist or caper to steal back Once Upon A Time In Shaolin, which, if successful, would return all ownership rights to the seller. Said heist or caper can only be undertaken by currently active members of the Wu-Tang Clan and/or actor Bill Murray, with no legal repercussions.
Sounds like a hoax, and yet the RZA tweeted this after the sale become public:
Imagine a situation in which Shkreli's arrest is a ploy, allowing members of the Wu-Tang Clan a chance to break into his apartment and snatch back the record. The group has been investigated for criminal plotting before. (Has anyone seen Bill Murray lately? I'm currently trawling the indictment for numerological hints.)
If this all sounds far-fetched, it's wise to return to first principles: Wu-Tang Clan ain't nuthin' ta f' wit.