Rejecting Pete Rose, Again
On Monday, Major League Baseball Commissioner Rob Manfred reinforced the lifetime ban on the disgraced Reds great.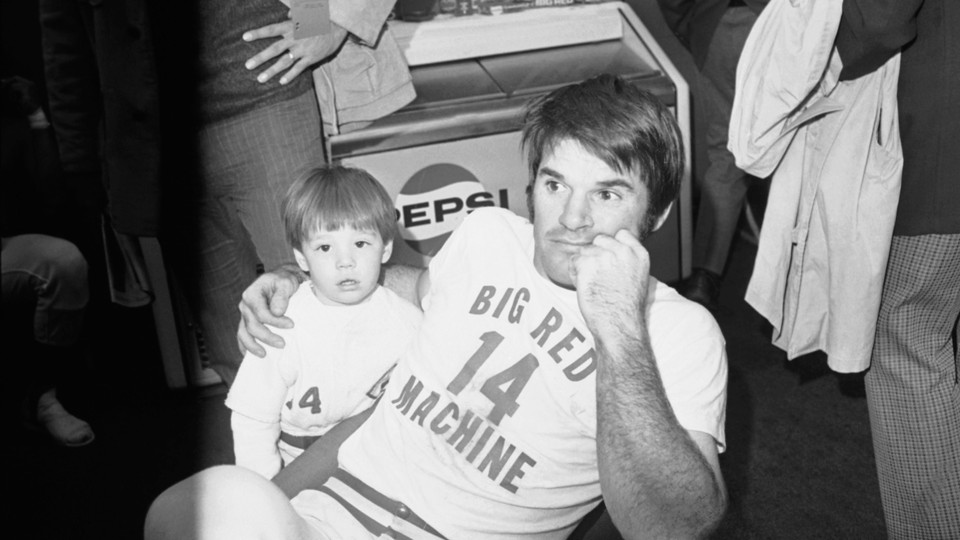 On Monday, Major League Baseball Commissioner Rob Manfred weighed in on a saga that has hung over the national pastime for more than a generation: the status of Pete Rose, the Reds great, who was banished from the sport in 1989 for betting on baseball.
In a statement, Manfred said Rose had "not presented credible evidence of a reconfigured life either by an honest acceptance by him of his wrongdoing … or by a rigorous, self-aware, and sustained program of avoidance by him of all the circumstances that led to his permanent ineligibility in 1989."
The 74-year-old former player and manager had appealed his ban with MLB's previous commissioner, Bud Selig, in 1992, but Selig refused to make a ruling prior to his retirement earlier this year. In the meantime, public campaigns to convince baseball to reinstate its all-time leader in hits (4,256), singles (3,215), games played (3,562), and games won (1,972), floundered.
Prior to Monday's decision, Rose hasn't exactly made it easy on himself. He used to hawk autographed copies of the document banishing him from baseball for $500 a pop. He also denied gambling on baseball until 2004, when Rose finally admitted in a book he bet on games as the manager of the Cincinnati Reds. At the the time, he said he only bet on his team to win. But earlier this year, an ESPN investigation revealed Rose had, in fact, bet on games as a player as well.
Manfred's decision will most directly affect Rose's chances of entering the Baseball Hall of Fame. Rose hoped his reinstatement to MLB would be the first step in the process of allowing the Hall of Fame in Cooperstown, New York, to consider his candidacy. Following Rose's banishment in 1989, the Baseball Hall of Fame, which is governed separately from MLB, passed a rule declaring that no player who had been banned from baseball could stand for enshrinement in Cooperstown.
In his decision, Manfred stressed his respect for Rose's accomplishments as a player and added the issue of his Hall of Fame prospects remains out of MLB's hands.