Our Favorite Songs of 2015
Staff selections, from Drake to Hamilton to Courtney Barnett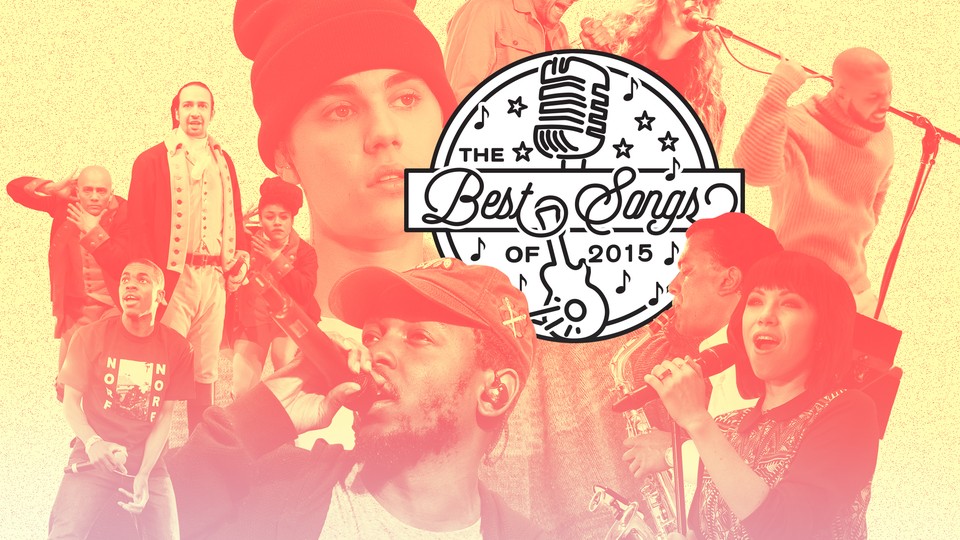 This list isn't meant to be definitive. Instead, it's an alphabetically ordered grab-bag of what some of The Atlantic's editors and writers listened to over and over again in 2015. You can listen along with our Spotify playlist.
---
"Ain't It Sweet," Phil Cook
On his excellent debut solo record, this guitarist, keyboardist, and singer (known for his work with Megafaun, Hiss Golden Messenger, and Justin Vernon's Shouting Matches) takes an ecumenical jaunt through American music. "Ain't It Sweet" is a layer cake of Southern rock: a rollicking guitar line, boogie-woogie bass, honky-tonk piano, Hammond organ, Fender Rhodes, fiddle licks, and gospel-inflected vocals, topped off with a soaring slide-guitar solo. (Lowell George lives!) So much Americana takes itself too seriously, or insists on donning a long black veil of Appalachian dolor. This is a roots record that's not afraid to have fun.
---
---
"Blank Space," Ryan Adams
2015 was the year of Taylor Swift: Of squads and stratospheric record sales and selfies and social-media supplicants begging for favor from their worthy idol. And then, in September, came 1989, an album by Ryan Adams covering Swift's gangbusting record of the same name in its entirety. Not every song was a winner (the same could be said for the original, to be fair), but "Blank Space," sung in Adams's trademark wispy, ghostly vocals over just a simple guitar, with a string section kicking in in the second verse, mines real pathos out of Swift's braggadocious melodrama.
---
"Change of the Guard," Kamasi Washington
Every few years, someone crowns a new "savior of jazz." The designation is almost always wrong, and besides, jazz doesn't need saving. Still: Kamasi Washington is, if not savior, something special. At 34, he's no untested prodigy, but 2015 was a breakout year. In addition to his work on Kendrick Lamar's To Pimp a Butterfly, he also released an aptly named debut, The Epic. The title of the lead track seems to be a statement of purpose, and it delivers with funky, hip-hop inflected, thickly layered sounds. It's an accessible record, but it's also honest-to-God jazz—swinging, bluesy, virtuosic.
---
"Chateau Lobby #4 (In C for Two Virgins)," Father John Misty
Every song on Father John Misty's glorious I Love You, Honeybear tells a story; every one has gorgeous folk arrangement with big melodies; every one mixes cruel, ironic humor with an abiding belief in love and redemption. But only "Chateau Lobby #4" has a mariachi band propping up that last part. It's the sound of someone with a jaundiced eye toward the institution of marriage falling helplessly into its clutches because the woman he's met hates all the same things as him. There's hope for all of us.
---
"Chillin'," Rudresh Mahanthappa
This alto saxophonist's Bird Calls is a quasi-Charlie Parker tribute: Mahanthappa deconstructs the legend's music and repurposes it. The original source material is often well-obscured; forget it, and just focus on what Mahanthappa does with it. Like Parker's bebop sides, it makes not-insignificant demands of the listener but more than rewards them. "Chillin'" kicks off with a snaky call-and-response between the trumpeter Arturo O'Farrill and Manhanthappa, then clears way for O'Farrill—all of 20 years old—to play an arresting solo. This isn't background music; lose focus and it'll sneak up on you and shake you awake.
---
"Clearest Blue," CHVRCHES
A truth not sufficiently acknowledged is that the best running jam of all time is Britney Spears's "Work Bitch" (TV on the Radio's "Wolf Like Me" is #2). "Clearest Blue," from CHVRCHES's sophomore album, is a good new addition to the list, teasing toward a beat drop that doesn't come until two minutes and 13 seconds in but then powers on for the duration of the song. The clunkiness of the bass, paired with Lauren Mayberry's angelic vocals, makes for eminently satisfying synthpop.
---
"Death," Made in Heights
The fact that this track starts with the vocalist Kelsey Bulkin apologizing and then laughing hysterically hints that a title as stark as "Death" is maybe a misnomer. Made in Heights is a Los Angeles-based duo made up of Bulkin and the DJ/producer Sabzi; "Death" is maybe the standout track on 2015's Without My Enemy What Would I Do: a sprawling, ethereal, chemically induced trip to heaven and back (the background vocals at the beginning sound like angels, or Enya, or both).
---
"Familiar," Donnie Trumpet & the Social Experiment
For a few years now, Chance the Rapper has been a blessed source of positivity, warmth, and moral generosity in hip-hop. That is not the case in this song, which is mean and sexist and infuriatingly clever. Flutes trill playfully and the piano line reminds me "Walking on Sunshine," but the track's rappers use that perky backing to dismiss a certain kind of pretentious, stereotypical woman. Maybe you can defend the song by seeing it as part of Chance's ongoing campaign against conformity, but mostly, I listen to laugh at King Louie saying "If this bitch from Paris then Paris is terrible." Here's what's undeniably praiseworthy: The word "basic" doesn't appear once.
---
"Fields of Our Home," The Tallest Man on Earth
It isn't a good year in music if there isn't at least one Swedish folk act turning out lush melodic interpretations of Americana with an impish Scandinavian twist. 2014 boasted First Aid Kit's Stay Gold; this year was all about Kristian Matsson, whose fourth album, Dark Bird Is Home, is full of haunting, Sigus Ros-esque tales of optimistic angst. "Fields of Our Home" is the most delicate, as Matsson sings about childhood memories in soaring, Dylan-scratchy style.
---
"Gimmie Love," Carly Rae Jepsen
The manic-pixie madness of "Run Away With Me" might make for the standout track on E•MO•TION, but it ultimately lacks the ingredient that makes "Gimmie Love" so wonderful: vulnerability. Both songs' titles (and choruses) are imperatives, appeals from a lover. And yet "Run Away With Me" sounds like an invitation while "Gimmie Love" sounds like a plea. Over a deep, languid beat, Jepsen asks, "Do you think that I want too much?" She's torn between self-doubt ("I should have asked you to stay, begged you to stay") and romantic abandon ("Fall into me"). So which side wins out? A clue: A warped, spooky voice that intones "gimme love" in the background early on eventually gives way to a soaring chorus of ohhhs—the sonic equivalent of a happy ending.
---
"Go Out," Blur
The news that Blur would release their first album in more than a decade was met with huge excitement; the lead single, significantly less so. But "Go Out" is actually a fitting (and surprisingly addictive) comeback song for a band waking up, groggily, from a long hibernation to participate in the grind of existence again. Graham Coxon's riff is a jagged migraine; Damon Albarn is basically moaning instead of singing; the bass and drums are good for the kind of dancing that's just slouching on beat. But when everything revs up for the chorus, you suddenly get why the lyrics are about people drinking and screwing. Repetitive and tiring as it may often be be, life's still life.
---
"Hotline Bling," Drake
Drake spent a lot of 2015 attempting to replace his soft/sensitive/sweatered public image with that of a tough kingpin coldly destroying lesser rappers' careers. The sales numbers said it was working, and then "Hotline Bling" came along to remind everyone of what really sets Aubrey Graham apart: his singing voice, his insecurity, his ear for sounds and styles unlike the rest of what's on the radio. The lyrics condemn an ex for her new, fabulous lifestyle, but just end up implying that Drake feels bad about himself. The real trick of the song is how its smooth vocal topline is occasionally cut with a performatively macho grunt—"ever since I left the city YOO!"—which, now that I write it, seems like a pretty good metaphor for Drake's career in general.
---
"I Admit I'm Scared," Eskimeaux
I first discovered this crescendoing ode to the singer-songwriter Gabrielle Smith's insecurities when she sang it for NPR's Tiny Desk Concert series, a performance that's devastating in its emotional power (skip to 5:19). Her lyrics give form to the universal feeling of nagging self-doubt, speaking with an honesty that allows her to go beyond cliché. "If I had a dime for every time I'm freaking out," she sings near the end, her voice on the verge of breaking.
---
"If It Takes a Lifetime," Jason Isbell
A jaunty acoustic-guitar figure opens: Has Jason Isbell gotten soft and happy? Where are the desolate, minor-key laments of 2013's Southeastern? Not to worry. Isbell—a meticulous crafter of songs and an eloquent spokesman for a certain kind of loving ambivalence about rural Southern life—hasn't cheered up too much. If Kacey Musgraves's narrators are desperate to escape suffocating small-town hypocrisy, "If It Takes a Lifetime" is the bittersweet song they might sing after they decide to come back home: resigned, but not defeated; wiser, but still wrestling the demons that drove them away in the first place.
---
"In Time," FKA Twigs
The R&B experimentalist Tahliah Debrett Barnett sings here from the perspective of someone who wants more than she's getting in a relationship, but she sounds anything but powerless. "In time, you'll learn to say sorry and I will play tender with you" she whispers, a prophecy that comes off like a threat. The electronic arrangement pings and snaps and slithers, creating tension that only escalates during the complicatedly catchy chorus where she tells her defiant lover, "You've got a goddamn nerve." Faced with a will this fearsome, it seems inevitable that her target will submit.
---
"King Kunta," Kendrick Lamar
For one of the few To Pimp a Butterfly tracks with hit potential, the normally category-breaking Kendrick Lamar inhabits the rap trope of the infallible, rivals-conquering monarch. But because it's Lamar, the disses and boasts are ornate and politically charged, drawing from West Indies slang and Roots; because it's Lamar, the music's a dizzying pastiche, thumping with echoes of Michael Jackson and Queen and James Brown. Impressively, he managed to fire the first shots in the great hip-hop ghostwriting war of 2015 without naming names and thereby getting dragged into a lyrical skirmish like Meek Mill did. Then again, as this song reminds us, he would have won if he had.
---
"La Loose," Waxahatchee
It's late May and you've driven with friends to some tourist-trap town, on the beach or in the mountains. The beer's lukewarm, the afternoon's humid, the trees are wilting, and you should be enjoying yourself, but you can't relax now—because your crush is there too (!) and you two aren't clicking (!?) and he or she doesn't even seem to notice you (!!!???).
That's "La Loose." Waxahatchee, helmed by Katie Crutchfield, has written the best kind of summer jam—the emotionally ambivalent chilled-out summer jam—and its juvenile drum machine and whistle-along chorus are perfect not only for day-trip crushes but also for poolside make-outs and campfire BFF hang-outs. Waxahatchee gets grouped in with the contemporary punk lions they have shared a record label with—Screaming Females and Downtown Boys among them—but this song made me wonder if Crutchfield shouldn't also be filed with "All I Wanna Do"-era Sheryl Crow.
---
"LIFE," HEALTH
When I first heard "LIFE," I was taken aback by the relatively gentle, earnest sound. Yes, the noise from HEALTH's last album, 2009's Get Color was still there—but not so much the aggression (most popularly heard on the band's cover of Crystal Castles' "Crimewave"). With "LIFE," HEALTH sounded more like M83. This was not a bad thing! The lyrics are syrupy in the best kind of way ("Life is strange, but it's all we got) and made especially dreamy by Jacob Duzsik's vocals. And the chorus has the same ouroboros quality ("ouro-chorus"?) often responsible for the catchiest of refrains, the kind that feel like they could just go on forever: "I don't know what I want, know that I don't know what I want … No, nobody knows, nobody does nobody knows."
---
"Lift Me Up," Vince Staples
Staples's "Summertime '06" brims with genuinely dope beats and brutal, smart writing—a fact made clear from the outset with "Lift Me Up." Religious imagery abounds, but Staples doesn't see himself as a preacher or God Himself. He's "a prophet just like Moses, if Moses looked like Shaka Zulu," and his "mama was a Christian, crip-walking on blue waters." More accurately, he's a jaded disciple who still wants to believe: "I never vote for president, the presidents that change the hood is dead and green." Which makes the chorus of "Lift Me Up" sound like a call to the divine for salvation, though eventually (after lines like "Can a motherfucker breathe?") it's more like an attempt to self-soothe after so many prayers have gone unanswered.
---
"My Baby Don't Understand Me," Natalie Prass
To call Natalie Prass's voice's "thin" is no diss: She has power and range, but the best thing about her singing is that it creates interesting shapes using a very delicate implement. A sense of fragility is vital to the opening song on her self-titled album, where woodwinds and brass closely shadow her melody as she unfolds the details of a relationship that has slowly, inexplicably deteriorated. It's a remarkable display of musical control, in service of mourning something of which she has lost control.
---
"Nine South," Chris Lightcap
The whimsically named bassist took five years to release a follow-up to his excellent Bigmouth. It was worth the wait. Lightcap's recipe for success: complex, offbeat rhythms; tight harmonies from the two-saxophone frontline; and perhaps most importantly, Craig Taborn's piano. It's Taborn's kaleidoscopic, percussive Wurlitzer piano figure that kicks off the exhilarating romp "Nine South." There's a lot of Ornette Coleman here—like the way Lightcap floats like Charlie Haden, or the way the rhythm section and the horns seem to drift in and out of alignment. It's some of the best small-group jazz composing on the scene today.
---
"Non-Stop," Hamilton Original Broadway Cast
Hamilton is two-and-a-half hours long, and yet it barely fits in all of Alexander Hamilton's major accomplishments. "Non-Stop" both embodies this fact and is basically about this fact. A musical in miniature, its uproarious and carefully crafted vignettes-as-verses touch on America's first murder trial, Hamilton's political beginnings in Albany, the Constitutional Convention, the Federalist Papers, and Hamilton's appointment to Treasury Secretary. Appropriately, the music's a sublime genre jumble: rhythms evoking Alexander's Caribbean origins, classic hip-hop record scratches, and various themes of the first act merging in a glorious Broadway crescendo. A dozen astonished listens later, I still feel like the delegates taking in Hamilton six-hour-long convention speech: "Bright young man! / Yo, who the eff is this!?"
---
"No Sleeep," Janet Jackson
The three e's in the song title don't really refer to how Janet Jackson pronounces the words. The misspelling's more about the visuals: smooth repetition, round edges, the suggestion of eternity. Accordingly, the song is all softness on softness, creating a reverie where the only reminder of time is the click of the beat. Jackson returned this year to argue that love can provide an escape that's purer, more blissful, than anything in your dreams.
---
"The Only Thing," Sufjan Stevens
Seven songs into his album mourning the mother who he barely knew, Sufjan Stevens sings of considering suicide. Heavily. What keeps him from "driving this car, half-light, jack-knife into the canyon at night" are small, seemingly random images—astrological phenomena, possibly Biblical signs, moments of natural beauty. His faith here is tied not to any one religion but rather to the idea that life has meaning, or at least the idea that it could have meaning. He sings in a calm, multi-tracked lilt with sudden jags to the falsetto of the inconsolable. That the song gets stuck in your head, and that it offers comfort even as it describes utter sorrow, is a wonder in itself.
---
"Pedestrian at Best," Courtney Barnett
The first song off the indie-rock Australian's Sometimes I Sit and Think, and Sometimes I Just Sit makes a game of finding different ways to express self-loathing. But Barnett's words only ever feel half-serious. Her delivery, reminiscent of a bored Jonathan Richman, sits one level below disgust, and one level about disinterest: "I think you're a joke, but I don't find you very funny." The scuzzy, bouncy guitars vacillate between poppy and taunting. And Barnett's lyrics manage a kind of dramatic, juvenile eloquence. "I wanna wash out my head with turpentine, cyanide/ I dislike this internal diatribe when I try to catch your eye," Barnett wails, and suddenly you understand what it would have sounded like if MTV's Daria had written a song about her unrequited love for Trent.
---
"REALiTi (Demo)," Grimes
A few of my friends say that when you're dealing with life's arduous administrivia, you're adulting. It's a verb: I adult, you adult, she adults. In a sentence: "I did some good adulting this morning—I woke up early, worked out, and mailed my tax return."
Is there any artist who recognizes the importance of emotionally adulting quite like Claire Boucher, the Canadian singer-producer known as Grimes? "Flesh Without Blood," off her baroque masterpiece Art Angels, contained 2015 pop's best slant rhyme and its best moment of romantic realism: "It's nice that you say you like me / But only conditionally." But it's not to snub Art Angels that I picked the version of "REALiTi" which doesn't appear on the album. It's just that this original "REALiTi" features Grimes at her most shimmering, impressive, and mature. "REALiTi" is an anthem for persistence, for handling the consuming struggles of life day after day, that manages to feel like life itself: enchanting, terrifying, melancholic and lovely in its detail.
---
"Sandra's Smile," Blood Orange
During a published conversation with Julian Casablancas this year, the R&B and pop producer Dev Hynes recalled how, after Trayvon Martin's death, he recorded an album's worth of songs about race and justice—but then decided he didn't want to face the risks that came with releasing it. Recently, though, he's been getting more pointed in his work, culminating in "Sandra's Smile." On it, he sings about not only the death of Sandra Bland in police custody but also the fatigue and sadness he feels after hearing about so many similar incidents. The music's just a spare thump and a simple melody, made especially powerful by the implication that such an arrangement was all he could muster.
---
"Sorry," Justin Bieber
Enough with the guilty admissions about liking "the new Justin Bieber." You're allowed to enjoy Purpose, or even select singles, without explaining at length how you never thought you'd be into music made by the same kid who crooned "Baby" while also looking like a baby himself. Or without opining that it's really Diplo and Skrillex who fixed Bieber's sound. Pop music's apology subgenre has its share of bummers, but wallowing isn't the point of "Sorry." It's a not-quite-banger that manages to be wild and propulsive despite its generally chill, tropical sound. (Still don't believe me? Watch the magnificent dance video Bieber released for the single.)
---
"Sparks," Beach House
I've referred to "Sparks" as "The MBV song" ever since I first heard it earlier this year. It's a cheap comparison, maybe, because My Bloody Valentine doesn't own the rights to churning shoegaze, or ghostly, layered vocals, or communicating beauty and loss through noise. "Sparks" sounds little like anything else in Beach House's discography, but it's still recognizably their music. The jarring organs cut through the fog of Victoria LeGrand's voice (clearer than Bilinda Butcher's ever was), as the percussion thrums patiently in the background. The slow buildup is enchanting, but the track's climax is gorgeous: The distorted guitars kick into overdrive, looping themselves into hypnotic state, as LeGrand calls out "Make it / Wave it / Alive." It's the kind of ending that'll leave you wanting to crank the volume higher and higher until, without warning, it's over.
---
"Stonemilker," Bjork
"Moments of clarity are so rare," Bjork sings. "I'd better document this." That self awareness, that ability to be inside of a moment and stand outside of it, are what made Vulnicura, her album-length deconstruction of her breakup with longtime partner Matthew Barney, so devastating. Well, that and the string arrangements. The opener "Stonemilker" can't be matched for raw beauty anywhere else in music this year, and it also introduced precise new vocabulary to talk about the horrible mess that is falling out of love. "Show me emotional respect," "I wish to synchronize our feelings"—if these statements sound cold on paper, they're quite the opposite in song.
---
"Strange Fruit," José James
This year marked the hundredth anniversary of Billie Holiday's birth. It also marked the year that much of the nation focused on the toll of police violence on the bodies and lives of black men. This blues- and R&B-inflected jazz singer closed his centennial tribute album with her most famous song. "Strange Fruit" is by now so familiar that it almost loses its ability to shock, but James restores the song's horror by abandoning the melody for a minimalist arrangement—providing a macabre reminder that a song first recorded in 1939 is almost as topical now.
---
"Them Changes," Thundercat
This superb R&B track isn't a cover of the Buddy Miles classic, though there's a family resemblance—a locomotive funk, an infectious hook. But where Miles is ragged and rocked up, Thundercat's is slinky, slow burning, restrained, wounded, and harmonically richer. The singer and bassist—he plays a six-string instrument, which he strums and plucks like a guitar, slaps and pops like Larry Graham, or uses to lay down a groove like Jaco Pastorius—is a collaborator of Kendrick Lamar and Kamasi Washington. When did jazz fusion get cool again?
---
"Underground Man," Desaparecidos
The dream of rock, especially punk rock, is revolution. The reality of rock is, often, capitulation, commercialization, and compromise. Conor Oberst is very, very angry about this on his political-punk side project's album Payola. "Underground Man" sticks to a common sonic template—Warped Tour drum bopping, four chords played stabbily—but reaches something higher through Oberst's performance. "THEY MADE ACTIVISM TRITE!" he screams with such intensity that it temporarily undoes the crime he's screaming about.