'Once in Royal David's City': A Staid Victorian Sermon
It's a hard carol to love, and yet love it we do.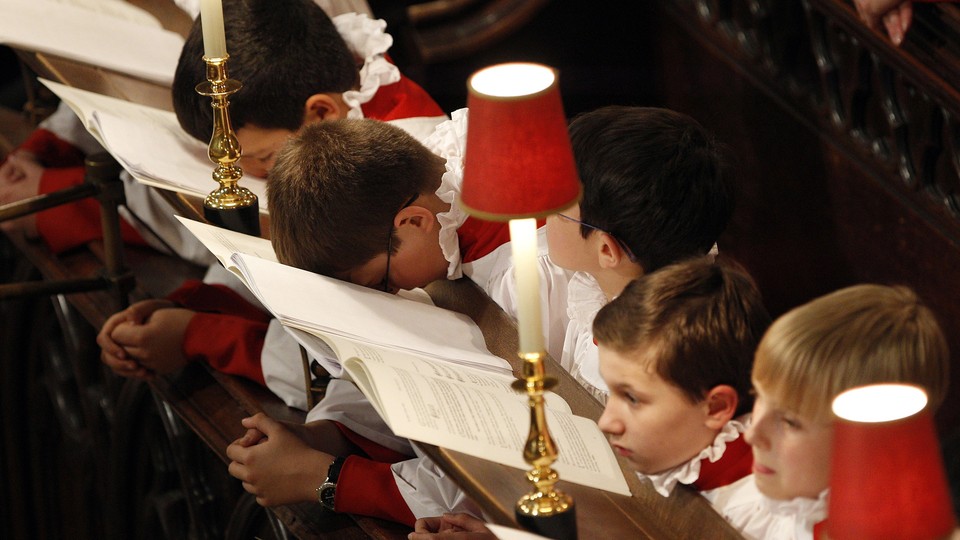 Welcome to The 12 Days of Christmas Songs: an attempt to uncover the forgotten history of some of the most memorable festive tunes. From December 14 through 25, we'll be tackling one secular song and one holy song each day.
---
Many Christmas carols can seem Victorian, but few assault the listener with all the extravagant Victorian-ness of "Once in Royal David's City." The carol easily dispatches all the standard duties of the genre—it sets the Nativity scene, summarizes Church teaching, alludes to the Second Coming—and then it moves right into 19th-century accessorizing.
"Once in Royal David's City" seesaws along with a singsongy sort of melody. It embraces English-language grammatical tics that really only make sense in Latin. And it includes an entire verse that chides parents about how to correctly raise children.
The point is, if you've never seen it in action, then "Once in Royal David's City" isn't an easy hymn to admire. It's a hymn, for one thing, so it prattles on, same-y strophe after same-y strophe, even after the congregation has gotten bored. Pop musicians don't seem to know what to do with it, so they've turned "Once" into "The Friendly Beasts Lite," without the best part of "The Friendly Beasts," which are the arguing beasts.* Even famed liturgy hipster Sufjan Stevens, redeemer of tough carols, gets kinda jaunty in his cover of "Royal David."
"Once in Royal David's City" yet shines, though. And it does so because, in the world of church music, it has a use so well loved and well understood as to be ritualistic.
Every year, the Choir of King's College, Cambridge, opens its Festival of Lessons and Carols with "Once in Royal David's City." For the uninitiated, a Festival of Lessons and Carols is the standard Christmas music service: There are nine short Bible readings, from Genesis to Revelation, but mostly there's music. And the relationship between the King's College festival, and every other English-language Lessons and Carols in the world, is analogous to that between the iPhone and every other smartphone.
When King's College introduces "Once in Royal David's City," it does so by a very specific method: A solo boy soprano chorister sings the first verse, a cappella. Then the choir, also a cappella, joins on the second verse as choristers process through the middle of the aisle and file into their rows. Until at last, on verses three through five, the organ and the whole Cantabrigian congregation—the arch dons, the gruff dads, the doting mums—join in.
Here's an older video of it, with a kind of gradually increasing VHS-ized distortion that gives the impression of 30 innocent boys being eaten by a theremin. You'll notice that the production choices, made at these two different televised performances at least a decade apart, are otherwise identical. Such is the talismanic, reliable power of the King's College festival. They've been opening the service this way for 96 years.
"Once in Royal David's City," as a standalone work, began as a poem by Cecil Frances Humphreys. Better known as C. F. Alexander, she was an Irish Anglican who contributed text after text to English-language hymnody. But in the 1840s, when she wrote "Once," she was a well-educated and well-connected woman in her late 20s.
As she told it, "Once" started as an effort to explain the Apostle's Creed to a perplexed child. She spun each line of the statement into its own poem. The first line became "All Things Bright and Beautiful," eventually its own liturgical blockbuster. The second and third line of the creed—"Who was conceived by the Holy Spirit, / Born of the Virgin Mary"—became "Once in Royal David's City."
Those hymns and others were published as Hymns for Little Children in 1848. The next year, the English organist Henry John Gauntlett set "Once" to his tune "Irby." The year after that, Humphreys would marry William Alexander. By the end of the 19th century, William was the Anglican Primate of Ireland, and Hymns for Little Children was in its 69th edition.
Let us return again to its Victorian-ness. This was a hymn written to instruct kids in the tenets of faith. Nowhere is that goal sillier than its third verse:
And through all his wondrous childhood
He would honour and obey,
Love and watch the lowly maiden
In whose gentle arms he lay;
Christian children all must be
Mild, obedient, good as he.
"Mild, obedient, good": Forget about Jesus Christ, superstar. At least according to Cecil Frances, the living God wasn't even a free-range kid.
So here is the puzzle of "Once in Royal David's City." When you look at the text, it can seem antiquated. When you listen to the music, it can seem inadequate. So why does the carol still work?
I think because of that sense of dignity. As the hymn proceeds into its conclusion—a standard Christian contrast between the meek infant and the King of Kings—it maintains its sense. There is awe here, and deep religious fortitude, and even stately theatrics, but about all of this it is distinguished and somber. It is a fine mood with which to start a service, and a fine mood to ponder in the late gray light of winter.
---
* Rhyming "good" and "rude" is the second-best part of "Friendly Beasts."