'O Little Town of Bethlehem,' From Both Sides of the Atlantic
Even though it has the same words, the carol's tune is different in Britain and in the U.S.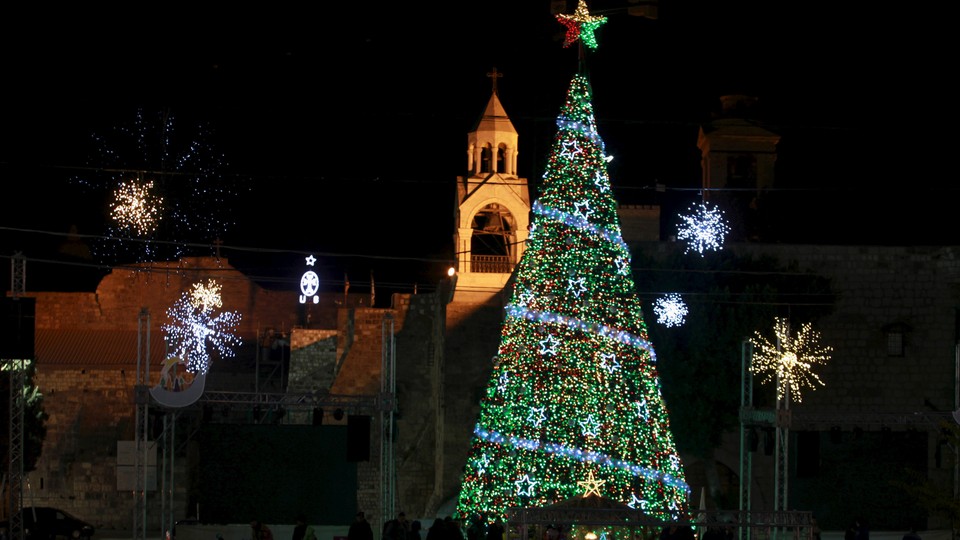 Welcome to The 12 Days of Christmas Songs: an attempt to uncover the forgotten history of some of the most memorable festive tunes. From December 14 through 25, we'll be tackling one secular song and one holy song each day.
---
"O Little Town of Bethlehem" is a beloved Christmas standard on both sides of the Atlantic Ocean—yet if an American asked a Briton to sing it, he might launch into a melody she found entirely alien. It's a testament to Phillips Brooks's verses that they have become a staple in the United States and Britain, paired with entirely different tunes.
It's the American version that's the original. Brooks, the author of the words, was a famous churchman of the era. (The Atlantic's dispatch from his funeral in 1893 is here.) When he wrote the words, he was rector of the Church of the Holy Trinity in Philadelphia, and gave them to his organist, Lewis Redner, to compose a tune. Redner's hymn, "St. Louis," is the one American ears know well:
In British churches, parishioners and choirs sing "Forest Green," a folk tune that the composer Ralph Vaughan Williams collected as "The Ploughboy's Dream," then adapted to the Brooks's words. When I was a child, my church hired an English choirmaster, who blithely programmed "Forest Green" for his first Christmas Eve service and was quizzical when his choir neither knew nor treasured the melody. (I learned a similar lesson during the preparation of this project, when Sophie, my British-born editor, insisted with horror that "Greensleeves" wasn't a Christmas song.)
As with many hymns, it's the first verse that most grabs the attention and lingers in the memory:
O little town of Bethlehem!
     How still we see thee lie,
Above thy deep and dreamless sleep,
     The silent stars go by;
Yet in thy dark streets shineth
     The Everlasting light;
The hopes and fears of all the years
     Are met in thee tonight.
In a 1999 Atlantic article, Poet Laureate Robert Pinsky explained why the hymn is so haunting:
What gives these lines their mysterious charge is buried memory; Brooks, best known for his famous sermon on the Civil War dead, wrote his Christmas carol when, after the war, many little towns of the North and the South were unnaturally silent, because so many of the young men were gone. "The hopes and fears of all the years" involve the Republic itself, and in that context the town's "deep and dreamless sleep," beneath the silent stars, is the more unsettling precisely because it is dreamless, and therefore deathlike.
Even removed from its historical context, there may be no more elegant and concise summary of the Christmas mystery than the closing couplet.