'All I Want for Christmas Is You': A Historical Dialectic
Mariah Carey, the great philosopher of love in our time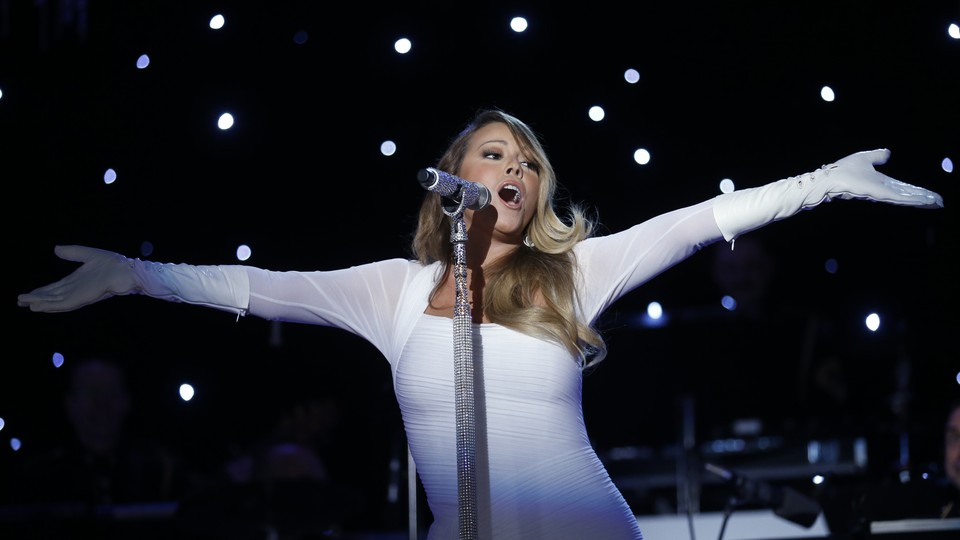 Welcome to The 12 Days of Christmas Songs: an attempt to uncover the forgotten history of some of the most memorable festive tunes. From December 14 through 25, we'll be tackling one secular song and one holy song each day.
---
Ah, Mariah Carey, that great philosopher of the human heart. Fools have foretold the end of her Christmas-music reign. But according to Billboard's "Holiday 100" list, 21 years after she set loose her hit "All I Want for Christmas Is You," she's still exactly where she belongs: at the top. Since 1994, the song has sold more than 14 million copies and made a reported $50 million in royalties. And besides making her some sweet seasonal cash, Carey's masterpiece is an incredible feat of philosophical subterfuge. Christmas is a time of material- and affection-based excess, yet the song is narrowly focused on just one thing: getting to be with a specific person, e.g., you. It rejects the idea of love in general in favor of love in particular, simultaneously defying and defining pop-music conventions. With infinitely more economy of expression and undoubtedly catchier lyrics, "All I Want for Christmas Is You" is a sort of Hegelian dialectic of Christmastime desire, taking the conflicting notions of abundance and specificity and packaging them neatly into an earworm for the generations.
A version of this question has long been of interest in the canon; writerly men are forever theorizing about love. Google "particularity of desire" and you'll get hits from Lacan, Freud, Hegel, C.S. Lewis, and some stuff on Catholic natural law. Granted, twisting the exegesis of complicated 19th- and 20th-century thinkers in the service of tongue-in-cheek essays about popular culture is one of the most joyful uses of the public internet and an expensive liberal-arts education. But why rely on Lacan when you can have Carey?
Herewith, an annotated version of the selected text, "All I Want for Christmas Is You," an attempt to unpick its profound and resonant commentary on the nature of desire in our time.
1. I don't want a lot for Christmas
There is just one thing I need
The author carefully sets out her premises. There exists an entity, "I," representing conscious selfhood. This entity exists in relation to material space ("a lot") and seasonal time ("for Christmas"). The entity expresses this relationality through the vocabulary of desire, or "want," and though its desires could theoretically be expansive, they are not. Here, we have the author's thesis: Desire, rather than general, is specific; instead of many things, it is "just one thing."
Heretofore, let the subject be known as "I/Carey"; the object, "You."
2. I don't care about the presents
Underneath the Christmas tree
Yet how could we understand the author's examination of Christmas as anything but an implicit critique of capitalism? Carey deftly communicates via symbols: "Presents" and "Christmas tree" clearly indicate the author's hostility toward the ever-present signifiers of capital's all-consuming power.
3. I just want you for my own
An artful cutaway from a full deconstruction of the nature of power. I/Carey posits its/her ability to possess "You"; though this might seem at first to be an alarming and unabashed endorsement of human ownership over another (presumably) human entity, it alludes to the mysterious object of desire. "All I Want for Christmas Is You" is not, it seems, an exploration of anodyne egalitarianism; narratives of dominance and power-holding feed the connection between I/Carey and "You."
NB: Evidence suggests that "You" could plausibly be puppies. The author leaves this tantalizingly ambiguous.
4. More than you could ever know
This line suggests skepticism of the realization of knowledge; the tangible limits of apprehension (e.g., "more"); and, again, the assertive narrative dominance of subject over object.
5. Make my wish come true
All I want for Christmas is you
Here, though, the implicit narratives of power are upended: The author appeals to "You" as the agent of wish-granting, simultaneously reiterating the singularity of her desire.
There is a darker context to this narrative. The apocryphal story of "All I Want for Christmas Is You" is that it was written in 15 minutes in 1994, while Carey was married to Tommy Mottola, her manager. It was reportedly an unhappy and abusive union, lasting only four years. Mottola lurks, implicit/explicit, sinister Santa, monitoring as Carey expresses her desire.
6. Yeah
Uh-huh. And you thought this was just a cheery love song.
7. I don't want … Christmas tree
(See above.)
8. I don't need to hang my stocking
There upon the fireplace
Santa Clause won't make me happy
With a toy on Christmas Day
Despite the undeniable creepy/darkness of lurker Santa, the author begins to cultivate a sense of childlike wonder through her choice of language, e.g., "stocking," "toy." For a famous exploration of "All I Want for Christmas Is You," in which the youthful quality of desire is fully on display, cf. the undeniably excellent classic holiday film Love Actually.
10. I just want … You, baby.
(See above.)
11. Oh, I won't ask for much this Christmas
I won't even wish for snow
And I'm just gonna keep on waiting
Underneath the mistletoe
I won't make a list and send it
To the North Pole for Saint Nick
The author explores the dialectic between desire and not-desire. Articulating desire by refusing to ask for its object. Standing in the absence of desire fulfilled under mistletoe, the tool of desire fulfillment. Affirming the agency of I/Carey in obtaining/possessing "You," despite past pleas to Santa, a.k.a. "Saint Nick."
13. I won't even stay awake to
Hear those magic reindeer click
A daring allusion to the disenchantment of the world in modernity. Cf. Weber, "All I Want for Christmas Is You and the Spirit of Capitalism."
The intellect yearns for Netflix and chill.
14. 'Cause I just want you here tonight
Holding on to me so tight
What more can I do?
Baby, all I want for Christmas is you
The impatience of desire grows. The intellect yearns for Netflix and chill.
15. You, baby
Minor grammatical confusion; in her phrasing choices, the author appears to introduce ambiguity. Thus far, there have been no suggestions that "You" is a literal baby, and since the author is clearly not about that Freud, we can safely conclude that "baby" is merely an alternative label for the object.
16. Oh, all the lights are shining
So brightly everywhere
And the sound of children's
Laughter fills the air
And everyone is singing
I hear those sleigh bells ringing
Santa, won't you bring me the one I really need?
Won't you please bring my baby to me?
Possibly a thinly veiled reference to a 1993 sensory-deprivation experiment undertaken in the pursuit of greater intellectual/emotional/spiritual/physical understanding of "You." NB: Similar techniques would later be used in pursuit of Nick Cannon.
18. I don't want a lot for Christmas
This is all I'm asking for
I just want to see my baby
Standing right outside my door
An acknowledgment of the physical body's role in desire, thus far largely unarticulated. "You" cannot merely be a sweet, sweet fantasy; although I/Carey may operate as though in a dream-state, she is not, in fact, asleep.
20. Oh … you
(See above.)
21. All I want for Christmas is you, baby … baby
In conclusion, the author presents her clearest articulation of the nature of desire. The ever-quest for "You" is not general, but particular. It is a search not for someone, or anyone, or everyone, but for "You," a singular object of love and affection, both frustrating and exhilarating in its specificity. If the author weren't a shiksa, she'd be singing about her beshert.
"You" is everything. "You" is enough.