'Let It Snow': How to Quench Holiday Ardor
The classic is the most G-rated entry in the 'Yule log and chill' genre, with the exception of one notable cover.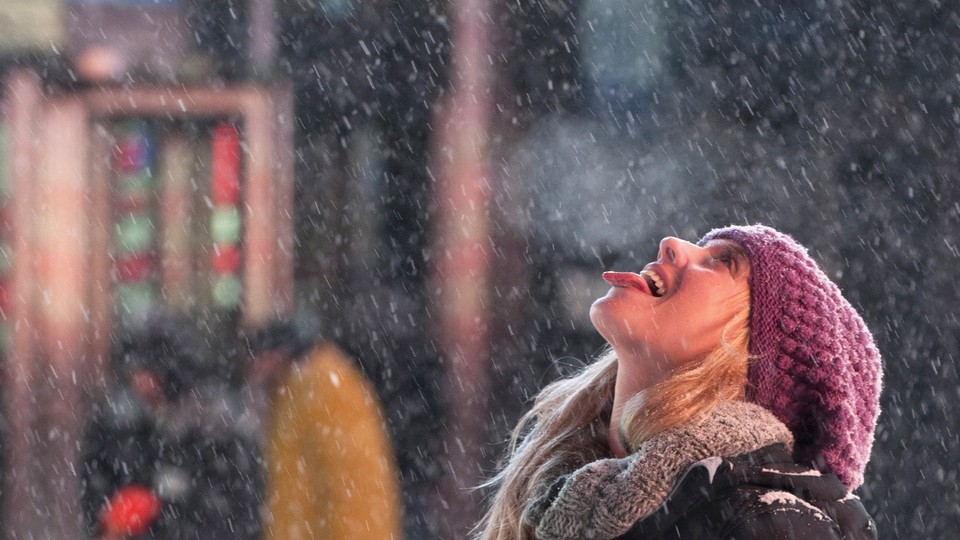 Welcome to The 12 Days of Christmas Songs: an attempt to uncover the forgotten history of some of the most memorable festive tunes. From December 14 through 25, we'll be tackling one secular song and one holy song each day.
---
In the subgenre of holiday songs you might call "Yule log and chill," no song is more G-rated than "Let It Snow," the chaste, not-at-all-creepy counterpart to "Baby, It's Cold Outside" that celebrates its 70th birthday this year. Everything about the song, from the gee-willikers lyrics (truly frightful, that weather!) to that bouncy, finger-snap-inducing refrain, feels sugar-coated to protect against any stray aphrodisiac impulses. I imagine that many a joyful holiday night has started with "Let It Snow," but I feel quite safe wagering that love has never been made to this song.
This might be why, perversely, my favorite spin on "Let It Snow" is the one on Boyz II Men's 1993 Christmas Interpretations album, featuring Brian McKnight. The song probably can't accurately be described as a cover of Sammy Cahn and Jule Styne's 1945 confection; it dispenses almost altogether with the melody and lyrics of the original, and flips the chasteness entirely on its head. (Sample lyric: "I wanna wrap you up / Baby, then you'll see / You're the only present I need." Unwrapping very much implied.) The evening being described in this song definitely does not end with a tight hug and a kiss good night, and if early '90s R&B does the trick for you, yours probably won't either.
The very next single Boyz II Men released, appropriately, was their blockbuster 1994 declaration "I'll Make Love to You." Which, given its pouring of wine and lighting of fires, is an effortlessly natural next track on a holiday booty-call playlist.
Many, many artists have attempted covers of the 1945 "Let It Snow," with varying degrees of success. (If you're a fan of Mannheim Steamroller's prog-rock "Carol of the Bells" calamity, don't be tempted by their version of this song, lest you find your fandom sour.) But most take the innocent bop of the original as a given—a pinch more jazz here, a touch more bombast there. Yet if you find the relentless cheeriness and fellowship of most holiday music alienating or saccharine, there's even a version for you. Sufjan Stevens's 2012 "Let It Snow" is a lonely, wistful ballad, with three sets of voices isolated from one another in stereo. Every time I listen to this version, I imagine the song's putative lovers have just tearfully broken up, the slowly dying fire being, in this case, a metaphor for the last embers of their relationship. The blizzard raging outside means an awkward long goodbye, but when the storm blows over, it will be over between them, so they feel a sad contentment in taking the time.
So I take back what I said. "Let It Snow" can be both not-at-all-chaste and slightly creepy. May it live ever on in the holiday canon, and may future artists discover even more textures in the tune.