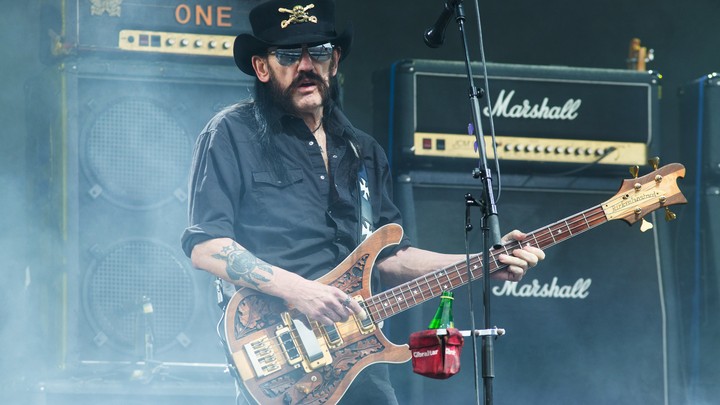 Lemmy Kilmister, the Motörhead founder and frontman perhaps best known for the heavy metal anthems "Ace of Spades" and "Born to Raise Hell" and who inspired dozens of rock musicians over the years, has died, the band announced Monday. He was 70; the cause was cancer.
Lemmy, as he was known to his fans and the world of music, founded Motörhead in 1975 and became part of what was known as the New Wave of British Heavy Metal Bands. He was Motörhead's only constant member. The British-born singer, who had lived in Los Angeles for years, was diagnosed with cancer on December 26.
Consequence of Sound adds:
In addition to cancer, Lemmy had been suffering from a number of other well-publicized health issues, including hematoma. In 2013, he was fitted with an implantable defibrillator to correct an irregular heartbeat. His health issues had caused the cancellation of multiple Motörhead performances in recent years, though Lemmy remained an active force up until the time of his death.
Some of those ailments showed in recent years, as James Parker noted in The Atlantic last month when Lemmy stopped performing at a concert after four songs:
"Listen," he'd said to us before exiting, in his familiar English roar-gasp, that voice of fiery exhaustion. "I'm really sorry—I can't tell you how sorry I am—but my back's gone. I've got this bad back and … I can't breathe up here either." Then he covered his face with his hands, and he left us.
Before that, however, Lemmy was known for, among other things, playing rhythm guitar on bass, his trademark handlebar mustache, for positioning the microphone at an unusually high angle, and for raspy vocals—all attributes that earned him the monicker Godfather of Heavy Metal.
Tributes poured in from the world of rock. Ozzy Osbourne, of Black Sabbath, was among the first to pay tribute.
Lost one of my best friends, Lemmy, today. He will be sadly missed. He was a warrior and a legend. I will see you on the other side.

— Ozzy Osbourne (@OzzyOsbourne) December 29, 2015
Scott Ian of Anthrax, the thrash band, said:
In the 2013 documentary Motörhead: Live Fast Die Old, Lemmy could be seen in his cramped Los Angeles apartment, speaking candidly about his past, his music, his love of the Beatles, his work as a roadie for Jimi Hendrix, his collection of Nazi memorabilia, and his fondness for drinking a bottle of Jack Daniels every night.
"Apparently I am still indestructible," he told The Guardian last year.
Death, he said, is the only thing that can stop them.
"As long as I can walk the few yards from the back to the front of the stage without a stick," he said, "Or even if I do have to use a stick."
We'll leave you with the song for which he's perhaps most famous, "Ace of Spades."
We want to hear what you think about this article. Submit a letter to the editor or write to letters@theatlantic.com.