LeBron James: Player, Coach, or Both?
The Cavaliers' star is shattering the ages-old divide between athlete and decision-maker.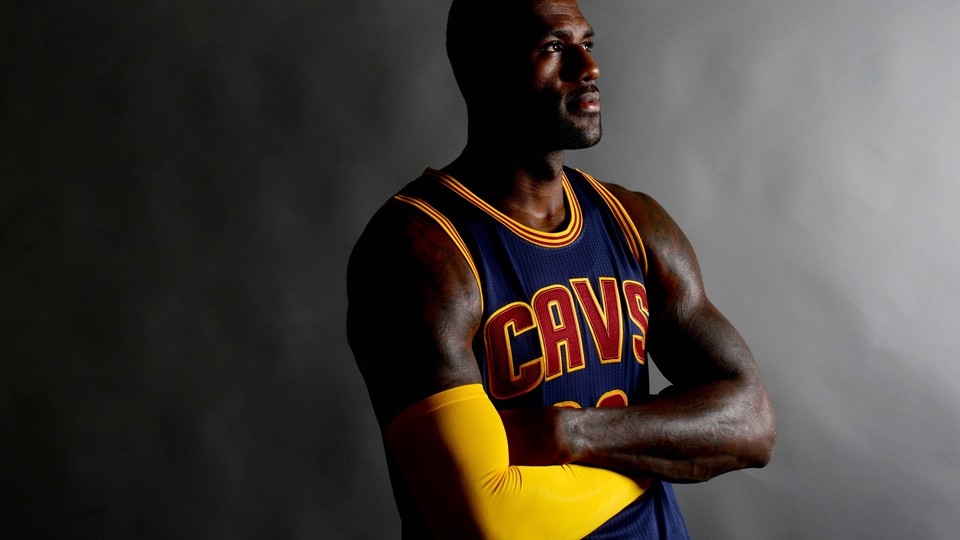 One early November night, during a game in downtown Cleveland, LeBron James received a pass on the left wing. Actually, "received" may not be the right word here, because instead of catching the pass with both hands James simply palmed it for an instant in his left and, with a flick, sent it arcing across the court. The defense had shifted in James's direction, as defenses are wont to do, and he had spotted his teammate Richard Jefferson alone in the opposite corner. Some 50 feet of distance separated James from Jefferson, a gap populated by all five opponents, but James's pass spanned it safely, curving over the defenders' reaching hands and landing in Jefferson's, who needed only to make an open three-pointer. He did so, extending the Cavaliers' lead.
Perhaps five players currently in the NBA have the vision and tactical aptitude to spot an opportunity like the one James did that evening. Fewer have the combination of strength and touch necessary to pull off a pass like the one he threw—with his weaker hand, no less. Special as it was, though, the play was just one entrant into a catalog of impossible feats that he's added to nightly since his arrival in the league in 2003. Standing six feet, eight inches tall and weighing 250 pounds, James looks like he's made of pure steel and runs like he's made of pure tendon. He does most everything that can be done on a basketball court. He spins around some defenders and shoulders through others, rams home violent dunks and coaxes in feathery fadeaways, passes like a point guard and rebounds like a center. James is a marvel of ability and acumen, the type of player that Jules Verne may have dreamed up, were he a basketball fan.
This season, James is playing the way he has throughout his 12-year career. Once again, he leads a team at the top of the Eastern Conference, figures in the Most Valuable Player race, and does something almost every night that makes basketball fans rewind their DVRs and scramble to upload Vines. Increasingly, though, and through tactics largely unprecedented in contemporary professional sports, he's begun to expand his already sizable influence within his organization. He now contains components not only of the point guard and the center, but also of the coach, the general manager, and the owner. This evolution isn't unanimously lauded; the sports world celebrates the quasi-militaristic selflessness that's central to the mythos of The Team. But in a career full of rising stakes, these may be the highest yet: James is trying to bring a championship to Cleveland and, simultaneously, to reshape the scope of athletic superstardom.
* * *
At 30 years old—he turns 31 on December 30—James has already gone through plenty of iterations. He's played in six NBA Finals, winning two, and has left and returned to his hometown team. The fans who worshipped him as a teenager cursed him in his late 20s and now praise him again. Last year, James's first back in Cleveland after the sabbatical in Miami that brought him his two titles, he dragged an injured and shorthanded Cavaliers team to the championship round. It was the start of a phase that local fans hope lasts a while, that of the prodigal icon bent on ending the city's six-decade championship drought.
It was also the start of a consolidation of power that even James hadn't attempted before. LeBron James now is the Cleveland Cavaliers, the team's engineer and engine, responsible for most every aspect of its design and execution. When he came back to Ohio, he signed a two-year deal with an opt-out clause after the first year—a contract that gave him substantial leverage that he's since parlayed into a level of sway unheard of in recent basketball history. He can leave again any offseason, in theory, so ownership and management have an ever-present incentive to cater to his vision of a contending team.
James is commonly understood to have a significant say in personnel decisions. In his announcement of his return in Sports Illustrated, he mentioned several Cavaliers but omitted the recent number one overall draft selection Andrew Wiggins; within a month, Wiggins was traded to Minnesota for Love. Last season, after a slow start, he reportedly approved the team's deals for a group of complimentary players who, upon their arrival, helped the Cavs play their best basketball of the season. This past offseason, the power forward Tristan Thompson, who shares an agent with James, held out of training camp in the hopes of a longer-term contract; James publicly advised the team to "get it done!"
James is also considered the closest thing in the present NBA to a player-coach. The arrival of the Cleveland head coach, David Blatt, coincided with James's return, and the relationship between the two has been far from the Hoosiers vision of instructor and pupil. Rumors of James's overruling Blatt or conferring with an assistant coach circulated throughout last season, and after the Finals, the ESPN reporter Marc Stein published a lengthy piece criticizing James's treatment of the man nominally in charge. Other outlets, including Deadspin, pushed back against Stein's interpretation, arguing that James's taking control afforded the Cavaliers their best chance to win.
If the rumors of James-Blatt conflict have quieted this season, it's not because of any new deference from the player. Indeed, scan Cleveland gamers, and you'll find James's quotes where the coach's usually are. He tells reporters what strategic deficiencies need shoring up and when the level of focus has slipped. After an early-season win over the Memphis Grizzlies, James told Cleveland.com about the team's emphasis on involving Love in the offense: "I told you Kevin is going to be our main focus. He's the focal point for us offensively." Following a mid-November loss to the Detroit Pistons, he said, "We are too relaxed and too nice. We need to get tougher ... We've got some guys who do that all the time, and some guys who don't."
* * *
The popular understanding of professional sports is, in many ways, a celebration of hierarchical organization. Athletes, the thinking goes, perform at their best when they sublimate their instincts into the refined visions of their coaches. Some version of this argument is made nightly, by television announcers, by fans in bars, by reporters in the premises of their questions. A play goes wrong, and the ready explanation is that some player along the line failed to obey instruction, out of foolishness or selfishness or hubris.
Such sentiments aren't found only in the rapid-fire output of modern-day media. David Halberstam's canonical piece of basketball literature, 1981's The Breaks of the Game, contends early on, "Power was for the coaches an illusory thing ... It was these players who could, if they listened and obeyed, make the coaches seem more successful and thus more effective, yet it was these players over whom it was impossible to exercise authority directly."
Winners obey; losers defy. This is how sports stories tend to be told. There's no hero more valuable to this narrative than the one who finds ultimate success only with a certain mentor, like Michael Jordan and Kobe Bryant under the tutelage of Phil Jackson. Per this understanding, talent alone doesn't get it done; in fact, too much talent may be a poison, a threat to the ability to take direction. Players must be brought in line.
These notions rest on certain assumptions: that a team's best player can't also have an organization's keenest basketball mind, or that a superstar capable of dismantling or overrunning a defense can't simultaneously consider the macro-problems of game and season. The thrill of James, at the present moment, lies in his ability to supersede this conventional thinking. He explodes the binaries with which we position our athletes. His occasional resistance to coaching might lump him in with players deemed "selfish" if his gift for passing didn't immediately refute such a charge. His influence regarding personnel decisions could make him seem "pampere," if his team-building instincts weren't so often proven correct. The top-down, traditional organization is one well-tested way to find success in the NBA, but another viable one seems to be: Employ LeBron James, and let him do as he pleases.
* * *
As they do on every team, certain issues arise in Cleveland from time to time—injuries, ill-fitting personnel, the general tribulations of a team without much experience at basketball's highest level trying to find its way. James has provided the solutions for most every one of them. He envisions an offense that makes the best use of the Cavaliers' players, advocates for acquisitions that shore up roster deficiencies, and, when all of that doesn't quite do the trick, takes it upon himself to fix things.
The Cavaliers entered their December 8th game against the Portland Trail Blazers in a bit of a funk. They had lost three in a row, the last of which James missed for the purposes of rest, and had arrived at their lowest win percentage since a season-opening loss put them at 0-1. Though the situation was explicable and hardly dire—Cleveland's preferred starting backcourt had been wholly absent to that point, recovering from offseason surgeries, and their record still put them among their conference's elite—a win that night would have been more pleasant than usual.
James played 40 minutes against Portland, scoring 33 points, grabbing 10 rebounds, and adding in three assists, three blocks, and two steals. He was at his omnipresent best, draining stepback jumpers and tearing to the rim, bellowing out orders on defense and materializing to snuff a shot when a Trail Blazer slipped through. With a minute left and the Cavaliers holding a six-point lead, James stepped past his defender, drew a foul, and, falling to the floor, tossed in a parabolic floater, ensuring the victory. He lay there a second, smiling, before his teammates ran over to lift him up.
It seemed almost as if James were providing an allegory of his own importance, although, of course, that gets it backwards. James has always been able to play like he did that evening. His off-court, behind-the-scenes stature is what's been added; his ability to steer an entire organization as deftly as he negotiates a pick-and-roll.
On Christmas day, as part of the NBA's traditional slate of marquee games, James and the Cavaliers will play the Warriors for the first time since last season's Finals. The game will present a contrast in styles. Despite what their respective nicknames connote, the Warriors play a whirling brand of basketball, while the Cavaliers rely on a buttressed defense and a more stolid offense.
The biggest difference, though, may be ideological. The Warriors won their title last June and have flourished so far this season by adhering to the model that fans and commentators everywhere can recognize. Their head coach, Steve Kerr, installed a system so thorough and stable that their assistant coach, Luke Walton, can run it with great success in his stead (Kerr has missed all of this season following complications from a summer back surgery). The Warriors' players, in a piece of line-toeing that would make Halberstam rejoice, have vocally and unanimously supported the substituting Walton. Though they have the reigning MVP Stephen Curry, who seems likely to garner the award again this year after a torrid start, they play in the sort of elegant, clock-gear fashion that inevitably leads to thoughts of its designer.
Cleveland, meanwhile, leans largely on the on-court ability and large-scale understanding of one transcendent player. This model predisposes James and the Cavaliers to certain common criticisms. Poring over their losses, the sports world treats them as a fable's vain fool, the hare to the league's wiser and more temperate tortoises. When they win, though, they seem like bringers of some sporting revolution, wherein duties are fashioned to fit abilities, not the other way around. If James can lead Cleveland to a title, he won't merely have delighted a city. He will also have staked out new ground for the athlete-dissident, that player who dares go rogue in the field where the public most adores order.