In Defense of #BadSex
An annual award for literature's worst coupling often forgets that any erotic scene can be cringeworthy out of context.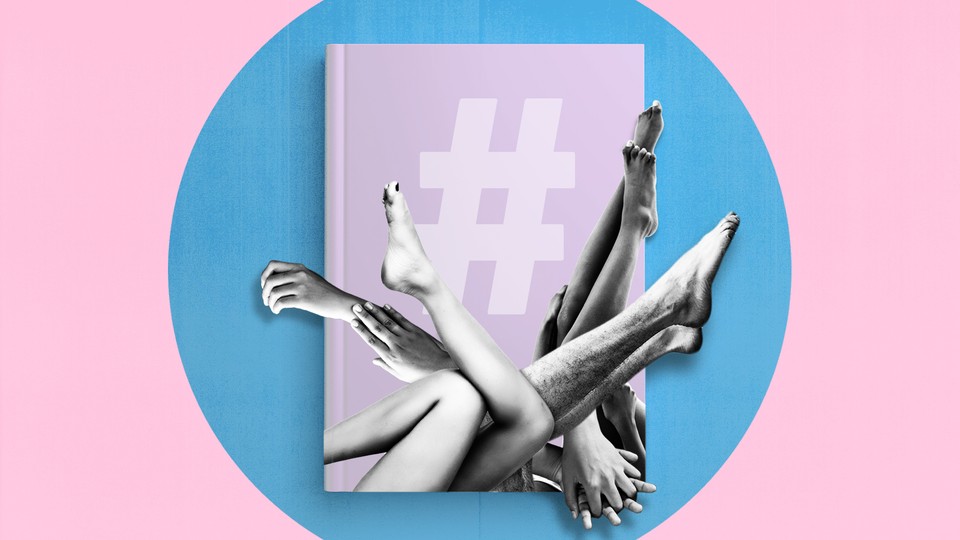 Literary Review's Bad Sex in Fiction Award is a colorful circus that's gleefully publicized on social media each year using the hashtag #badsex. Since its debut in 1993, it's been a somewhat lighthearted, somewhat serious literary spectacle, with the award meant to honor "an author who has produced an outstandingly bad scene of sexual description in an otherwise good novel." But it also professes to have a greater purpose: "to draw attention to poorly written, perfunctory, or redundant passages of sexual description in modern fiction, and to discourage them."
A great deal of joy is taken in cringing over the nominated passages—although perhaps less by the writers themselves, who are expected to receive their nominations for the anti-prize with humor and good grace (and possibly gritted teeth). But not everyone is convinced of the legitimacy of the award, despite its playful nature. Peter Bradshaw in The Guardian has called it "a terribly English display of smug, gigglingly unfunny, charmless, and spiteful bullying." Indeed, the award is rather mean: The joy taken in guffawing can be a little too joyful, a little too enthusiastic. But the bigger, less discussed problem is that the award highlights passages of (supposed) #badsex without enlightening readers as to what is #goodsex. If the award is truly to improve the quality of writing, some examples of #goodsex need to be applauded and examined—a task that goes beyond providing abstract advice on technique.
This year, the award was largely expected to be a two-horse race between Erica Jong and Morrissey, and on Tuesday, the musician-turned-novelist was announced as the victor—to almost no one's surprise. Morrissey's work should've perhaps been ineligible: His novel List of the Lost has been universally panned, and therefore the sex scene fails to meet the criterion of being part of "an otherwise good novel." This technical objection notwithstanding, the winning passage is startling:
Eliza and Ezra rolled together into the one giggling snowball of full-figured copulation, screaming and shouting as they playfully bit and pulled at each other in a dangerous and clamorous rollercoaster coil of sexually violent rotation with Eliza's breasts barrel-rolled across Ezra's howling mouth and the pained frenzy of his bulbous salutation extenuating his excitement as it smacked its way into every muscle of Eliza's body except for the otherwise central zone.
Is this #badsex? If so, why? Or is it just good ol' #badwriting? When it comes to fiction, Kurt Vonnegut says that "every sentence must do one of two things—reveal character or advance the action." Having read List of the Lost, I can bear witness: This sex scene does neither. Can that be the extent of the objection to this piece of writing?
The craft of writing sex scenes stumbles at the first hurdle: language. How to describe the, ahem, apparatuses involved? Euphemism? This is Morrissey's tactic and, when stripped of their adjectives, a reader must come to terms with the fact that the two euphemisms Morrissey selects are "salutation" for penis and "zone" for vagina. This approach is rarely satisfactory to a modern reader. How about just keeping it real? Tell it like it is: Use biological, anatomical diction. An eye for an eye, a penis for a penis, a clitoris for a clitoris. Or perhaps colloquialisms—at the risk of lowering the tone or turning the scene comic. Euphemism, anatomical diction, colloquialism: Within that mix lies the problem of language for sex in fiction. How to overcome?
In my attempts to find an exemplar for #goodsex, I decided to revisit Ian McEwan's On Chesil Beach, which I remembered as a book that dealt admirably and expertly with this material. But, I was in for a surprise. The novel had, I discovered, been nominated for the bad sex award in the year of its publication (it was longlisted, but wasn't deemed "bad" enough to make the shortlist). I like to think of myself as a thoughtful, sophisticated reader, so how did I end up in such vehement disagreement with the judges? And for that matter, what of the 2007 Booker Prize panel, who shortlisted On Chesil Beach for that prestigious  award? Why is the novel excellent while the sex scenes are bad?
Well, they aren't bad. A novel is a single, indivisible entity—a continuous waking dream. Removed from the fiction it lives in, almost all sex will appear gratuitous. By evaluating isolated passages, the work of a sex scene on both character and action is inherently lost, and even the most accomplished prose can falter. You can't judge the merit of a novel by an isolated sex scene any more than you can judge the value of a person by the shape of their liver. Here's a passage from On Chesil Beach, in which the newlyweds Edward and Florence are in bed together for the first time:
Drawing her fingers across its underside, she arrived at the base of his penis, which she held with extreme care, for she had no idea how sensitive or robust it was. She trailed her fingers along its length, noting with interest its silky texture, right to the tip, which she lightly stroked; and then, amazed by her own boldness, she moved back down a little, to take his penis firmly, about halfway along, and pulled it downwards, a slight adjustment, until she felt it touching her labia.
McEwan has opted for anatomical language—and this is, I think, more tolerable than Morrissey's euphemisms. Nevertheless, it's uncomfortable to read, and certainly as an isolated passage it can make a reader cringe. Does that make it bad sex?
How can it? The language is sincere, unsentimental, direct, and yet also delicate and curious; the sentences are fluid. But more importantly, On Chesil Beach is a novel about sex—sexual naivety, expectation, desire, consequence. And this scene, although more than halfway through the book, is the hinge on which the story pivots. It absolutely advances the action, and the characters fundamentally shift at this point—to the extent that Edward's inability to deal with Florence's desire has lifelong consequences for them both. In the context of the novel, the sex is anything but gratuitous; it is necessary. Read as part of the whole, the sex is #goodsex; it is only when extracted that it takes on the attributes of #badsex.
What of Jong's Fear of Dying, which was supposedly Morrissey's prime competition for the award? This is the passage that prompted her novel's nomination:
I slip into bed, amazed that Asher is making the first move—which is unusual for him. While I lie next to him, astounded by his presence still, he opens my silk robe and touches my cunt as if he were Adam just discovering Eve's pussy.

"Beautiful," he says.

And then he begins to run his tongue slowly along my labia, gently inserting one finger to feel for my G-spot on the front wall of wet pussy.
Confronting, perhaps, when extracted so plainly. But bad writing? The novel as a whole was given serious, thoughtful reviews, most of which allowed it to pass without major censure or with only relatively mild quibbling. Where Morrissey opted for euphemisms, Jong has gone for colloquialisms. The strange invocation of Adam and Eve, and perhaps some redundancy, are the only crimes the passage can be accused of—and these are really more a matter of reader sensibility than craft. Surely this isn't bad sex worthy of international ridicule. (When this passage is considered alongside the material of On Chesil Beach, one might wonder whether issues of female sexual desire are, at least for the bad sex judges, a little more cringeworthy, a little more transgressive, than issues of male desire. That, however, is a separate analysis.)
There are at least two things at stake in the bad sex awards. The first concern is that the judges might just get it plain wrong. They might anoint a piece of writing as #badsex when it's actually, in its original context, #goodsex. Secondly, and more crucially, there's the risk that the awards will suppress certain modes of writing—that is, direct descriptions of sex that are necessary to the narrative—therefore impeding the advancement of fiction and the emergence of new writers. The writer and mathematician Manil Suri has anticipated this effect, and has recently provided some consolatory advice. Remember: The stated aim of the award is discouragement. Which would be fine if the nominated scenes were indeed all bad, but this patently isn't the case. It would be an aesthetic tragedy if fear of being publicly shamed for writing #badsex compelled an author to censor his or her own writing.
What now then, for the award? Well, it surely will continue—as will the easy laughs and the faintly nasty condemnation. The publicity it generates is just too alluring. I can't help but think, however, that a rebranding is in order. When bad sex is truly bad (and Morrissey's passage might be the best example), it is simply bad writing. That is, bad sex isn't its own category, and does nothing more than violate another of Vonnegut's maxims—that is, don't waste your reader's time with rubbish. The best readers can hope is that the bad sex award remains as described by Ben Okri's editor last year after Okri's "win"—"fun but a bit undignified."