Home Alone: Beloved Holiday Torture Porn
The Christmas classic, which turns 25 this year, takes maniacal delight in the shooting/stabbing/scalding of its two bumbling burglars.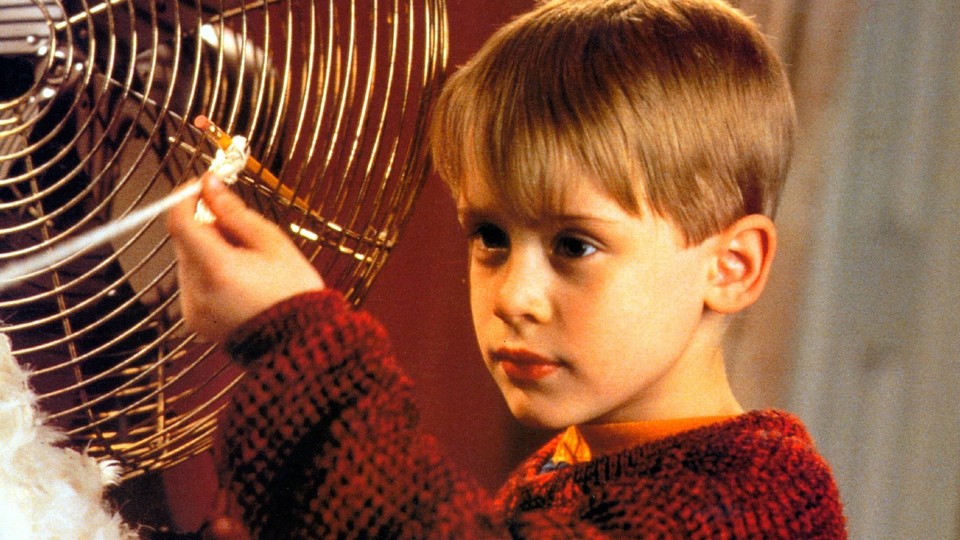 Here is an incomplete list of the physical traumas that befall the burglars Harry and Marv in Home Alone:
Harry grabs a white-hot doorknob, resulting in a red and blistering and probably-third-degree burn on his right palm
Harry gets shot in the groin with a BB gun
Marv gets shot in the forehead with a BB gun
Harry's hat, hair, and head-flesh get singed with a blue-flamed blowtorch that's been rigged to trigger when he opens a door  

Marv g

ets a hot iron to the face (the iron has fallen on him from the floor above)
Marv, his shoes having been forcibly removed by an attempt to climb stairs that have been coated in hot tar, impales his foot on a metal file folder prong
Marv, barefoot on account of the tar-stairs, cuts the soles of his feet on shattered Christmas ornaments
Harry slips on a set of iced stairs, flipping onto his back (twice)
Marv slips on a different set of icy stairs, landing on his back and sliding down the entire staircase
Marv gets a tarantula placed on his face
Both men slip on Micro Machines that have been scattered around the floor, flailing and landing on their backs
Both get hit in the face with full paint cans—with a force so hard, in Harry's case, that it knocks out his gold tooth
Home Alone
, which was released in 1990 and has since become an
It's a Wonderful Life
-caliber Christmas classic, is on the whole a heartwarming object lesson about the sanctity of the home, the value of family, and the power of forgiveness. (That scene at the end! When the old man hugs his granddaughter in the snow! As "Somewhere in My Memory" plays!
I'm tearing up just thinking about it!
) But here is the other thing—the awkward thing—about
Home Alone
: It is weirdly violent. Actually pretty sadistically violent. And the agent of all the mayhem is an adorable 8-year-old named Kevin McCallister. Who, yes, may have been forced, by wacky circumstance, to defend his house against two bumbling thieves—but who defends that house, again and again, in pretty much the cruelest, grossest ways possible. That foot, impaled. That scalp, burned. That face, tarantula-ed.
Home Alone, overall, is a John Hughes movie that reads like a Tarantino: Its violence is artful, and theatrical, and extravagant, and unapologetic. It delights in the punishments it doles out to its villains by way of its pint-sized protagonist. Its plot points verge into full-on torture porn. Kevin carries his BB gun slung, over a single shoulder, like a rifle. He grins at the men he shoots with it. He taunts them. ("I'm down here, you big horse's ass," he yells at Harry. "Come get me before I call the police!") His traps are designed not just to injure Harry and Marv, but to humiliate them.
One of those traps covers a scald-headed Harry (by way of a glue-covered piece of plastic wrap, a jury-rigged fan, and the contents of a down pillow rigged) in feathers. There is precisely no logistical point to this; it's a tar-and-feathering joke meant only to add insult to injury. And when Kevin's fun-house of horrors baits the burglars into venturing out on the zipline he's strung from his attic to his treehouse, Kevin—rather than taking advantage of the thieves being caught in midair to get a head start in running away from them—decides instead to mock them again. "Hey, guys, check this out!" Kevin yells at them, flashing a taunting grin. He looks down dramatically at the pair of hedge-clippers he holds in his hand. Then he cuts the rope.
This kind of thing—Kevin taking sadistic delight in the traps he has set for his intruders—becomes a refrain throughout the movie. "Have you had enough?" he asks the burglars he has shot/stabbed/scalded, as yet another sly smile spreads across his face. "Or ya thirsty for more?"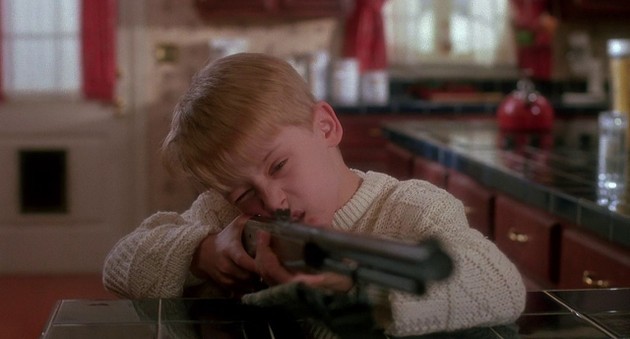 All of this—the 8-year-old, fending off the criminals!—is meant, in the moral terrain of Home Alone, to be ironic and dramatic and hilarious and, all in all, justified. (The movie suggests that Kevin doesn't do the obvious—call the police—because of some combination of his house's phone lines being down and his not wanting outsiders to know that he is, in fact, home alone. The real reason, of course, is that a 911 call would negate the need for Home Alone to exist in the first place.) The film, throughout its proceedings, walks a tightrope that is approximately as thick as Kevin's zipline: It's a story whose plot revolves around shootings and stabbings and scaldings, but that presents itself as light-hearted comedy. A holiday romp! With probably-third-degree burns.
Home Alone
walks that line—and downplays its own violence—in part through its upbeat music ("White Christmas," "Run, Run, Rudolph," "Jingle Bell Rock") and its many chipper interludes (its iconic
after-shave scene
, Kevin's Christmas Eve blessing of "this highly nutritious microwavable macaroni and cheese dinner and the people who sold it on sale") and, in general, the precocious charisma of Macaulay Culkin. It also engages in some ends-justifying-the-means stuff by emphasizing Kevin's status as an underdog.
Home Alone
is a classic story of David and Goliath, except here the power discrepancy comes down to "kid versus adult." Everyone in the movie—parents, siblings, cousins, grocery store clerks—underestimates Kevin, not just on the grounds of his Kevin-ness ("you're what the French call
les incompé​tent
"), but also on the grounds of his kid-ness. "He's so little and helpless," Kevin's sister, Megan, reminds their brother, Buzz, when Buzz fails to see why they should cancel their Paris trip to retrieve him.
The thieves, too, fall victim to a kind of ageism, and to the assumptions of a culture that thinks extremely little of children and their abilities. Their "he's just a kid" thinking forms another refrain in the movie. "We're getting scammed by a kindie-gartener," Harry tells Marv, when he realizes Kevin's home-alone status. "He's a kid," Marv reminds Harry, later on in the proceedings, adding: "Kids are stupid." Later, Marv will reemphasize the point: "He's only a kid, Harry," he reminds his partner, concluding, confidently: "We can take him."
We get it, John Hughes, we get it. Kid power! The problem is, though, that being an underdog, morally, only gets you so far. Kevin's decidedly un-avuncular Uncle Frank, early in
Home Alone
, yells at his young nephew, "Look what you did, you little jerk!" This outburst is the trigger for pretty much everything that follows in the movie. And yet, a
t a certain point (that point probably being the Marv's-foot-impaled-by-a-MacGyvered-nail scene),
Uncle Frank's admonishment starts to seem downright prophetic—and downright generous. As Grantland's Jason Concepcion

put it last year

, tongue only slightly in cheek: "
I can say with certainty that
Home Alone
is in actuality the origin story of Jigsaw, né John Kramer (obviously an alias),
the infamous serial killer
and mentor to serial killers from the
Saw
movie series." This was on the grounds that "throughout
Home Alone
and
Home Alone 2: Lost in New York
, Kevin displays anger-control issues, a proclivity for violent fantasies, and voyeuristic tendencies, combined with a fetish for recorded video."
Yes. And! Kevin's sadism, it's worth noting, isn't limited to Home Alone's criminals. Remember when Kevin orders himself a pizza ("a lovely cheese pizza, just for me") from Little Nero's? The delivery guy comes. Kevin blares Angels With Filthy Souls—the part with the line "now leave it on the doorstep, and get the hell out of here"—so the delivery guy can hear it. Kevin could easily leave it at that: a transaction with an outsider that doesn't reveal his status as, you know, home alone. He also could leave things at the line "keep the change, ya filthy animal." But he doesn't. Instead, he escalates. He continues playing the tape—the part with the threat that the speaker will "pump your guts full of lead." Shots ring out. The delivery guy runs. The delivery guy thinks he might actually get shot by a machine gun.
Kevin, at all this, grins. Again. Ugh.
Home Alone does not question any of this. Home Alone, instead, simply delights in all the things its chronically underestimated kid is able to accomplish once he decides that "I'm the man of the house." The irony of the whole thing, though, is that, if Kevin is ever in any danger at all, it's danger he has brought on himself—by way of his own jerkiness. Harry and Marv, after all, are non-violent criminals, interested in nothing but TVs and stereos and jewelry. Once subjected to Kevin's house of horrors, however, they undergo a kind of moral conversion: They transform from petty thieves into violent ones, from would-be robbers into (maybe even?) would-be murderers. Kevin's sadism begets their sadism. Until: "I'm gonna rip his head off!" Harry, burned and shot and covered in feathers and glue, announces. "I'm gonna kill that kid!" a battered Marv declares. Later, Harry yells at Kevin, "You pound me with one more can, kid, and I'll snap off your cajones and boil them in motor oil!"
Things escalate to the extent that, when criminals and kid finally meet each other, the robbers thinking they have the upper hand, Harry announces the punishment he intends to dole out to his 8-year-old abuser:
Marv: "What are we gonna do to him?"

Harry: "Do exactly what he did to us. We're gonna burn his head with a blowtorch."

Marv: "Smash his face with an iron!"

Harry: "Slap him right in the face with a paint can, maybe."

Marv: "Drive a nail right through his foot."
This is extreme. It is also, of course, just as Harry says, everything Kevin has done to them. The sadism here is cyclical: It escalates, unnecessarily. And then, finally: "The first thing I'm gonna do," Harry informs Kevin, having cornered him and hung him by his sweater on a hook in a doorway, "is bite off every one of these fingers, one at a time."
Which is, uh, quite a turn for a movie that is nominally about the magic of Christmas and the inconveniences of international air travel. And yet, coming as it does off of the tortures Kevin his inflicted on his intruders in the name of underdoggery and stand-your-ground morality, it makes perfect sense. It's fitting that Kevin spends so much of Home Alone obsessed with his house's basement, a place of furnaces and shadows and things best kept hidden from public view: The movie has its own dark underbelly. Home Alone, festive and twinkly and brightly lit and enduring beloved, never bothers to treat its central accusation as a central question: Look what you did, you little jerk.