Twenty-Four Out of 25 Ain't Bad
After winning two dozen games in a row to start the season, the Golden State Warriors' historic run ended in Milwaukee.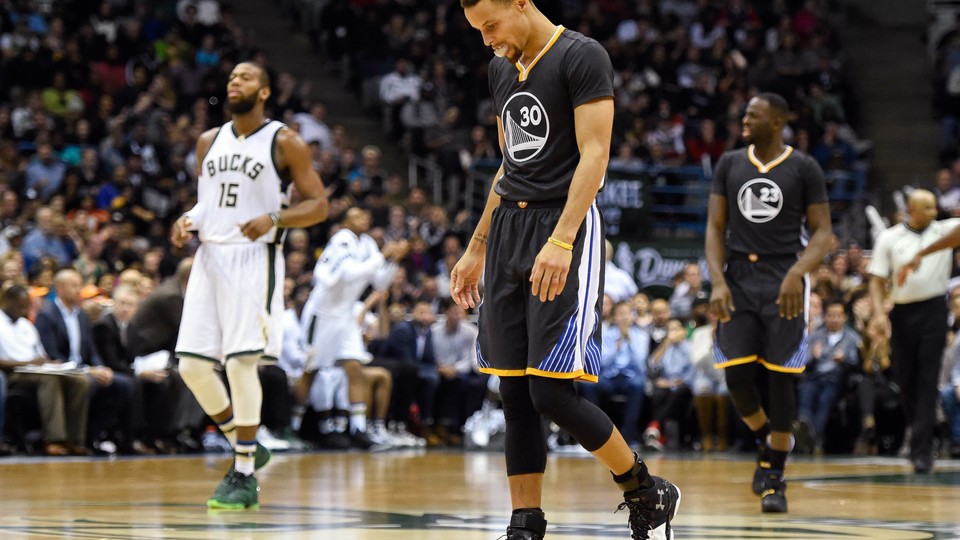 As the reigning NBA champions marauded their way through November, shattering the record for most consecutive wins to start a season, basketball observers started wondering if the Golden State Warriors had a shot at the all-time best season, 72 wins and just 10 losses, which Michael Jordan and the Chicago Bulls achieved during the 1995-1996 season.
After the Warriors' run surpassed 20 games, some started to wonder when (and even if) the Golden State Warriors would lose a game this season. Looking down their list of opponents, the lowly Milwaukee Bucks didn't seem like the team that would end the historic roll. But the Warriors, playing their fourth game in five nights and their seventh straight on the road, were finally outlasted by the Bucks 108-95 on Saturday night. The loss came less than 24 hours after Golden State won a double-overtime game in Boston.
Their win streak ends at 24 games, technically 28 if stretched back to the end of last season, just five games shy of the all-time record for consecutive wins. "The Bucks of Oscar Robertson and Kareem Abdul-Jabbar halted the Los Angeles Lakers' 33-game winning streak during the 1971-'72 season, still the longest winning streak in league history," noted the Milwaukee Journal Sentinel.
As the final buzzer sounded, confetti fell from the rafters in Milwaukee, an oddity for a regular-season NBA game in December. It was the first time the Warriors had been held to fewer than 100 points in a game all season.
Despite the double-digit margin of victory, the game was hardly dull. Down 11 at the half, the Warriors cut Milwaukee's lead to just one point in third quarter before the Bucks pulled away. The Warriors had won more than one-third of their games despite trailing in the fourth quarter, a testament to their chemistry, poise, control, and other sports clichés.
Not all of their games were that close; the Warriors' first four wins were by an average of 25 points, all against playoff teams from the year before. In one of those games, they beat the Memphis Grizzlies by 50 points. Perhaps most notably, Golden State did all of these things without their head coach, Steve Kerr, who has been out all season so far while recovering from back surgeries.
For their next game, the Warriors take on the Phoenix Suns on Wednesday at home in Oakland; the Bucks play the Lakers on Tuesday at the Staples Center in L.A.