Why Are So Few Film Critics Female?
The medium once championed their voices, but now, fewer than 20 percent of Rotten Tomatoes-excerpted reviews are by women.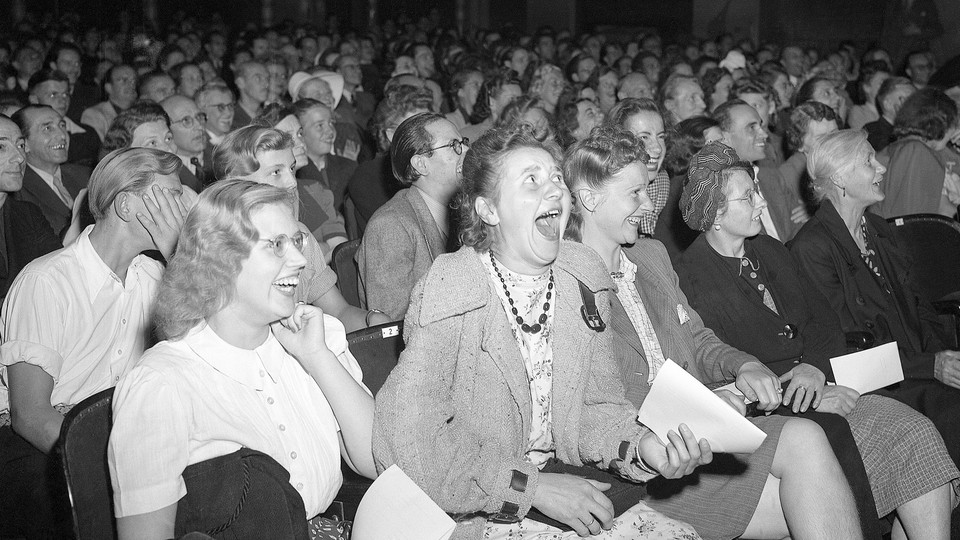 When the Golden Globe Award nominations were announced earlier this month, many writers took the opportunity to assess how well women were represented. A preponderance of nominations for Carol aside, there were no women in the screenwriting and directing categories, as Bustle noted, and women of color didn't crack even the film acting category, according to Indiewire. Check-ups on representation in Hollywood are pretty routine for publications these days, and the fact that journalists haven't relented, even in a relatively good year for stories about women, is a sign of their crucial role in changing the industry behind the camera. Online media has seemingly become one of female filmmakers' most tireless advocates.
But in one significant area, entertainment media isn't doing women in Hollywood any favors. News sites, which now write so often about women in film, still have yet to publish male and female film critics in equal numbers. It's been noted before that women write just 18 percent of the top reviews and constitute only 20 percent of top critics on Rotten Tomatoes—but it's also the case that in four of the top film critics' associations, women don't even account for a quarter of the overall membership.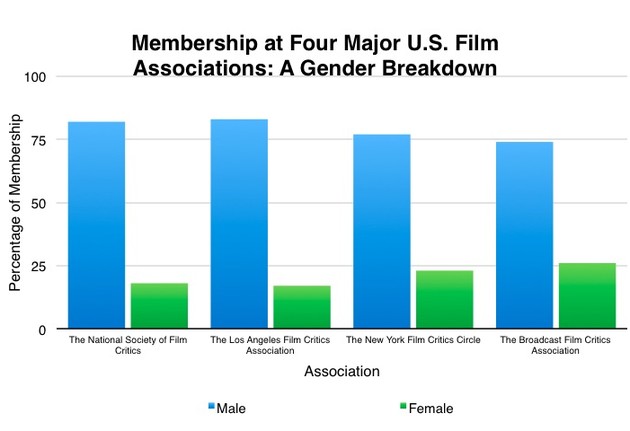 This might all seem a tad esoteric. Do film critics really matter anymore? But research published in the past decade indicates not only that they do, but that, in unison, their reviews can still make or break audience attendance and influence, and even predict, box-office success. Since film critics tend to write about movies helmed by directors of their own sex, it stands to reason that if news organizations want more female filmmakers on feature-length projects, they can start by hiring more women critics.
A brief look at history indicates the drop-off of women in criticism occurred fairly recently. Women were relatively strong in number and influence in film writing until news went online—which means that, to do their part for women in Hollywood, Internet publications will have to act, too.
* * *
Film criticism wasn't always such a boy's club. In the 1920s and through World War II, women weren't welcome covering hard-news topics like politics and international news, but they did find a rare place writing about the moving pictures. At the time, film was considered less prestigious (books and theater being the more highbrow arts), and writing jobs were ideal for homemakers, who could attend press screenings during the day and accept short-term or contract work. As a result, women like Dilys Powell and C.A. Lejeune enjoyed decades-long gigs at prestigious publications (The Sunday Times and The Observer, respectively). Editors liked female reviewers, as several made the assumption that women were softer on films than men, thus endearing their publications to studio ad men. Film criticism, Jerry Roberts writes in The Complete History of Film Criticism, was considered a "suitable domain for women—something for them to do along with 'sob-sister' columns and society pages."
But the joke was on the editors. Film rapidly grew in prestige, and, thus, women critics and writers grew in influence. Some of these writers were even overtly feminist, reviewing movies in ways that challenged Hollywood's macho culture. In the 1940s and 1950s, Cecelia Ager wrote incisive takes on films like Camille and King Kong, focusing on their female characters. E. Arnot Robertson fixated on films marketed to women, gently mocking sentimental romances while also acknowledging their pleasures. (MGM, so threatened by her review of The Green Years, banned her from future screenings; later, Robertson brought suit. The whole affair cost her a gig at the BBC.)
By the '60s, two of the biggest voices in film criticism were women. At the New York Herald-Tribune, Judith Crist was banned from 20th Century Fox screenings after panning Cleopatra, a move that made it the fashion for newspapers to "import or create their own hard-to-please reviewers," according to Roberts. Writing for The New Yorker and others, Pauline Kael became the most famous reviewer in America. Her first book of criticism, I Lost It at the Movies, sold 150,000 copies—unthinkable at the time—and helped make writing books an important source of both revenue and prestige for the critic contingent. Kael's fight with Andrew Sarris over the "auteur" theory of cinema became film myth.
Controversy and public spars were important for the development of film criticism: Without them, critics wouldn't have become so well-read, or appeared on television and radio to endear themselves to new generations. And the '80s and '90s were peak times for the female critic, in terms of the sheer number of them installed in full-time gigs at newspapers, according to Roberts.
The decline of female bylines, however, had its roots in this bubble for film criticism. The representation of women in criticism in the '80s and '90s was—thanks in part to the popular work of former writers like Kael and Crist—inflated by an unusually robust demand for film reviewers. But that was already changing as television, a medium seemingly tailored to the homemaker, had become the "nice little job for women" that film once was. At the time, women were also unfortunately positioned for the incipient Internet age. Many of the '80s and '90s women critics were employed at mid-sized papers or in less-zeitgeisty metropolitan areas for movies (glaring exceptions include Kael, The New York Times' Janet Maslin, The Wall Street Journal's Joy Gould Boyum, and the Los Angeles Times' Sheila Benson). In 1989, the New York Film Critics' Circle and the Los Angeles Film Critics Association included only seven women combined.
When the print-journalism establishment hit the rocks in the early days of the Internet, and again in the aughts, women suffered. In the late 1990s, mid-sized papers cut in-house film critics and ran film reviews written by the biggies—namely Roger Ebert or Vincent Canby—provided by wire and news services. In the mid-aughts, arts sections took another hit: In 2005, Douglas McLennan famously estimated there were 5,000 positions for people to write about the arts. By 2009, that figure was cut in half. The remaining staff critics were the ones at the most powerful papers—largely, members of the old (typically male) guard. "Those [paid, full-time arts critic] positions have all been locked in while the industry has tanked," Rebecca Ritzel, a freelance dance critic at The Washington Post, explained. "They're frozen in time."
* * *
Prior rigid definitions of film criticism have thawed to some extent since the news industry last faltered. Specialized arts and culture sites have restored access to freelance and amateur critics, while IMDb and Rotten Tomatoes, "community" platforms, podcasts, and YouTube offer alternative methods for getting heard. Even old-guard outlets like The New Republic and The Guardian allow staff writers, editors, and freelancers to do reviews in the absence of—or in addition to—specialized critics. And yet, in the post-film critic bubble world, women still aren't even making up 20 percent of Rotten Tomatoes bylines.
So what are some of the explanations? For one, it's been suggested that many women feel discouraged from speaking out in such an opinionated way. "Maybe a lot of women don't feel like they want authority to tell people what to do," the Wall Street Journal critic Dorothy Rabinowitz told Lydia Magazine in 2014. Rabinowitz's speculation recalls similar justifications for the dearth of women in opinion and literary writing. (Researchers say the historical inheritance of rarely being encouraged to display knowledge is one of the factors why women are still in the minority in opinion writing.) There's also the matter of who pitches stories to editors: According to several informal studies, men tend to pitch more than women, which puts women at a disadvantage at any publication that welcomes film commentary from freelancers. Finally, the sociological angle: Some argue that Hollywood, being male-dominated itself, has spawned a macho culture among film writers that may deter women. Nothing the prominent women film critics of past decades weren't dealing with already, in other words.
In conversation with women film writers themselves, however, an alternate theme emerges: In short, don't lay all the blame on the critics. Even at online outlets that rely on freelance writing, film publications as a whole aren't putting enough effort into diversifying their bylines. Niche entertainment sites have the worst record for publishing women—only 9 percent of their critics are women, compared to 20 percent on mainstream news sites. Monica Castillo, a freelance film critic who writes regularly for the International Business Times, said past editors have told her they don't publish more women because "they don't know women who write about film well [and] that maybe women just aren't that into film." Another freelance film critic, who wished to remain anonymous to protect her prospects pitching new stories, said that on the basis of one experience with a woman, one editor told her he was "hesitant" to work with women again.
The most obvious answer for breaking down the purported misconceptions about women and film writing is to hire more of them. Thankfully, that's a step that several major news outlets have taken in the past two years. In 2014, Buzzfeed hired the film writer Allison Willmore to be its first-ever critic; just last month, Time hired Stephanie Zacharek to fill Richard Corliss's vacancy; and The Village Voice recruited Melissa Anderson following Zacharek's departure. But, as The Nation's Katha Pollitt has argued, making female bylines a priority requires more then just writers; it requires female editors, too. Indiewire, for its part, recently hired Kate Erbland as its managing editor.
Other publications have doubled down on their commitment to women writers with measures that go beyond hiring practices. Salon moderates its comments section, which its television critic, Sonia Saraiya, told me makes the site a safer platform for reviewing. At Alternet, Ann Friedman established a rule requiring two female bylines on the homepage a day. Indiewire offers a Critics Academy program for budding film critics—which I participated in—that has a gender-based quota that regularly divides classes into equal numbers men and women, according to chief film critic Eric Kohn. Some film groups are even deliberately extending membership to women, even to those who don't elect to apply. "You can't invent film critics to rectify this problem that exists throughout the industry," the Broadcast Film Critics' Association president Joey Berlin told me. "But we are aware of it, and do make an effort to reach out to people for membership, particularly female critics."
The absence of women film critics has been in the news recently thanks to Meryl Streep, who questioned in October how having so few women writers might affect the reception of female-centric films. (There are no headlines recently about the representation of other races or sexual orientations, though they deserve many of their own.) The challenge was implicit: Will all the outlets that cover her remarks (as so many did) actually do anything about it? Readers and female filmmakers are still waiting to find out. In the meantime, women heap praise on Streep's female-written and directed film, Suffragette: Last week, the Women Film Critics Circle awarded it seven year-end laurels—four for visual and thematic representation of women, and three for work by women behind the scenes. Now, it's the media's turn to do better.