'Feliz Navidad': How Jose Feliciano Won America's Heart
The Puerto Rican musician wrote the lyrics of his Christmas classic in English to ensure American radio stations would play it.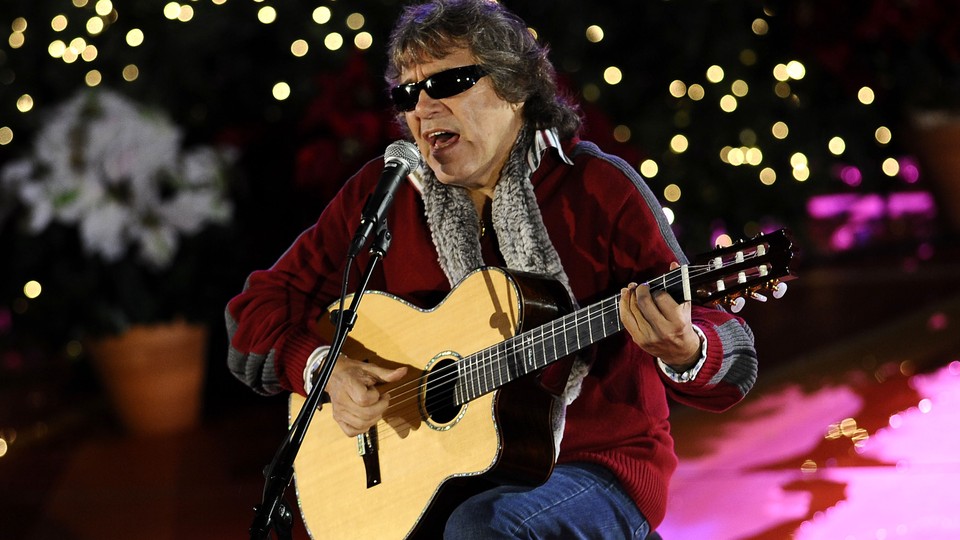 Welcome to The 12 Days of Christmas Songs: an attempt to uncover the forgotten history of some of the most memorable festive tunes. From December 14 through 25, we'll be tackling one secular song and one holy song each day.
---
In 1968, the Puerto Rican musician Jose Feliciano performed his own rendition of "The Star-Spangled Banner" at a World Series game in Detroit. Today, the Latin jazz-infused interpretation has been called "trailblazing," "heartfelt," and "soaring." But at the time he received only tepid applause, followed by jeers, followed by outcry from onlookers who called his version of the national anthem "unpatriotic." "Some people wanted me deported—as if you can be deported to Puerto Rico," Feliciano later said.
The incident didn't ultimately tarnish his reputation. His album Feliciano! became a No. 2 hit on the Billboard charts, and he won two Grammys the following year. But it did make Feliciano realize the kind of pushback multicultural artists could face—a lesson he applied two years later when he wrote the now widely beloved Christmas song "Feliz Navidad."
The song is big, bright, punchy, and warm; it could melt away all the snow in "White Christmas." Just 20 words in English and Spanish make up its lyrics—forget the mental and verbal athleticism required to pull off "The Twelve Days of Christmas." And when Feliciano sings it, he sounds nothing short of effusive in his desire to spread holiday joy: "From the bottom of my heeaaartt!!!" And you can feel that all that joy and earnestness, even if you don't know quite know what "Prospero año y felicidad" means.
Now 45 years old, "Feliz Navidad" might never have existed had Feliciano not decided to tweak his initial vision. "If I had left it in Spanish only, then I knew the English stations might not play it," Feliciano told Billboard last year. Which is where the lyric "I want to wish you a merry Christmas" came in handy as a kind of musical Trojan horse: "There was no way the stations could lock that song out of the programming."
He was—and still is—right. Today, "Feliz Navidad" is one of the most popular Christmas songs in the U.S. and Canada. Every December, it finds its way into the top 10 of Billboard's Holiday 100 list, alongside "Jingle Bell Rock" and "Let it Snow." Feliciano, who recently turned 70, has performed his Christmas classic countless times (and has since reprised his national anthem several times as well). But in watching him, you don't see an artist who entered the mainstream while in some ways operating on the fringes as a Latino musician from a U.S. territory. You see a man whose fingers move across the fretboard as though dancing. A man who, though he cannot see his audience (Feliciano is blind), nonetheless inspires them to stand up and dance and sing along from, yes, the bottom of their hearts.
What you won't hear is a single "boo."