Could Kendrick Lamar Win Album of the Year at the Grammys?
He deserves to. But Academy members would have to overcome their historic bias against hip-hop, as well as against music that won't play well at Starbucks.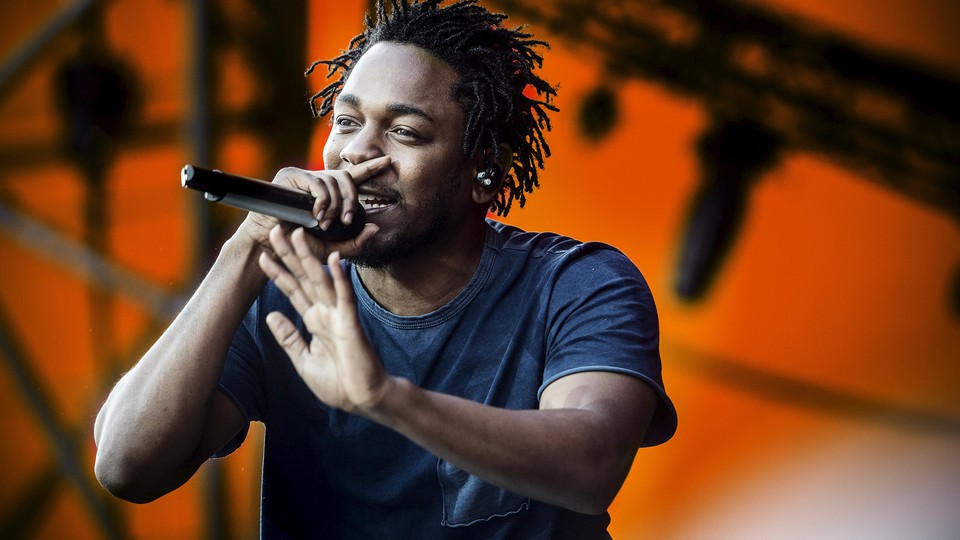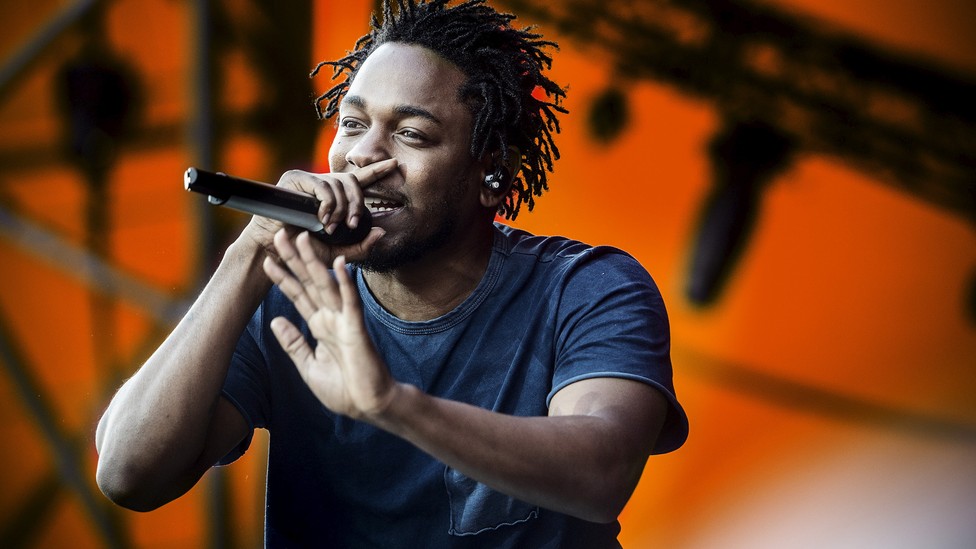 "You got robbed. I wanted you to win. You should have. It's weird and it sucks that I robbed you." So texted Macklemore to Kendrick Lamar when the former beat out the latter for the Best Rap Album award at the Grammys in 2014. It was a somewhat confusing move for him to apologize for something other people had decided and then post the apology to Instagram, but if nothing else the incident had one clear effect: bolstering the idea that Kendrick Lamar is the kind of musician who should win awards.
The Grammys came to embrace that notion in 2015, giving Lamar's single "i" both Best Rap Performance and Best Rap Song honors. And today, it nominated Lamar in 11 categories for the 2016 ceremony. Which means he now has the second most nominations for an artist in a single year in the Grammys' history—just behind Michael Jackson's 12 nods in 1984. In a perfect world, the Recording Academy's newfound enthusiasm would result in Lamar getting the top prize of the night, the Album of the Year Grammy, but, as Lamar's work so often reminds listeners, this is not a perfect world.
Lamar's To Pimp a Butterfly is a brilliant, dense, and noisy document of someone struggling with the expectations put on him by society, his community, and his conscience. At a time when the relevance of the album format is in question, Lamar is an example of a young artist using it to its full, cohesive effect. Accordingly, it's landed at the top of many critics' year-end lists, and the praise is so broad that some people have gotten suspicious about it. "This bizarre and supposedly 'challenging' album was universally acclaimed and, apparently, unimpeachable," wrote Complex's Justin Charity in a November article headlined, "Why Did Everyone Claim to Enjoy Kendrick Lamar's To Pimp a Butterfly?" Charity liked the album a lot, he said, but wanted to point out that most of the rave reviews praised Lamar's complexity without really parsing it.
Regardless of whether you agree with that appraisal, the fact that it was made at all is a sign of how wide the cultural credibility Lamar holds is. It will now be seen whether that credibility can stand up to the historical headwinds against hip-hop at the Grammys. If To Pimp a Butterfly wins Album of the Year, it'll be only the third rap release ever to do so, and the first in more than a decade. What's more, it would be arguably a clearer-cut victory for the genre than any before. Jack Hamilton laid the groundwork for this case writing for The Atlantic in 2012:
The first time the Academy gave Album of the Year to a rap record was in 1999—a mere 20 years after "Rapper's Delight"—for Lauryn Hill's The Miseducation of Lauryn Hill. Miseducation is an undeniably great record, but it's also an undeniably great record for people who don't actually like hip-hop, or, more honestly and less politely, don't like the kind of people who tend to make hip-hop. Lauryn was a Columbia-educated, movie-star beauty who also sang; Miseducation wasn't even entered in the "Best Rap Album" category, winning "Best R&B Album" instead. The next time a hip-hop artist won was in 2004, when Album of the Year went to Outkast's Speakerboxxx/The Love Below, a double album that also benefited from a "rap-but-not-really" vibe thanks to the massive success of "Hey Ya!," which won a Grammy in the category of "Best Urban/Alternative Performance" (a.k.a. "Best Euphemism Coined By A Confused Elderly White Person").
To Pimp a Butterfly has a cultural profile outside of hip-hop, but it's difficult to argue the music itself is rap for people who don't like rap. It's true that the primary instrumentation—studio-recorded jazz and funk—might appeal to traditionalist members of the Recording Academy. But Lamar delivers his words fast and raggedly, and by all rights some people will recoil at—or be offended by—what he says. The first song on the album starts with the sampled words "Every nigger is a star." The second one has Lamar riffing on the phrase "this dick ain't free."
This, of course, is why it's unlikely it would win. Album of the Year Grammys tend to go to sonically safe material without many obviously synthetic elements, music that would work well at chain coffee shops. For example, Beck's whispered melodies and meditative fingerpicking scored an upset over Beyonce's raunchy self-titled release last year. Before that, Daft Punk's lush homage to the same musical traditions responsible for elevator music beat out Lamar's major-label debut. Mumford & Sons, Adele, Arcade Fire, U2, and Robert Plant and Alison Krauss were other winners in recent years. So was Taylor Swift, whose 1989 is up against Butterfly. But it's worth noting that her previous win was for 2010's Fearless, when she was in her guitar-strumming confessional phase. Now that she's moved to shiny dance-pop, her chances at taking top prize on Grammy night may have decreased even though—or maybe even because—her popularity has increased.
Chris Stapleton, the songwriter whose improbable story, soulful voice, and throwback style gave him a surprising victory at the Country Music Awards last month, could well be the Academy's choice. Then again, Alabama Shakes—who can be described with many of the same adjectives as Stapleton, though their Grammy-nominated Sound & Color sounds very different from him—might siphon away some country- or rock-inclined voters. Then again again, the other nominee, The Weeknd, an R&B singer with heavy rap influence, might have a similar effect on Lamar's possible constituency. All of which means it's not impossible he could prevail, but it would still count as a surprise.
A pervasive opinion about the Grammys is that they don't matter, given that they have a dismal record when it comes to awarding works that eventually come to be seen as classics. But the ideal they represent is still important to many people, especially among those who make music in genres that have been historically ignored by gatekeepers. When common attitudes about what kinds of art are worthy of respect conform to the broader real-world patterns about who hold power and who doesn't, awards—arbitrary though they may seem—can act as a force for change, or at least as a cultural mirror. Maybe it's time that mirror reflect as something as complicated and profound, and as different from what's come before, as To Pimp a Butterfly.