Five Books We Missed in 2015
And the titles their authors say they loved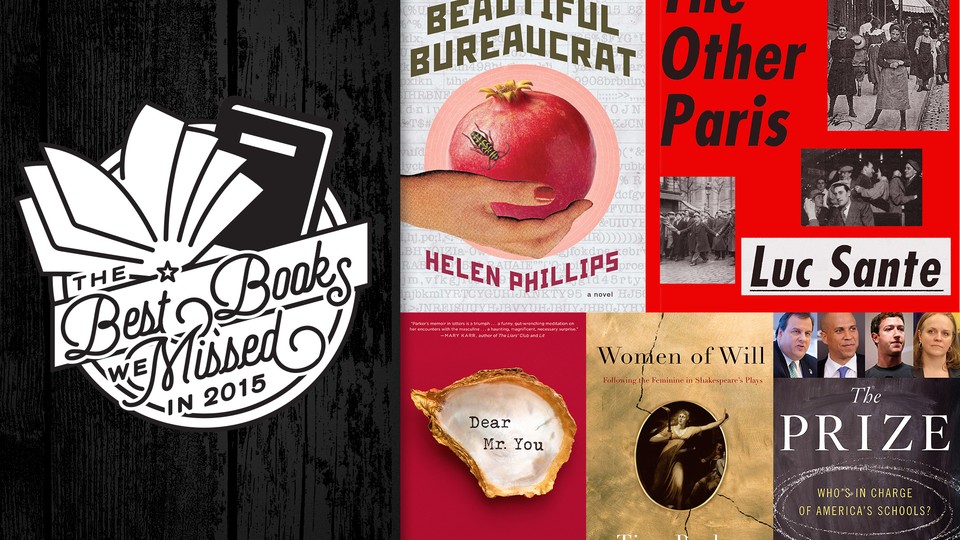 "So many worthy books, so little space."
I type those words all too often, as I wrote in this space last year when the list-making season arrived—and of course it's true again this year. I send them to publicists who fill my inbox with plugs for one title after another on publishers' lists. I send them to reviewers eager to offer their thoughts on this or that author's latest effort. I send them to authors themselves—you might be surprised how many—who come right out and ask: Can they hope for any attention in the pages of The Atlantic? The phrase is sometimes a white lie, yet always the truth, too: In the print magazine, we generally have room for only 30 or so book pieces a year in the Culture File. That means an awful lot of notable books go unnoticed by us.
In the holiday spirit, now is a moment to mention an array of 2015 books across the non-fiction and fiction spectrum I wish we hadn't missed—including two that my colleague Sophie Gilbert had hoped to write about in the Culture File. (So many worthy books, so little time!) We've asked their authors to pay it forward, and single out a few books themselves. What recent work has caught their expert eye? What book, however old, helped them write the one they've been busy promoting? —Ann Hulbert
---
Memoir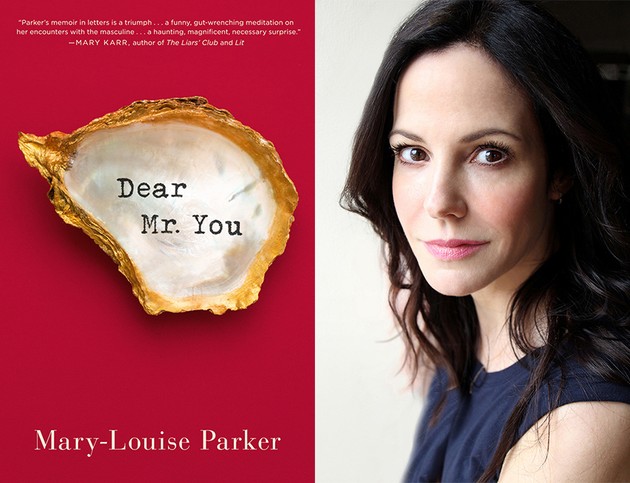 The epistolary format has long been fertile terrain for love letters, as everyone from Napoleon to Johnny Cash can testify. But in the hands of the actress Mary-Louise Parker, it inspires much more: a book that's part-memoir, part-book of essays, part-elegy, and wholly absorbing. Dear Mr. You is a series of letters to men who've appeared at one point or another in Parker's life, some in recurring roles, and some in fleeting—yet indelible— glimpses. In vivid prose, she recalls a man who catches her eye at a party "who had a foot in another era: pressed shirts, oiled loafers and aftershave, but an old-fashioned, distinctly masculine smell." She addresses a lover who was "the worst of those whom I called darling," and a teacher who humiliated her for failing to learn to juggle, and a taxi driver who happened to pick her up in a moment that was "much worse and more necessary than I would be willing to reveal." Parker's stories are rich, funny, sharp, and heartbreaking, and proof that she's a truly gifted writer, turning even the most transient encounters into things of beauty. —S.G.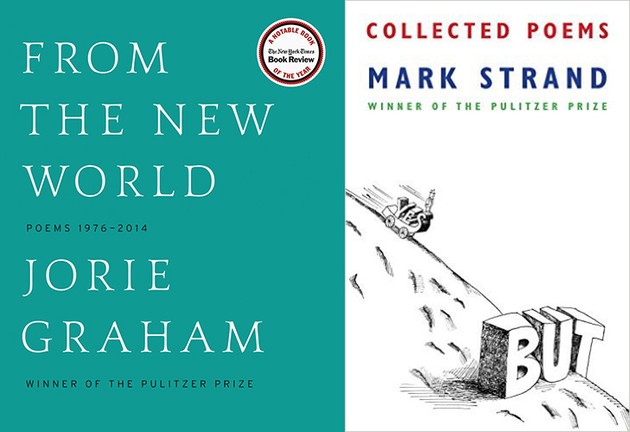 Mary-Louise Parker: Within the poems of Jorie Graham lives a language defiant of the obvious and the reasonable. Her poems don't announce their meanings, or do the work for you; she makes her words seem like the only possible choice. From the New World, a new collection spanning almost four decades, contains the work of one of the most influential and fearless writers of our time, of any time. Her technique—the inexhaustible way she goes after a poem—is rightly celebrated, but I'm most moved by a seeking quality, a beseeching sort of nakedness, that has no shortage of beauty or dauntlessness.
She does pick herself apart, and her suffering comes without posturing: "although of course I know nothing/I could begin this story anywhere/maybe I will open my eyes now" ("Praying"). There is the excruciating, too, served fresh and without blinking: "as in give me your name/give it/I will take it/I will reclassify it/I will withhold you from you/ just like that/for a little while/it won't hurt much" ("Guantanamo"). No one writes like Jorie Graham—like any of the Jorie Grahams she's moved through with her peerless evolution. She is always recognizable with the sighs she provokes ("you know/you have no destiny, no, you have a wild unstoppable/rumor for a soul") and the awe she inspires with these poems, so lush and impossible, so hers.
Like Jorie Graham, Mark Strand was in some ways punished for his inability to blend into conformity. Thank God he stayed stubbornly himself, though. With his Collected Poems we can marvel forever at how what may have seemed audacious to some was just a man being true to himself, refusing to settle. He is my favorite poet, and he has influenced me tremendously. I love him too deeply to come up with anything other than to tell you to just go buy his work. Buy it and read it and keep closing it and turning it over to look at that face, which is surely what God intended when deciding to make a poet.
Mary-Louise Parker is a Tony, Emmy, and Golden Globe award-winning actress.
---
Fiction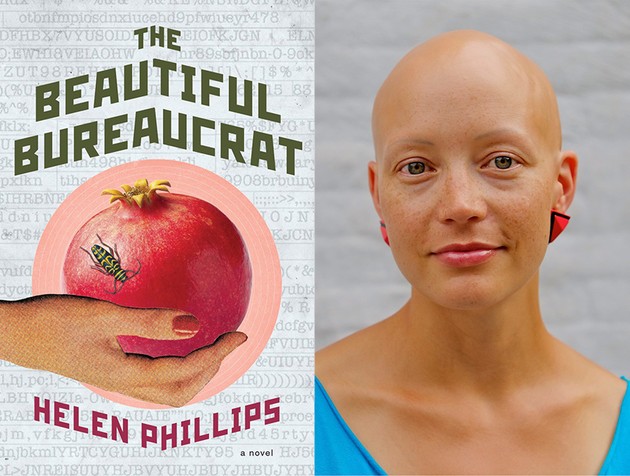 Though summing up Helen Phillips's debut novel, The Beautiful Bureaucrat, is an elusive task, reading it is an addictive, uncanny experience. Here is Phillips's own stab at describing her short book: "a 'poetic thriller' about a woman who gets a data entry job in a big, windowless building and then her husband begins to disappear." Josephine Newbury and Joseph Jones have landed in a nameless city that must be Brooklyn, but this isn't cutting-edge fiction about cubicle life. Think Kafka instead. Tracing the couple's paths to work and back (or not) to their serial sublets, Phillips pursues timeless themes. Her prose is exact, at once ominous and droll, and her pacing is perfect. As she probes the mysteries of marriage and mortality, choice and chance, freedom and fate, her pages command close focus—and fly by very fast. —A.H.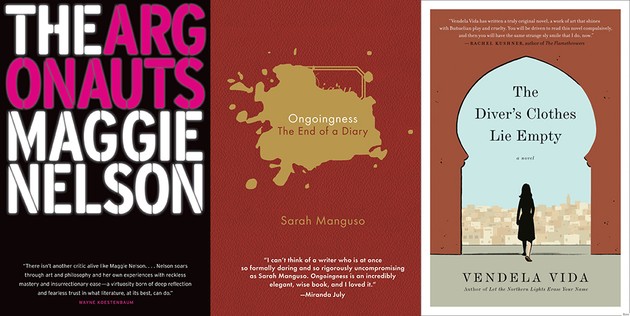 Helen Phillips: For me, 2015 was the Year of Falling Even More Deeply in Love with Graywolf Press. Maggie Nelson's The Argonauts was probably the most transformative read of the year, boldly drawing on different realms of scholarship and art and experience in the struggle to answer intensely personal questions. And I can attest that Sarah Manguso's Ongoingness—an exploration of the tension between the present moment and memory, particularly after becoming a mother—is the most apropos book to read while nursing a newborn: "He floated down the milk river toward the rest of his life." I'm in awe of all the powerhouse female essayists (Eula Biss! Leslie Jamison!) publishing with Graywolf these days. Claudia Rankine's Citizen: An American Lyric, also from Graywolf, is my next read.
Fiction-wise, I was enthralled by The Diver's Clothes Lie Empty by Vendela Vida. The action of the first half comprises perhaps the most vertiginous, paranoia-inducing free-fall I've ever read.
The Beautiful Bureaucrat is indebted to far too many to share here. But to cite two somewhat different strains of influence: on the one hand, the witty/profound spareness of books like The Most of It by Mary Ruefle and Dept. of Speculation by Jenny Offill; on the other hand, works that pull back the curtain on the uncanny/surreal/mystical worlds lurking beneath the known world, as in Jamaica Kincaid's collection At the Bottom of the River, and as in my favorite Kelly Link story, "Stone Animals," from her collection Magic for Beginners.
Helen Phillips is an assistant professor of creative writing at Brooklyn College.
---
History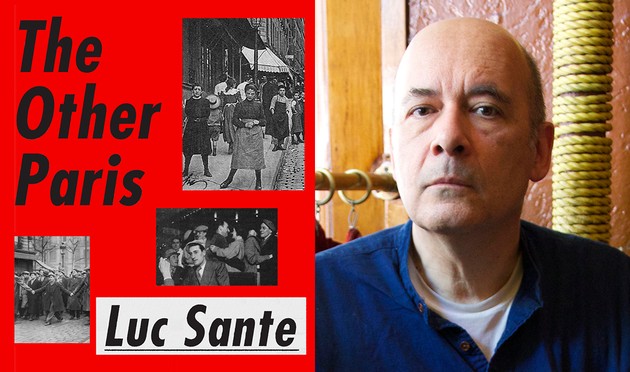 Luc Sante's fascinating guide to the squalid, disorderly, dank, thrilling, dangerous underside of the Paris of the past makes for a suitably sprawling book. Sante is Baudelaire's definition of the flâneur, a "passionate observer" ready to note every detail, pursue any detour. He has prowled through rich primary sources, in search of "vigorous prose, which is the only kind I can read for very long"—and the kind he writes himself. He makes flâneurs of us all. Strolling through his text, you won't be able to resist side-glances at the photographs on each page. The Other Paris, officially published two weeks before horror hit the city, tapped into historical curiosity then. Sante's closing thought that "any Paris of the future … will perforce involve fear, dirt, sloth, ruin, and accident" has more immediacy now. —A.H.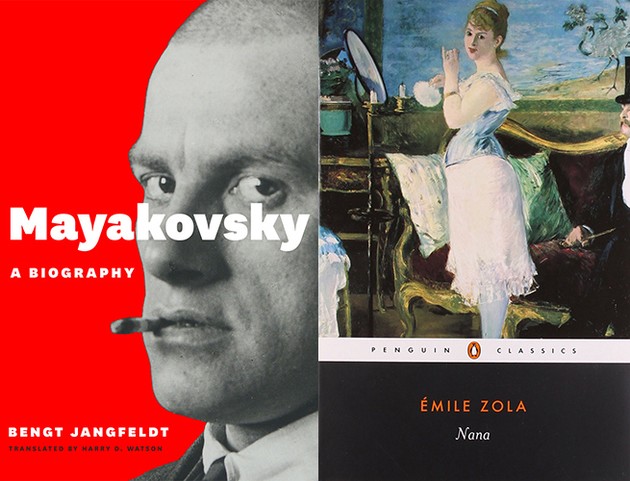 Luc Sante: I can guess why Bengt Jangfeldt's Mayakovsky was generally overlooked this year. Vladimir Mayakovsky's poetry has fallen into disfavor because of the hack panegyrics he was forced to produce for several dictators, and because English translations of his work have generally not been very good. Those things obscure the greatness of his tough, daring, transcendent poems, particularly the early stuff, such as 1915's "A Cloud in Trousers." Jangfeldt supplies the context for both his glory and his ignominy—in fact he reaches a level of intimacy with his subject I've seldom seen in a biography. You get to know Mayakovsky to the point where you alternately want to hug him and slap him. In addition, Jangfeldt—who worked on his book for decades, interviewed all the principals who survived into old age, and had access to NKVD files and suchlike as soon as they were opened—is able to conjure up a vivid picture of the early Soviet avant-garde, a scene that combined free love and stark repression, extravagance and penury, wild ambition and enforced mediocrity, and had tumbled into death and ruin even before Stalin took the reins. Mayakovsky is at once a signal work of scholarship and a riveting narrative that will keep you reading past your bedtime.
Many books went into the making of The Other Paris, and many of those I would most wish to recommend have not been translated. No such problem attends Émile Zola's Nana, which was translated multiple times a century or more ago—it was once a book respectable people kept locked in the drawers of their bedside tables. It is a harrowing tale of the many vicissitudes in the career of a sex worker who experienced the highest highs and the lowest lows, and, in addition, it is orchestrated like no other novel I can think of. Each chapter is a vast, densely populated, mostly static panorama, like a painting by Courbet, and the action unfolds by zigzagging among exchanges between the players in the scene. Published in 1880, it was a movie before cinema existed.
Luc Sante is a visiting professor of writing and the history of photography at Bard College.
---
Education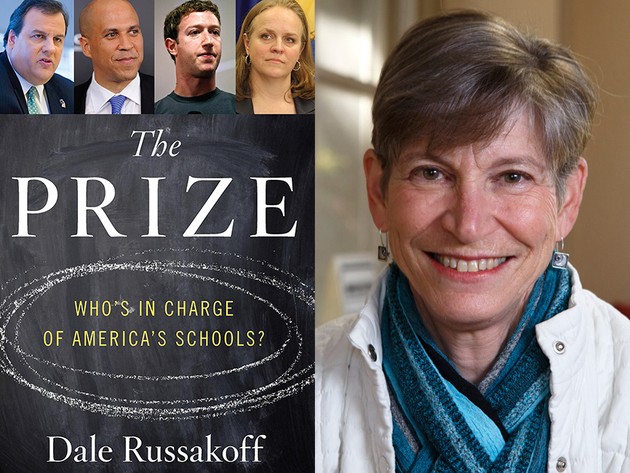 In The Prize: Who's in Charge of America's Schools, Dale Russakoff pulls off the kind of feat the fraught realm of educational reform needs more of. Her deeply reported, on-the-ground account of a much-hyped school turn-around effort is utterly reliable—and compulsively readable. Russakoff was there at the start of Corey Booker and Chris Christie's mission, funded by Mark Zuckerberg's $100 million, not just to "repair education in Newark but to develop a model for saving it in all of urban America." She follows the outside consultants' ill-fated plans; tracks teachers' and students' struggles inside classrooms; and monitors parents' responses, too. "It was the reformers' hubris, as much as their agenda," Russakoff concludes, "that inflamed the city." Ready to credit widespread good intentions, and ever alert to their unintended consequences, she delivers lessons no future reformers should miss. —A.H.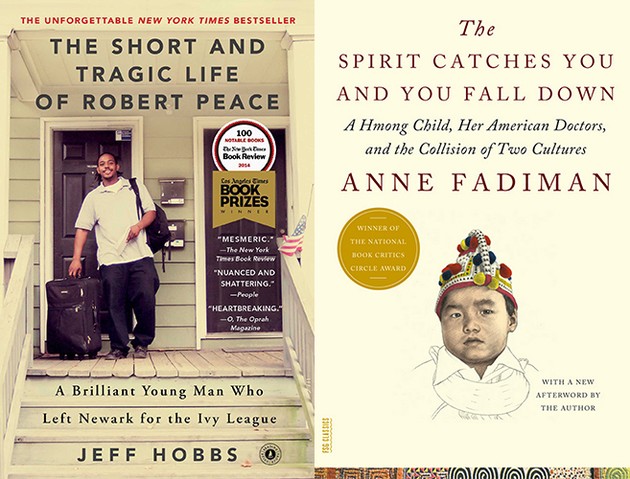 Dale Russakoff: I was especially affected by The Short and Tragic Life of Robert Peace by Jeff Hobbs, which came out in paperback this year. The life arc of Hobbs's college roommate at Yale, who triumphed over the adversity of growing up in the inner city yet ultimately couldn't escape the dark side of Newark, resonated powerfully with what I was learning and thinking about the city in writing my own book. Complexity suffuses every story Hobbs tells of this extraordinary man. He doesn't try to simplify Peace's experience for us, but rather helps us to live with it, as Robert Peace had to. In that way, Hobbs helped me grapple with the complexities of Newark itself. After all, this is a city that birthed two radically different literary voices at almost exactly the same time—Amiri Baraka and Philip Roth. I read both of them as I wrote my book, trying to hold in my mind Baraka's sense of emasculation, disenfranchisement, and brutalization as a black man and Roth's nostalgia for a hopeful world that was, in the view of his character Lou Levov, shattered by the riots of 1967—the "rebellion," to Baraka.
Another formative book for me was Anne Fadiman's The Spirit Catches You and You Fall Down, an exquisitely written story of a young, Hmong girl's ultimately fatal battle with epilepsy in Merced, California. Depending on your point of view, the girl's medical team or her own family could be responsible for her death. But the book brilliantly transcends blame-laying with immersive reporting on all of the characters and on the cultural chasm that separates them. It was an invaluable guide to navigating a very polarized world without becoming trapped inside it as a narrator.
Dale Russakoff is a writer. She formerly worked at The Washington Post as a reporter.
---
Literary Criticism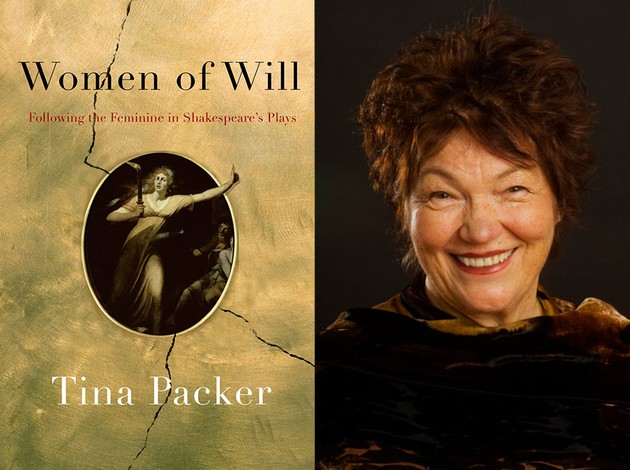 After 40 years directing Shakespeare, Tina Packer knows the Bard infinitely better than most, and a project she began in the mid-'90s, Women of Will, allowed her to delve even more deeply into the psychology of Shakespeare's female characters. "No other playwright, writing before Shakespeare or at the same time as Shakespeare, had ever seen women as women," she writes in this book, a summation of everything she learned.
Packer makes the convincing case that Shakespeare's thinking about women evolved dramatically over the course of his career. She divides his women into five separate "acts," starting with the adversaries and "idealized virgins-on-the-pedestal" of the early plays, and leading toward women who are man's true equal (The Merchant of Venice's Portia), and who can redeem his mistakes (The Tempest's Miranda). This pattern, she concludes, offers more than just an understanding of characters in theater: It's a blueprint to help us understand how women have been regarded through history, and how seeking to elevate their power can benefit the future. —S.G.

Tina Packer: I am always trying to find out why things happen the way they do: Karen Armstrong's Fields of Blood: Religion and the History of Violence makes a strong contribution. She begins with a simple analysis of the human brain and then travels through every major war from the third millennium B.C.E. to the current global jihad. The sheer enormity of the task gives a perspective about the wiring that predisposes us to war. Our more recent brain with tools of empathy and understanding must lead to a different way of doing things or we will destroy ourselves. This same perspective, but in the more traditional field of psychotherapy, is mapped by Bessel Van Der Kolk's The Body Keeps the Score: Brain, Mind, and Body in the Healing of Trauma. Shakespeare intuitively and poetically wrote about the same material and I always ask myself: How did he know?
Finally I found a book on Henry VII that filled in a great gap in my understanding of the Tudors and why Henry VIII ended up the monster he did, and why Elizabeth I was as canny as she was (albeit with an aversion to marrying which kept her safe and free to think). It's called Winter King: Henry Vll and the Dawn of Tudor England by Thomas Penn. The qualities a leader uses to overcome persistent civil war (in this case the Wars of the Roses) can in turn lead to fresh atrocities if the new institutional structures have no flexibility or are not questioned.
Closer to home, I really enjoyed Carey Perloff's Beautiful Chaos: A Life in the Theatre. It's a memoir about the difficulties of running a not-for-profit theatre, (not unlike my own Shakespeare & Company) where the ideals of trying to tell profound or witty truths about life are always held within the practicalities of "where is the money coming from?"
Tina Packer is the founding artistic director of Shakespeare & Company in Lenox, Massachusetts.