A Very Murray Christmas Captures the True Spirit of the Season
Confusion. And commercialism. And goodwill to all mankind, via celebrity cameos and classic songs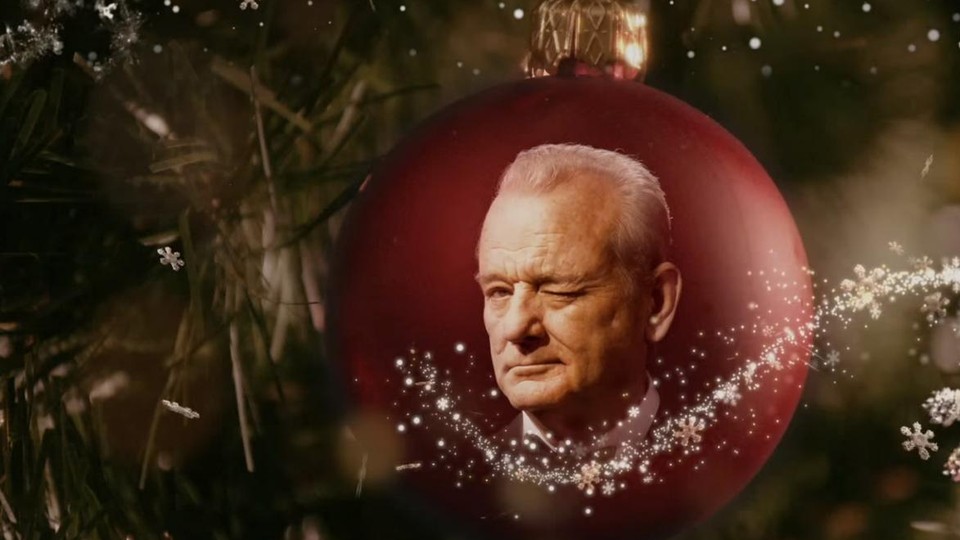 What is Christmas? A religious holiday? A commercial ritual? A time of warmth, and togetherness, and generosity, and love? A time of sadness, and loneliness, and regret? Is it magic? Is it mythic? Is it madness?
It is, at this point, all of those things. As a culture, here in the U.S., we tend to be extremely confused about what, precisely, is being celebrated on December 25 (and, at this point, the entire month that precedes it). The
Starbucks cup controversy
. The fact that you can buy
an advent calendar from Dior
. The notion that there is, apparently,
a war being currently waged
in the name of the most wonderful time of the year.
Nowhere is all this yuletide perplexity made more clear than in
A Very Murray Christmas
, the Netflix special directed by Sofia Coppola that takes the traditional cliches of the Celebrity-Driven Christmas Extravaganza—complete with musical acts and dance numbers and cameos from fellow celebrities—and makes Murray of it. The premise: Bill Murray, playing himself or a proximate version, has signed on to do one of those extravaganzas, this particular one set at the Carlyle Hotel in New York, on Christmas Eve. He does not want to do the show. This is mostly because he thinks the show is silly, but also because, apparently, he is beset with holiday ennui. (We are meant to understand this because
A Very Murray Christmas'
s opening musical number features Murray, bedecked in a tux and an antler headband, crooning "
Christmas Blues
" as Paul Shaffer accompanies him on the piano. And because Murray announces to his producers that "I feel so alone" and also that "God hates me.")
Murray is forced to do the special, though, because—as his producers (Amy Poehler and Julie White) repeatedly remind him—he is under contract. And because, Poehler also reminds him, with an indeterminate amount of irony, "Everything that's fun is always hard."
But! Murray is saved, kind of, by a huge blizzard that hits New York. As a result of which none of his show's planned guests—George Clooney, Miley Cyrus—can make it to the taping. Instead, he enlists the help of Chris Rock, whom he runs into while he's trying to leave the Carlyle. He brings Rock to the set. And then, clad in green Christmas sweaters with holly-based boutonnieres, they sing a delightfully awkward duet of the religious Christmas slow-jam "Do You Hear What I Hear?" Then come, via various shenanigans, duets with Jenny Lewis, Maya Rudolph, and the
Carlyle's pastry chef
.
If all this sounds not just delightfully awkward, but also full-on bananas, that's because it most certainly is. "It's starting to feel to me like Christ-mess," Michael Cera, as Murray's wannabe agent and a general "Hollywood sleazebag," puts it. "As in," he elaborates, unnecessarily: "What a mess."
And: indeed. A Very Murray Christmas is not just jarringly uneven, or even insistently dada: It's just … confusing. The plot has a Mad-Libs quality to it; the musical performances generally resemble karaoke songs sung without the benefit of Auto-tune; Murray's character vacillates confusingly between a curmudgeonly old man and a caring one. In a call-back to Scrooged, Murray refers to himself as "The Ghost of Christmas Present." Then he gives sweet romance advice to a bride (Rashida Jones) who's had her Christmas Eve wedding ruined by the storm. All of this culminates in the bride and her groom-to-be (Jason Schwartzman) singing the extremely non-holiday song "I Saw the Light in Your Eyes" together.
The unkind reading of all this is that it is the result of hubris of a particular Hollywoodian strain, the kind that stems from the fact that the entire thing revolves around Murray's curmudgeonly charisma. We'll watch this, the thinking seems to have gone, because of Murray and his constellation of stars. Which precludes the need for a compelling—or even sensical—plot. And which precludes the need, too, for a consistent tone. Neither fully ironic nor fully earnest, the whole thing radiates confusion. This is Hollywood, once again taking solipsistic delight in laughing at itself.
The kinder reading, however, is that the show—this big, flashy, confusing Christmess—is a reflection of a broader confusion about Christmas. "Do You Hear What I Hear?," sung by comedians. The pastry chef, professing his Yuletide loneliness. It makes extremely little sense, except in the context of a culture that itself isn't sure what Christmas is supposed to be about. Love? Religion? Baked goods?
A Very Murray Christmas
concludes, as all good holiday extravaganzas will, with a flashy musical number. This particular one, however, is a dream sequence, the result of Murray doing that apparently most Christmas-y of things: drinking too much and then passing out. The booze-illusion in this case involves Murray and
George Clooney doing a duet of "
Santa Claus Wants Some Lovin'." It also involves
Miley Cyrus, clad in a red satin mini-dress and white-fur-lined red stilettos, singing "Sleigh Ride" with Murray as the two engage in some light dancing
. Then Miley, wearing the same outfit, hops up on a gleaming, white piano and belts a soulful rendition of that quintessentially religious Christmas song: "Silent night, holy night …"
It's beautiful and haunting and and commercial and confusing and cringe-worthy. So maybe it's also Christmas.