'You Oughta Know' Unknowns
On Alanis Morissette and Demi Lovato's American Music Awards duet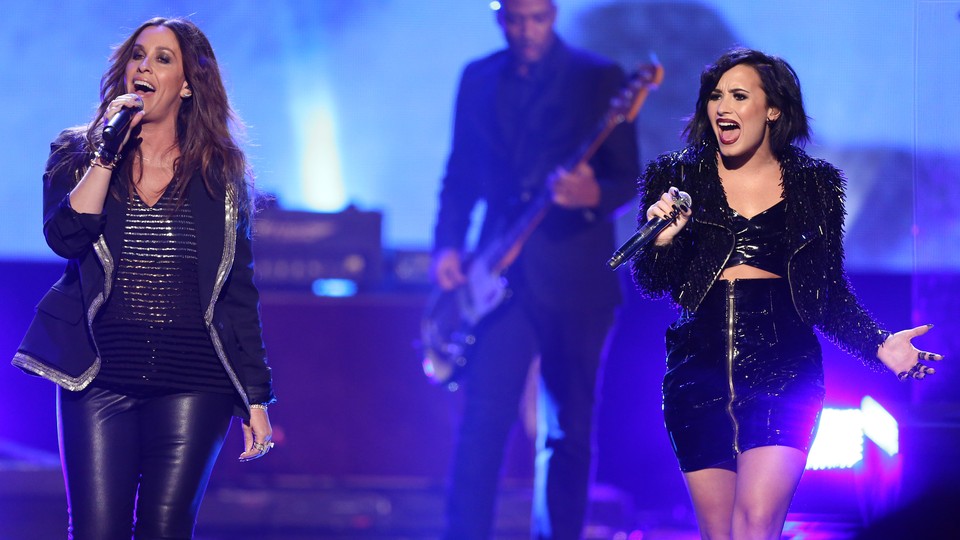 The top trending topic to emerge from last night's American Music Awards was, as is typical for awards shows in 2015, Nicki Minaj. She didn't say anything controversial; she didn't give a risqué performance; she won a few trophies and accepted them with smiles and shout-outs. But during Jennifer Lopez's opening medley, Minaj was captured on camera in the audience giving a look that didn't seem entirely fawning. The Internet then did what the Internet does, immediately collaborating on a work of metafiction entitled—per Vibe's headline—"The Internet Thinks Nicki Minaj Wasn't Pleased With J.Lo's Performance of 'Anaconda.'" Swiftly, Minaj dismissed the gossip with the word of the year crying emoji on Twitter, saying her face was being taken out of context.
I'd go on about this episode as a classic example of the perils of modern pop fans' hunger for intra-celebrity beef if I didn't instead want to wonder aloud whether there's any beef between Alanis Morissette and Demi Lovato. Their performance of "You Oughta Know" is my pick for most memorable moment of the award show because it was a little odd, inscrutable … off, somehow. The AMAs are, of course, not a place for the odd or inscrutable. Its winners are decided by public vote, its focus is unrepentantly mainstream (no jazz legends as respectability boosters, here), and it gives out awards like "New Artist of the Year Presented by Kohl's" and "Collaboration of the Year Unleashed by T-Mobile." It is, more than anything, a place where stars can broadcast the pure, uncut versions of the narratives they are trying to spin about themselves.
With the "You Oughta Know" performance, though, I can't quite figure out the narrative. On paper, it's: Young symbol for female musical angst teams up with one of the masters of the same. On screen, it's more: Young singer who's attempting to be the next big thing overacts as a pop legend performs her hit of 20 years ago with all the enthusiasm of a DMV visit.
Perhaps it would have been inappropriate for the seething "You Oughta Know" to be illustrated elaborate choreography, or even a backdrop that's not just the Jagged Little Pill album cover. But it still seems surprising that the only stage directions Morissette and Lovato apparently received were "walk around, mostly ignoring each other." Lovato nevertheless executed with gusto. Outfitted like Kate Beckinsale in Underworld, she growled and stomped and shimmied and made Cruella de Vil-like hand gestures. Does this fit with her narrative? Yeah. As a former Disney star, the public wants to judge Lovato in relation to peers like Selena Gomez and Ariana Grande; her preferred way to try and stand out is by, well, trying very hard. Singing very hard. Naming her new album Confident. There's also a hint of alt-rock disaffection in her persona, which might help explain her association with Alanis Morissette now.
Morissette, meanwhile, came off as a bit bored. Whenever the two women actually faced each other, it seemed to be Lovato who was really trying to make eye contact. Seemed is of course the key word here. Awards shows are largely about surface, about projection, and whatever Morissette was projecting in this case was not total happy-to-be-here-ness. It is perhaps screwed up to assume that what she instead projected was reluctance to perform her biggest song with someone who can be accused of swiping Morrisette's style but not her authentic-seeming edge ("another version of me / does she speak eloquently?"). A better interpretation might be that the "Oughta Know" performance was meant to be a calmly intimidating alliance between two badass women who are too mad to do much else than stride. Another thought: This was a rock show, and despite Coldplay showing up on the same stage with beachballs and people in monkey suits, rock can be at its most powerful when it forgoes spectacle.
After the performance, the Internet again did what the Internet does, which was serve up a lot of headlines that describe the two women as "slaying." Maybe they really did, or maybe the song's so good that all it would have slayed no matter what. Everyone involved did sound great. But for me, the ambiguity of the staging, the way it's not totally clear how the two singers are relating to each other, was what made it compelling. On rewatching, the most remarkable thing might be that the highlights of the song—"go down on you in a theater," "thinking of me when you fuck her"—were censored into silence, presenting an image and asking viewers to imagine the rest.