Why Would People Watch Shia LaBeouf Watch Himself?
The actor is focusing on his art, rather than his odd behavior, in his latest performance-art project.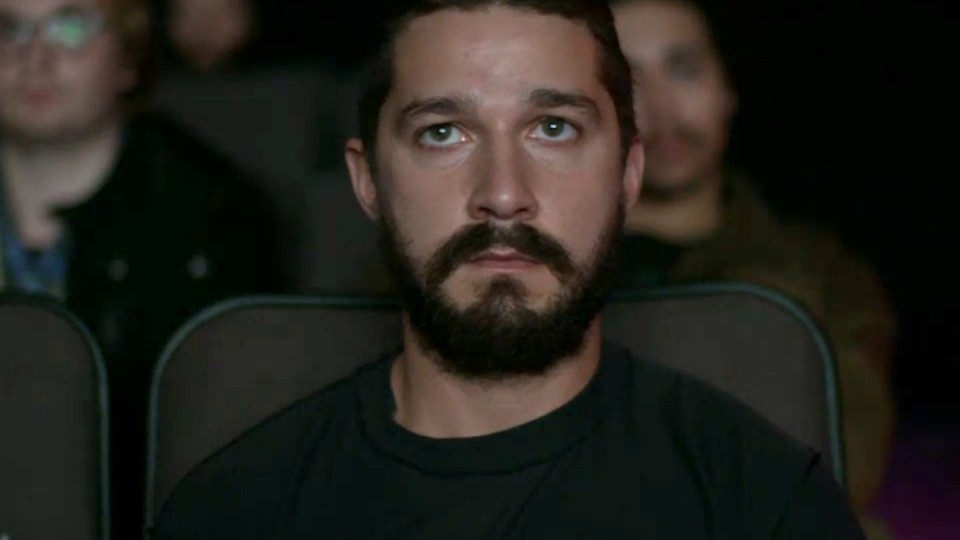 It's unfortunately easy to laugh at Shia LaBeouf's latest introspective project. For #ALLMYMOVIES, created with the artists Luke Turner and Nastja Säde Rönkkö, the actor is sitting in a movie theater (New York's Angelika), munching on a bag of popcorn, and watching every film he's ever appeared in, screened in reverse chronological order. The event is open and free to the public; anyone can come in, and, if they have the interest, sit next to LaBeouf and watch him take in his own work. If not, there's a live-stream of his face broadcast online.
LaBeouf was one of Hollywood's most bankable stars for four years after a long career playing plucky kids and smart-aleck teenagers, before he spiraled into typical bad-boy behavior (DUI arrests, charges of assault, and disorderly conduct). He then bounced into stranger territory which many categorized as performance art (wearing paper bags over his head, plagiarizing other writers and tweeting about it). Sometimes his conduct feels like a funhouse-mirror version of James Franco's own pretentious antics; sometimes it feels like a genuine cry for help. It's hard to know just why LaBeouf thinks so many people are interested in his tortured life, but with #ALLMYMOVIES, he's at least returned his focus to his cinematic oeuvre—and with that, he might be on to something.
Let's start with the simplest argument: #ALLMYMOVIES is free cinema for the people. All you have to do is line up at the Angelika to get a seat to see some movies at no charge. (It's also arguably a more populist effort than J.K. Rowling's theatrical sequel to her Harry Potter series.) LaBeouf could be subjecting the public to an installation of his own creation, but instead he's recognized the main vehicle of his success and is paying (bizarre) homage to it. LaBeouf's filmography is full of hidden gems, and on a larger scope, tells a tale of an unusual track to Hollywood stardom.
LaBeouf is that rare beast—a child star who made it big as an adult. Starting out with the usual TV movies and guest roles, he vaulted to Disney Channel fame on Even Stevens. He quickly jumped off the tween-idol train and started making a mix of worthy independent films and memorable mainstream work aimed at kids. Holes remains a delight; the Project Greenlight winner The Battle of Shaker Heights is probably that HBO show's most likable entry; the animated film Surf's Up coasted to a surprise Oscar nomination on the back of its agreeable goofiness.
LaBeouf also started popping up as a helpful teen sidekick in major action movies. Did you remember that LaBeouf was in Alex Proyas's utopian-future action movie I, Robot? Or the underrated Keanu Reeves-starring demonic thriller Constantine? Or the much maligned, but surprisingly self-aware Charlie's Angels: Full Throttle? It's hard to remember LaBeouf's work on the sidelines of these middling-to-good Hollywood blockbusters because his performances were all about easy charm—a charm that has been whittled away by years of horrible behavior and self-indulgent posturing. When LaBeouf puts a paper bag over his head and invites us to mock him, it's hard not to think of him as a tragic figure, even if he's trying to get in on the joke.
So here he's wisely brought the conversation back to the movies themselves. His work in the 2006 Queens coming-of-age drama A Guide to Recognizing Your Saints remains his best, and netted the strongest reviews of his career. He then vaulted to stardom in 2007 with Disturbia, a fun take on Rear Window; then headlined Michael Bay's first three Transformers movies; and played Harrison Ford's son in Indiana Jones and the Kingdom of the Crystal Skull, and Michael Douglas's heir in Wall Street: Money Never Sleeps. Directors like Oliver Stone and Steven Spielberg were once anointing LaBeouf as the next big thing. Though he's been reportedly sleeping through the screening of the Transformers movies (gotta catch a few winks somewhere), his agreeably hapless character helped ground those outlandish films in some semblance of reality.
Between 2007 and 2011, LaBeouf's films grossed an average of $231 million at the U.S. box office—a impressive feat matched by an equally epic fall from grace. Since then he's stuck mostly to indie films, music videos, and art projects, with some frustrated-star behavior sprinkled in. There's nothing unusual about that—indeed, it's a sadly typical Hollywood trajectory—and when I heard about LaBeouf's experiment at the Angelika, it sounded like his usual self-involvement rendered as self-sacrifice (he's stuck in the theater for three days). Entertainment Weekly's Ariana Bacle visited the theater and sat right night to LaBeouf, thinking she'd maybe steal some of his popcorn, then realized she had "momentarily ignored that LaBeouf is real," underlining the dehumanization of stardom the actor is looking to highlight.
It's a pretty facile point about fame, but in inviting people to watch movies with him, LaBeouf has at least disconnected from the most narcissistic aspects of his performance art. Last year, he staged a performance in a Los Angeles gallery called #IAMSORRY, where he wore a paper bag on his face and invited people to come stare at him. Some shouted abuse; one, in his recounting, sexually assaulted him. There, the focus was all on LaBeouf's public image and the positive and negative things his audience can project onto him. With #ALLMYMOVIES, the focus is back on what made him famous—the works that gave him the kind of clout to set up a free screening, which people are lining up around the block to attend (at one point, the wait was estimated at three hours by Angelika staff). In other words, it's a public stunt about art, rather than just one masquerading as art. I call that progress.