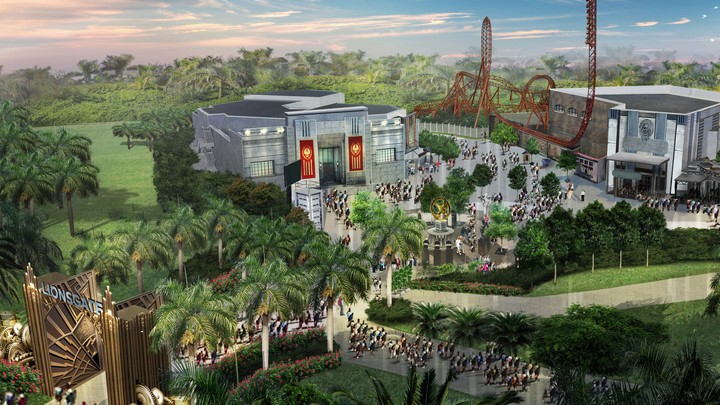 It probably won't involve violently slaughtered children, but you never know. The Hunger Games, The New York Times is reporting, may soon go the way of Harry Potter and Cinderella: The trials and triumphs of Katniss Everdeen are becoming what The Hunger Games's distributor, Lionsgate, calls "location-based entertainment," and what the rest of us call a theme park.
Actually, a series of theme parks, per the report—with individual rides that might be licensed to existing locations. (A Capitol train-esque roller coaster? Check. A be-simulated hovercraft tour of Panem? Check.) As for the theme parks themselves, there are currently two of them being planned for the U.S. (near Atlanta) and China (near Macau). They'll join a pre-existing Lionsgate zone at Motiongate, a $3 billion entertainment complex currently under construction in the United Arab Emirates. Lionsgate also has attractions based on Divergent, Step Up, Now You See Me, and Twilight in the works for its new parks, The Times reports, but the Motiongate site will primarily focus on The Hunger Games:
After passing through the gates, visitors will arrive in a re-creation of the fictional District 12, a mining region where Katniss grew up. There will be costumed characters and real-life versions of Peeta Mellark's bakery and the Hob black market.
District 12, Main Street USA'ed! You could read these planned IRL Panems as Lionsgate's attempt not just to expand its properties' footprint in the cultural consciousness, but also to offer the studio a bit of brick-and-mortar insurance against whatever technological change might come along to disrupt the industry. You can't pirate, after all, a trip to the Capitol. Parks can be risky propositions—many will fail before they're opened, and many others will go the way of Freedomland U.S.A.—but they can also provide that most sought-after of things: alternate revenue streams. (Lionsgate stands to generate $100 million from its existing parks and recreation efforts over the next few years—and that's not including gift shop sales.)
Lionsgate is also, however, presenting the theme park as a way to turn the characters and plots and ideas it owns into something new. Something that will both serve current fans of The Hunger Games movies and possibly generate new ones. As Tim Palen, Lionsgate's chief brand officer, explained, the point of the parks is "not just to create something smart and captivating that Hunger Games fans would love, but to bring all of our franchises alive in new ways." (The parks and rides will join the upcoming Hunger Games stage show in London.)
Lionsgate isn't the only studio to attempt to blend movies and reality in this way. Comcast's NBCUniversal and 21st Century Fox are investing billions of dollars in transferring movies from megaplexes to megaplaces. (The Fox properties Avatar, Ice Age, and Planet of the Apes are, if you live in the Middle East, coming soon to an amusement park near you.)
Which is all another way of saying the obvious: that "location-based entertainment" is, for Lionsgate and its fellow studios, a thoroughly commercial proposition. It's about brand extension and brand loyalty, about fanning the flames of Katniss fandom between film releases and after the series comes to a close later this month. It's about turning the messages of The Hunger Games—the value of justice and youth and personal strength—into money.
In all that, it's impossible not to compare the upcoming Panem parks to Disneyland and Disneyworld and their many iterations abroad. Disney parks, today, are of course commercial behemoths. They, too, have found ways to convert a widespread love of Dumbo into dollars. And they have always done that, of course. In the beginning, though, they were about more than simple entertainment. They were political. They were, in their way, philosophical. Disneyland, when it opened in 1955, was a testament not just to the various productions of the Walt Disney Company, but also to the accomplishments of the American experiment. It was brimming with optimism. It was a kind of permanent World's Fair.
As Walt Disney told his visitors:
To all who come to this happy place: Welcome. Disneyland is your land. Here age relives fond memories of the past, and here youth may savor the challenge and promise of the future. Disneyland is dedicated to the ideals, the dreams, and the hard facts that have created America, with the hope that it will be a source of joy and inspiration to all the world.
This was patronizing, sure. But it was also, in its way, inspiring. The Disney parks were premised on the conviction that "location-based entertainment" could be, in the end, about much more than entertainment alone. Today, as Lionsgate contemplates turning the Capitol into a different kind of spectacle, it's clear how quaint that notion has become.  
We want to hear what you think about this article. Submit a letter to the editor or write to letters@theatlantic.com.
Megan Garber
is a staff writer at
The Atlantic
, where she covers culture.