Could The Force Awakens Be an Oscar Contender?
In a lukewarm year for film, the hype for J.J. Abrams's upcoming Star Wars movie hints at possible awards-season glory.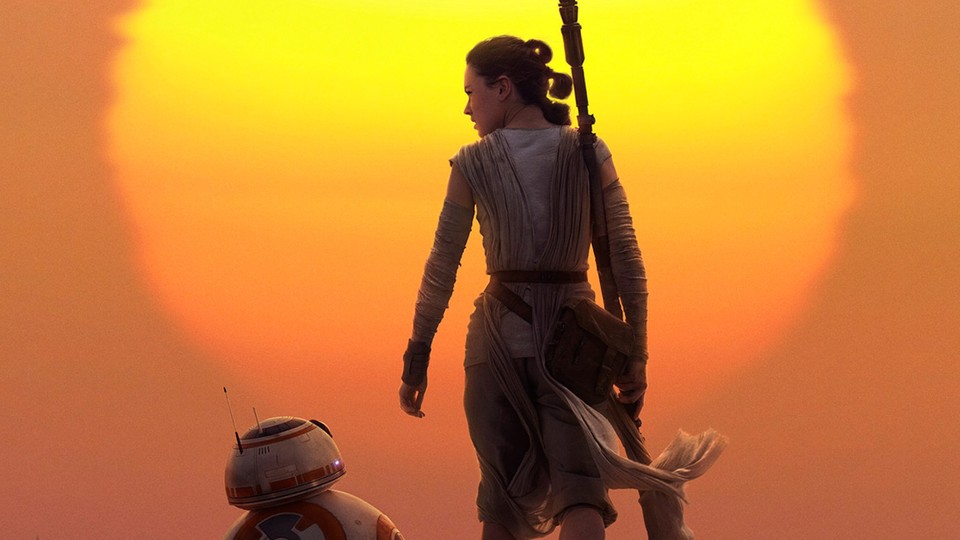 The 2015 Oscar race is measuring up to be a strange one for two reasons. The first is that it's the middle of November and there's no obvious frontrunner in theaters now, nor is there a juggernaut coming in December that seems destined to scoop up acclaim and trophies. The second is the fact that Star Wars: The Force Awakens comes out December 18, and no one can shut up about it. J.J. Abrams's rekindling of George Lucas's sci-fi franchise is predicted to be among the most successful films ever released, but the hype has reached such a fever pitch that it poses a legitimate question: Could The Force Awakens, the seventh film in a sprawling saga, actually be an Oscar contender?
Vanity Fair's executive west-coast editor, Krista Smith, raised the prospect of The Force Awakens getting play in the major Oscar categories on the podcast Little Gold Men, and not simply as a thought experiment. Though it's harder for genre filmmaking to get much traction with the Academy, the easiest way to do it is to make a lot of money (like, a lot of money) as well as get good reviews. That's how the original Star Wars was nominated for Best Picture in 1977; same for E.T. in 1982, Avatar in 2009, and Gravity in 2012. The Force Awakens is going to make a lot of money—that much is sure. If it's also well-reviewed, could that launch it near the top of an uncertain Oscar list?
As Smith noted, this is the reason the Oscars expanded the Best Picture shortlist in 2009, first allowing 10 films to be nominated rather than five, then altering it to between five and 10 based on voter enthusiasm (in recent years, eight to nine films have been nominated). After the much-noted snub of The Dark Knight in 2008, the Academy acknowledged its issues recognizing more mass-market hits with the rule change. The Force Awakens promises to be a box-office monster, but it's been decades since the Star Wars franchise was critically acclaimed, meaning it wouldn't be too hard for the film's reviews to outdo expectations. Couple that with absurd ticket sales and the nostalgic instincts of a generation now old enough to be Oscar voters, and you've got a campaign.
This theory is helped by the perceived limpness of the year's movies so far. Practically every big-ticket "prestige" film has some major knock against it. Steven Spielberg's Bridge of Spies has been a low-key hit, but it hasn't generated the wild enthusiasm voters might associate with the director's previous Oscar winners. Steve Jobs was well-received, but a box-office disaster. Room is critically beloved but is nonetheless a small, tough-to-watch indie that will likely get more traction in acting categories. Some predicted big hitters like Suffragette and Black Mass fell off the map thanks to middling reviews; others, like David O. Russell's Joy and Alejandro González Iñárritu's The Revenant, remain on the horizon, but will need to be sensations to build buzz thanks to their late release dates.
It says something about 2015 that Spotlight, Thomas McCarthy's small, powerful drama about journalism done right, is a perceived frontrunner to win the big prize, despite its lack of any epic visual flair. Spotlight would be a worthy winner, but it will have to fight to sustain its buzz in the crowded Thanksgiving to Christmas season, when a slew of "worthy" films are suddenly dumped onto audiences' laps. Small-scale dramas like Brooklyn, The Danish Girl, and Carol will expand around art-house theaters nationwide, and bigger-budgeted contenders like the Wall Street satire The Big Short and Quentin Tarantino's The Hateful Eight are also en route. It's a tough time for a small film to keep being noticed.
Especially when there's a new Star Wars movie happening at the same time. That's the real reason the Oscar question is being asked of The Force Awakens: Despite all the hoopla, no one can yet quantify just how much of a phenomenon the film is going to be. Among other things, the Oscars are designed to celebrate Hollywood, and in a year that's had its surprises and disappointments on that front, The Force Awakens should be the big ticket that eases the industry's financial disappointments as it battles home media and declining sales. Big business isn't the only factor in determining Oscar success, but as voters look for a consensus pick to cluster around, it can't be underestimated.