Saturday Night Live and the Tao of Lorne Michaels
The comedy mogul's interview on Marc Maron's WTF podcast revealed the often contrary philosophies that guide the show.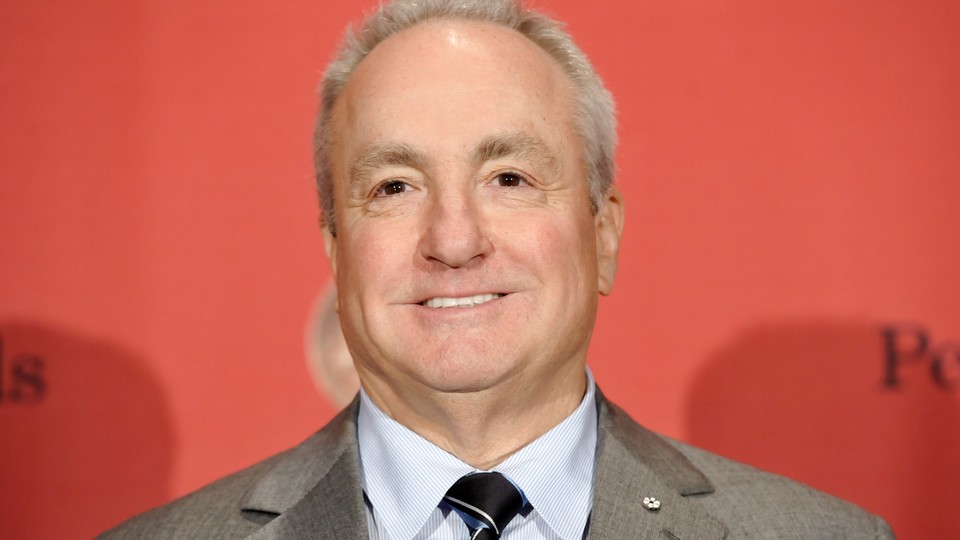 Last weekend, Saturday Night Live received its highest ratings in four years when it handed its stage to Donald Trump, prompting dismay over what seemed like a naked ratings grab. Two days later, the comedian Marc Maron's long-awaited interview with SNL's creator Lorne Michaels went live. Though the conversation was recorded weeks ago (Trump doesn't come up), it yields a fascinating portrait of SNL's strengths and flaws as an institution—a show where Michaels has the power to buck the network and largely do what he wants, but that's still clearly the product of a long-forgotten era of TV programming.
Throughout the history of his super-popular podcast, WTF, Maron has cast Michaels as a kind of boogeyman, the all-powerful gatekeeper who met with him in 1995 but chose not to hire him for SNL after a nerve-shredding interview. That's a not-uncommon view of Michaels, who usually slips into a reserved mogul persona for his rare guest appearances on SNL and was the inspiration for Mike Myers's Dr. Evil character in the Austin Powers films. By interviewing him for WTF, Maron was confronting his own demons, but the experience was probably cathartic for any longtime SNL fan wondering why the show so often confounds their expectations for how it should evolve.
Why keep Colin Jost on Weekend Update when he just isn't working? Why add yet another 20-something white guy to a swelling ensemble that already seems to be full of them? Why hand the show and its free publicity to Trump while he's running for president? Maron didn't go after Michaels (except when asking about his own audition), but in their conversation (one of the longest interviews he's done in years), Michaels shed light on some of his philosophies, which seemed rooted in the mid-'70s era he rose to fame in. Growing up in Toronto, he appreciated how the live TV shows from New York tapped into something broader and accessible. As Michaels told Maron, this impacted the kind of show he wanted SNL to be:
And I think for SNL, our strength has always been in the middle part of the country ... shutting them out because you think they're not qualified to watch, or because we're just going to do things that are so specific that they won't understand jokes ... to me, there's something about a variety show that's a variety of comedy styles. Never has there been a consensus, as long as I've been here.
Live sketch comedy is about as old as television itself, and comparatively rare these days. As Michaels tells Maron, the idea of including live music (which SNL does every week) was considered unfashionable even in 1975 when he launched the show, but it felt crucial to him, so it stuck. You can take Michaels's idea of playing to the broadest American audience possible as romantic, or as foolhardy—some of the show's best humor has been the definition of niche—but it also seems borne from fears of the show's mortality. "Holding an audience is the crux of a business," he said. Though SNL still feels invincible 40 years into its run, Michaels reminds Maron it's been pronounced "Saturday Night Dead" by the media over and over again, especially in the mid '90s, the time of their fateful interview. "We were under assault" in 1995, he remembers, which he guesses was one reason he decided not to take the risk of hiring Maron.
Still, that lack of risk-taking can often doom SNL into moving slower than it should with the tide of popular opinion. The idea of casting Fred Armisen (who's white) as Barack Obama was flawed from the start, but it took years before the show decided to hand off the role to Jay Pharoah (who's African American). Similarly, the total lack of black female cast members wasn't addressed in a hiring spree before the show's 39th season (instead, Michaels hired five white men and one white woman). Sasheer Zamata was finally added to the cast mid-season, a sign that Michaels recognized his mistake, and the writer Leslie Jones was promoted to on-camera status the next season, becoming a breakout star.
When he talked about the prodding it took for him to bring Jones onscreen, Michaels revealed the limits of his approach to the show. Though he was initially resistant, a recommendation from Chris Rock finally brought her on board. It was only later that Michaels realized she was "the real thing," a revelation he had seemingly missed before. "What you say you're looking for, that's just the brochure. You don't really know until you see it," he added cryptically. "Then you see it and you fall in love ... when you see it and you're blown away by it, you can do the right thing." It was a telling moment in the conversation; Michaels is not a man who admits to many mistakes. But his comments also suggested a flaw in the show's process—even after 40 years, SNL relies so heavily on his ineffable sense of what will or won't work.
Still, that's also part of SNL's charm. There's no similarly long-running TV institution that remains the singular brainchild of its creator. Audiences get angry about Donald Trump hosting because the show is steeped in tradition that can be tarnished. Michaels has cast himself as the champion of that tradition, one that continues to win viewers over—even with all the cast-change uproar and dud episodes. "There's something to the audience's patience with us," Michaels said, recalling a reviewer who stopped writing about the show because she hated the new cast, only to return two years later a renewed fan. "You have to introduce a whole new group of people, and [audiences say], 'Well, they're not the ones we love.' And you go, 'Trust me, wait.' But it is painful."