To Attack a Concert
Terrorism is antithetical to the ideals of most music.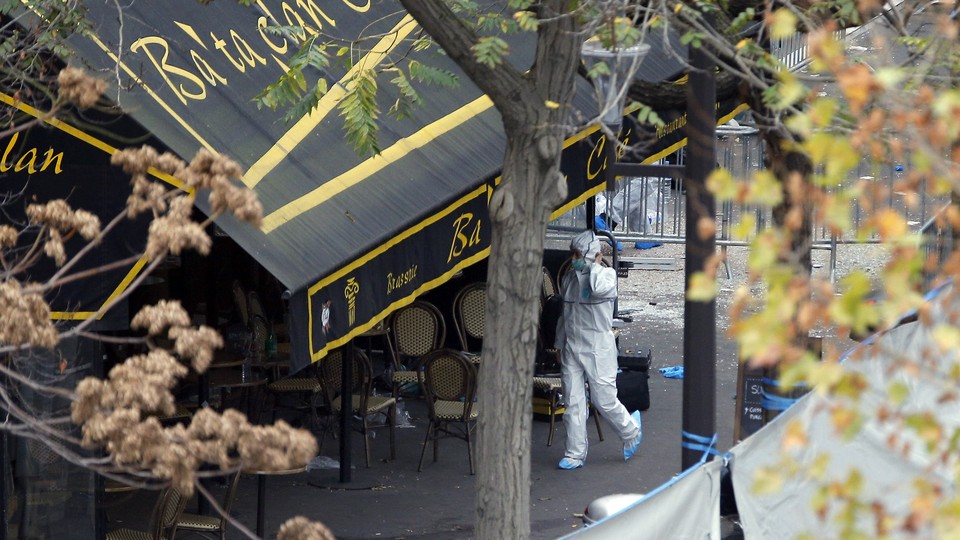 A little less than a month before gunmen killed 89 people at his band's concert in Paris, Josh Homme told Rolling Stone why Eagles of Death Metal were releasing their first album in seven years: "We realize that our lack of putting out a record, that absence of Eagles of Death Metal music, had a really negative byproduct. There were all sorts of Middle East troubles and all these other things, so we're sorry for that."
"So essentially [the album] Zipper Down is the Eagles of Death Metal response to terrorism?" asked the reporter.
"Yeah," Homme replied. "We put out a record and human rights are better, the world feels better, people make more money, there's less anger, people are more respectful to women and to homosexuals, and they're generally nicer each other, they're kinder to each other, and that's why we really felt like it was time to let the healing begin."
Homme was joking, of course, and it's probably best not to indulge speculation from some on social media that his statement had anything to do with ISIS hitting the Bataclan concert hall on Friday. But the quote is still worth thinking about, because of how it slyly sums up the aspiration behind most music: Play good songs, and you make the world a better place.
Among the many, many awful aspects of what happened in Paris is the fact that the attacks so viciously clashed with that idealism. No one can know exactly why terrorists chose the sites they did, but all were places that people gathered for enjoyment, and the worst bloodshed happened at one of more joyful kinds of gatherings that can exist—a concert. Some of the most wrenching photos of the ordeal are ones of excited Eagles of Death Metal fans before the killing began.
Any mass gathering carries an element of risk with it, and music shows have become tragedies before—the Great White fire, the Pearl Jam stampede, the Altamont violence. But this is a different sort of horror; neither an accident nor a spontaneous flaring of conflict among patrons, but a premeditated assault from outsiders. The closest comparisons might be with the historical instances of terrorism at sports matches and religious events, both places where people are vulnerable precisely because they've come to connect with other people.
Eagles of Death Metal play scuzzy, clever, loud blues rock that both celebrates and satirizes the idea of rock as an expression of macho, swaggering power. They have existed since 1998, and are known largely for their association with Homme, whose other band is Queens of the Stone Age. All of the band's members survived Friday night (Homme wasn't there), though their merchandise manager Nick Alexander—a veteran who'd worked with lots of rock acts that have toured Europe—did not. The main thing about the band, as fans who attended the Bataclan surely knew but the terrorists perhaps did not, is that they stand for good times. In the same Rolling Stone interview where world peace came up, their leader Jesse Hughes talked about the point of the band's concerts. "We kind of have a rule with Eagles of Death Metal that it's the fun show," he said, "and we want everyone to belong." There's now a campaign to get their cover of Duran Duran's "Save a Prayer" to the top of the U.K. charts.
For a while and maybe forever, attending concerts will feel a bit scarier, a bit more defiant, and maybe simultaneously sadder and more joyful. Security has been stepped up at some venues; U2 and the Foo Fighters canceled European dates after what happened; on stage in Sweden, Madonna said she considered canceling as well but decided that would mean the attackers had won. Across the music world, a common response has been to reassert the ideals that concerts represent: communion, peace, affirmation of how awesome life can be. On Friday night on Twitter, the music critic Ann K. Powers started the hashtag #livemusicheals, inviting people to share their favorite concert memories. "Listening and dancing and singing together is one of humanity's great pleasures and profound experiences," she wrote. "Music grows love among strangers."