Netflix's $50 Million Movie Gamble
The company is investing in the Korean director Bong Joon-ho's new film as part of its expansion worldwide.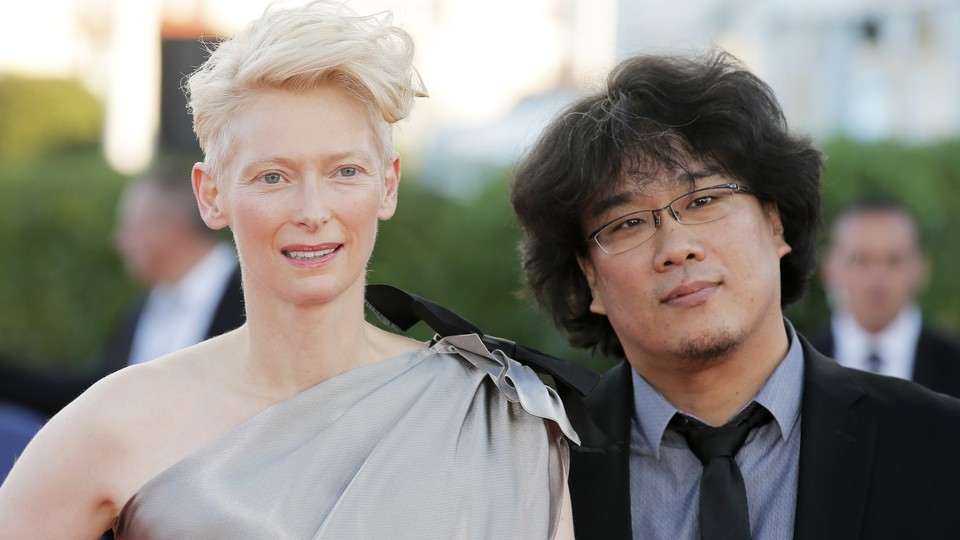 As a TV studio, Netflix has gained a reputation for being prolific, releasing a new show every few weeks, and dumping whole seasons of content online at a time. But as a film studio, it's aiming even higher, and its latest investment is its riskiest one to date. The streaming service will reportedly spend $50 million on the budget of Bong Joon-ho's latest film Okja, the follow-up to the Korean director's international hit Snowpiercer. If that seems like a lot, it is—but it's part of a larger international gamble that could help the company grow outside the U.S.
Netflix already has some 65 million subscribers around the world, but its international base is less than a third of that number, and that's a number the company needs to grow to satisfy its shareholders as its stock values continue to fluctuate wildly. Okja may seem like a strange venture, but according to The Hollywood Reporter, its release will come soon after the 2016 launch of Netflix in Korea. Snowpiercer was a moderate cult hit in America, but it was one of Korea's biggest box-office hits in history, and Joon-ho's next film should boast a similar overseas take.
Like Snowpiercer, Okja will have an international cast including Jake Gyllenhaal, Paul Dano, Tilda Swinton, and Bill Nighy, along with an unknown young woman as the lead (the film is about her friendship with an animal named Okja). But Bong won't need to negotiate deals with American studios to secure worldwide release: While the Weinstein Company notoriously battled with him over trying to re-cut the movie for American audiences (it was eventually released uncut), Netflix has promised Bong creative control over his film.
"It really is a fantastic opportunity for me as a filmmaker," Bong said in a statement. "For Okja, I needed a bigger budget than I had for Snowpiercer and also complete creative freedom. Netflix offered me the two conditions that are difficult to have in hand simultaneously."
It seems like an ideal scenario for big-budget art films, but it remains to be seen whether Netflix can sustain its huge financial outlays into cinema. While its first cinematic effort Beasts of No Nation made less than $100,000 in theaters, the company said it had been streamed more than three million times on Netflix. Okja will likely seek a wider release than Beasts of No Nation, which was boycotted by major chains because of its simultaneous release in people's homes, an issue that will need to be negotiated down the line. But Okja isn't the only big-budget Netflix production en route: It's also invested $60 million in a Brad Pitt-produced military comedy called War Machine. If Netflix can figure out how to turn these investments into profit, the whole model of film financing has the potential to be upended.