Master of None Is Aziz Ansari's Best Work Yet
The Netflix show dials down the comedian's live-wire persona and explores romance, race, and maturity in 10 episodes.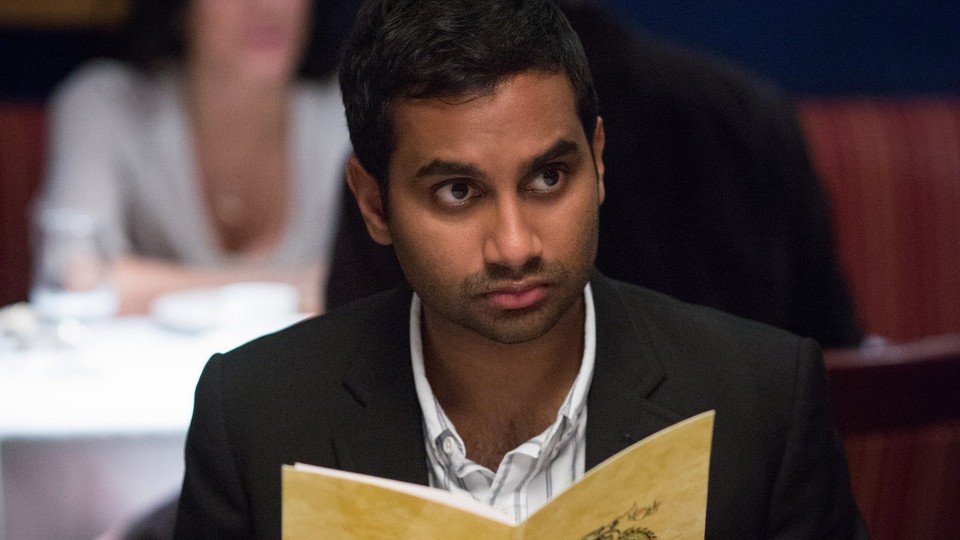 It would be easy to call the new Netflix comedy Master of None Aziz Ansari's version of Louie. The show (released on Friday) follows his semi-autobiographical character Dev, an actor living in New York, through the mundane confusions of dating and dealing with his family. It's also shot more like an indie film than the network sitcoms Ansari made his name on. But while Louie is often aggressively dreamlike, Master of None feels like a perfect distillation of Ansari's best comedy. It picks apart the social conventions of his generation, ponders the insidiousness of racism and sexism in entertainment, and obsesses over his inability to form romantic connections—a smart comedy of manners that has more in common with Seinfeld than its contemporaries.
Master of None, which Ansari co-created with the Parks & Recreation writer Alan Yang, presents each of its episodes as a half-hour mini-movie with its own title card, and while there's a loose plot thread running through the season, this is no typical Netflix binge experience. Ansari's romantic travails form the spine of the pilot episode, an enjoyable hook that only hints at the show's larger strengths. But the second covers his relationship with his parents (played by Ansari's real mom and dad) and the dynamics that play out between the first and second generations of immigrant families, and it's a tremendous achievement—easily one of the best TV episodes of the year. Master of None's 10 entries vary in quality and subject matter, but that experimentation is a perfect use of the Netflix format.
Perhaps Ansari's biggest achievement is that he dials back his own natural, exuberant energy—the live-wire persona that shot him to fame as a stand-up and quickly won him roles on TV and in film after his debut in the MTV sketch show Human Giant in 2007. As Tom Haverford on Parks & Recreation, he was a sarcastic, cocky entrepreneur prone to hyperbole; in films like Funny People and 30 Minutes or Less, he was a foul-mouthed sidekick. In Master of None, Ansari is basically a less successful version of himself, but he's not a stand-up comic: He isn't trying to explore his entertainer gene, and the show is better off for it. Yes, Dev is a struggling actor who attends auditions and has a small part in a B-list action movie, but those facts are mostly used as jumping-off points for other stories. This is no showbiz satire, and Ansari plays the straight man rather than the wacky supporting roles he's often handed.
As a result, Master of None avoids some of the pitfalls Ansari fell into with his latest comedy special, Live at Madison Square Garden, and his book Modern Romance. On stage, he grappled with his own fame and how it had changed him, having reached the arguable peak of a stand-up's existence by selling out a stadium. In print, he worked with the sociologist Eric Klinenberg to try and unpack the dynamics of dating in the smartphone era. Both were worthy efforts that felt like they were trying too hard to shed what had come before, while Master of None feels like Ansari is finally writing the material he's been intending to create his whole life.
The episode about his parents manages to be about Ansari's own guilt without seeming self-indulgent. When Dev complains about his parents' harmless requests (can he set up their iPad, can he call them once a week), the show flashes back to his father's hard-scrabble adolescence in India and his painful and isolating journey to America as an immigrant who's distrusted at work and mocked by his children. To get into every detail would spoil it, but it's simultaneously heartbreaking and hilarious to watch these mini-movies play out alongside Dev's meaningless whining, while also summing up the unending guilt Dev will always face when dealing with his parents, who worked to provide him with opportunities to squander every day.
Ansari is exploring race not only as it relates to his upbringing and family but as it subtly plays out in his industry. A subsequent episode looks at the tortured casting processes South Asian actors have to go through to play stereotyped cab drivers and restaurant owners on television, and the lack of opportunities for more dynamic parts. Master of None tackles those heavier topics while also doing whole episodes on Dev's fumbling love life; the Saturday Night Live alum Noel Wells is radiant as a recurring love interest who hovers on the outskirts of the show. (Throughout the series, Dev crashes through awkward situations with guest stars played by actors so famous, it's worth keeping them a surprise.)
So many Netflix shows, like Orange Is the New Black or BoJack Horseman, are novelistic, building to grand emotional finales throughout the course of a season, but Master of None feels more appropriate to the streaming form. It's an anthology show where any of its episodes could be immediately put on and enjoyed, but watching it quickly and in order (as many Netflix viewers are wont to do) reveals larger threads and recurring themes that deepen the whole experience. It may be exhausting to hear it, but Master of None belongs in the teeming pile of great TV worth the time, and hopefully marks the beginning of a new and excitingly improved chapter in Ansari's career.