Kobe Bryant's Farewell
The longtime Laker, former league MVP, and five-time champion announced he will retire at the end of the season.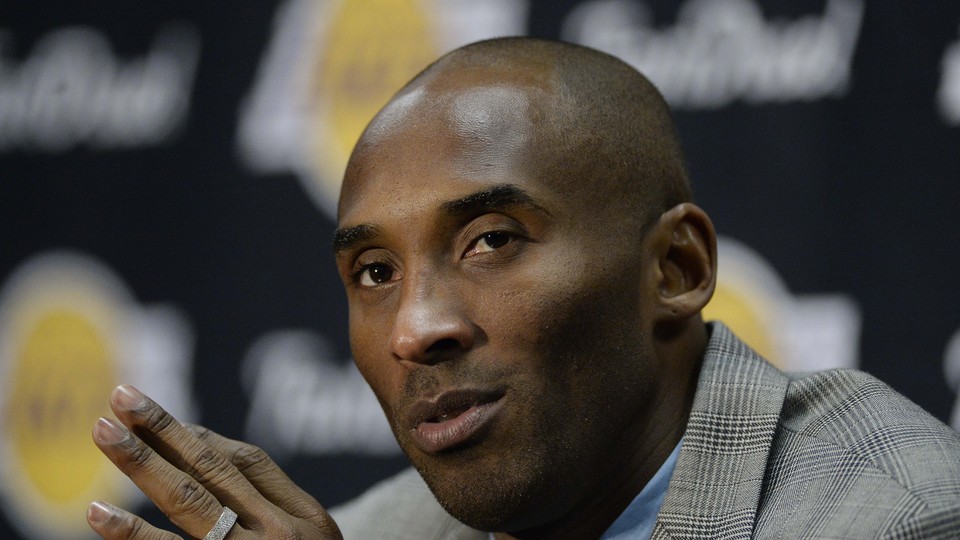 On Sunday night, Kobe Bryant, the NBA great and longtime Los Angeles Laker, announced (via poem) that this season would be his last in professional basketball. Here's part of the newsworthy stanza from "Dear Basketball," perhaps the first piece of free verse (sorry, W.S. Merwin) to ever crash a website:
You gave a 6-year-old boy his Laker dream
And I'll always love you for it.
But I can't love you obsessively for much longer.
This season is all I have left to give.
Speaking on Sunday, following the Lakers' sixth consecutive loss, Bryant explained his mind had started to drift away from basketball during meditation sessions. He also thanked his various "muses" for giving him advice on retirement as he wraps a brilliant career across 20 seasons.
But don't let all these feelings fool you. Bryant's retirement is neither the upshot of mindful clarity nor is it a result of his resignation with his team's profound lousiness. It is because of his fundamental inability to play basketball anymore.
My heart can take the pounding
My mind can handle the grind
But my body knows it's time to say goodbye.
The 37-year-old Bryant has battled injuries much of the past few seasons. This year in particular, the former two-time scoring champion is finding that his legendary jump shot is failing him and his vaunted ability to drive the lane has betrayed him. Bryant is shooting a career-worst 31.5 percent from the field.
As a basketball prodigy, Bryant went straight from high school to the NBA in 1996. In addition to time logged on the court, his self-styled defiance, evident in his play and in his image, is part of what has caught up with him.
My colleague David Sims points out that Bryant's peers—Tim Duncan, Kevin Garnett, and Dirk Nowitzki, all of whom are Bryant's age or older—have not suffered similar declines because they have accommodated age by changing the way they've played and limited their minutes. Bryant, forever compelled to take charge, refused.
He will retire in third place on the NBA's all-time scoring list after passing Michael Jordan on the list last season. Following his announcement,NBA Commissioner Adam Silver released a statement paying tribute to Bryant and highlighted some of his innumerable achievements.
With 17 NBA All-Star selections, an NBA MVP, five NBA championships with the Lakers, two Olympic gold medals, and a relentless work ethic, Kobe Bryant is one of the greatest players in the history of our game. Whether competing in the Finals or hoisting jump shots after midnight in an empty gym, Kobe has an unconditional love for the game.