Joy to the World, Missy Elliott Is Here
"WTF," her comeback single, is pure rhythmic pleasure.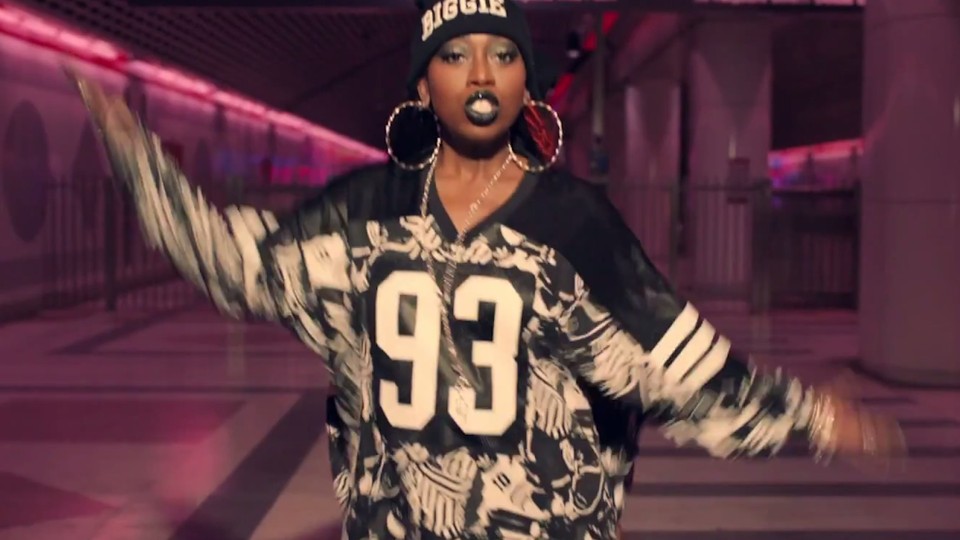 After some time away, Missy Elliott still knows what people want from her. The video for her new song "WTF" opens with the muffled sound of its beat and words coming through headphones and car speakers and nail salon stereos around New York City, with citizens of all sorts mouthing the words and bopping their heads and sticking out their tongues. As has been previously established by the Missy Elliott canon, music makes you lose control, and Missy's "you" is inclusive as it gets.
That the foul-mouthed trailblazer with alien beats who's one of the few women to ever successfully compete in the male-dominated rap world would be such a uniter might seem, on paper, a little bizarre. But her absence from the musical landscape—her last album came out in 2005, followed by a few one-off songs—has made it clear just how influential and uniquely easy-to-love she was. Timbaland's clattering production style has seeped all over, and Nicki Minaj, Azealia Banks, and Iggy Azalea have made the female-rapper lane a little less lonely than it once was. But no one is as reliably able and willing to start a party as Missy has been on her best singles. She's not buying melodies from Swedish pop geniuses in attempts to conquer multiple radio formats; she's not lugging around a Narrative. She's pure rhythm + attitude,  an equation for joy.
So it is on "WTF," with its earthquaking low end and catchiness-through-elongated-syllables. Pharrell, another rap-master of body music, shows up for a verse that fits nicely into the nonsensical tapestry.
Well, semi-nonsensical. The lyrics aren't quite as meaningless as the title would first suggest—the WTF here is not what the fuck, but "Where they from?" She's rapping about dancing as sex as performance as rap, of course, as always. My favorite line on first spin: "Body be thick like a bisque." The big question, for each listener, is how do they do it where you're from?
Even when it sounds like she's delivering a diss, the dance styles on display in the video suggest that basically any answer is acceptable, as long as it's fun—no airquotes, irony, and pain like 2015's last trendy GIF buffet/music video. In a mirror suit, as a puppet, wearing trash bags, face painted, whatever; Missy's back to entertain, thank goodness.