John Mulaney: Comedy's Comeback Kid
The former SNL writer's Netflix special reminds how hugely talented he is.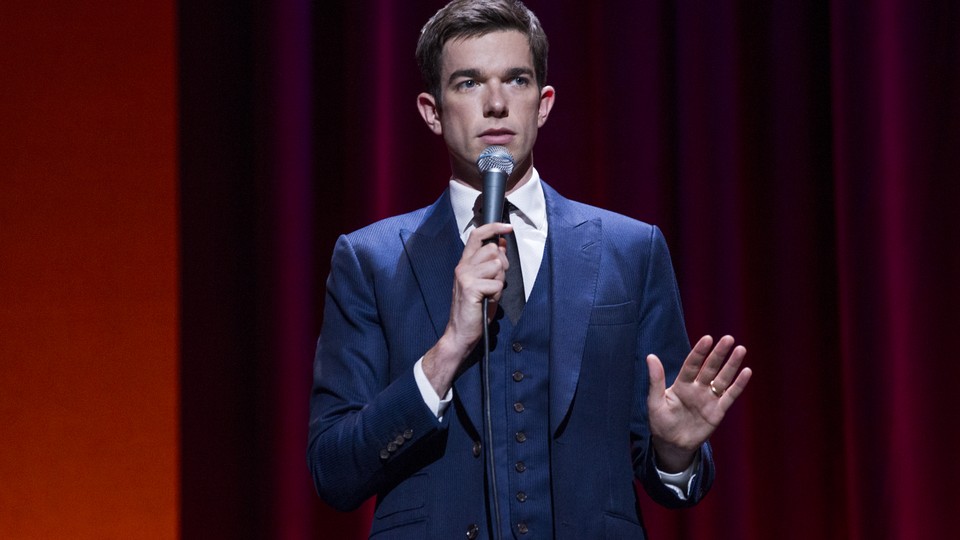 John Mulaney knew exactly what he was doing naming his new stand-up special The Comeback Kid. The title ostensibly comes from the story he closes the hour with, about meeting the original "Comeback Kid" Bill Clinton in 1992, but it also marks the triumphant return of Mulaney, one of comedy's ascendant stars, after his self-titled Fox sitcom proved to be a rare but massive misstep in 2014. The Comeback Kid, which debuts on Netflix on Friday, is his first special since the remarkable New In Town three years ago, and it's a reminder of everything that makes Mulaney so singular: storytelling rich with well-observed details, delivered with the confidence of someone decades older than 33.
There's a reason Mulaney, who started out writing for Saturday Night Live (where he created recurring characters like Stefon), was long touted to one day assume its Weekend Update chair. He has the snappy poise of comedians of yore like Johnny Carson or Chevy Chase, mixed with just enough self-deprecation to ground him in comedy's current era. Still, it's rare to see a stand-up these days who isn't couched in layers of irony, engaging in some depressing soul-baring, or looking to make broader political statements, which makes the simplicity of Mulaney's approach all the more welcome.
Mulaney the sitcom felt like an unnecessary throwback, a quasi-Seinfeld revival about a struggling comedian living in New York City with his cynical roommates. It had an acidic edge that occasionally shone through its formulaic presentation, but after being rejected by NBC and acquired and majorly revamped by Fox, it never seemed to find its footing. It was eventually dismissed to jeers from critics and rock-bottom ratings—the first real blunder in Mulaney's career. Hired at SNL in 2008 (at the age of 26), he became one of the show's behind-the-scenes stars over six years, also releasing two great stand-up albums (The Top Part and New In Town) before debuting his sitcom.
Since then, Mulaney's toured this act around the country and honed it for this Netflix special (while also writing the best episode of IFC's Documentary Now, a brilliant spoof of Errol Morris's The Thin Blue Line called "The Eye Doesn't Lie"). Some of the material in The Comeback Kid feels very new, while other bits have popped up in his acts without making it to one of his albums, including his show-stopping Bill Clinton story (his family's history with the former president is both deep and surprising). Mulaney hammers it all together into a seamless hour that reflects his new-found status as an adult: He's married now and has a white French bulldog named Petunia who's become an Instagram star, and who introduces the show. He possesses a little more world-weariness, even if he never mentions his travails in network-sitcom land.
Mulaney's first two albums were very much about wrestling with what it means to be a grown-up. (Though his clean-cut image wouldn't suggest it, he's a recovering alcoholic with plenty of stories about his younger self.) In The Comeback Kid, many of his more reflective bits focus on his growing admiration for his conservative, straight-laced father and the quiet battle of wills he fought with his children. The Comeback Kid isn't trying to tell one large story—Mulaney is very much an anecdote comic, relating lots of little tales over the course of an hour. But if the show has a tragic hero, it's his dad, whose firm principles get hilariously upended in the final line of the final story, with the kind of unexpected punch Mulaney has long excelled at delivering.
What next? With his track record, Mulaney could stick with stand-up comedy forever and maintain his perfect batting average. But as The Comeback Kid reminds fans, he's a magnetic screen presence with a specific, nostalgic take on growing up and navigating adulthood. His old-school style might have pushed him toward trying to rescue the '90s sitcom, but he should never have taken on such a thankless task. Hopefully he'll find more success with other mediums in the future. For now, The Comeback Kid is the perfect new calling card to build on.