How Home Alone Ruined John Hughes
The 1990 movie marked a shift from the originality and charm of the legendary filmmaker's earlier work toward unimaginative but lucrative family-friendly fare.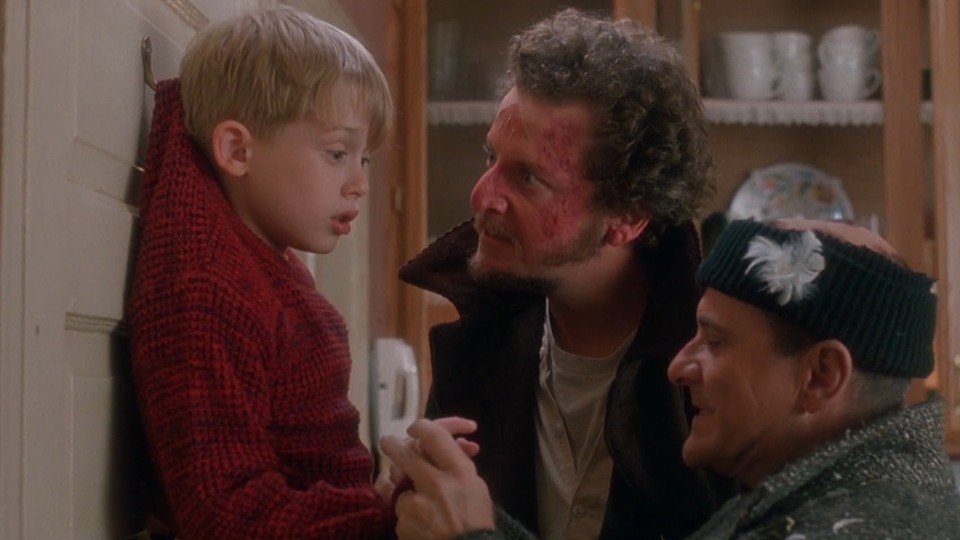 In a three-year period during the 1980s, John Hughes solidified his place as the great teller of adolescent tales on film. Five years ago, Vanity Fair noted the irony in the fact that "a baby-boomer born squarely in the middle of the 20th century had somehow laid claim to the title of Teen Laureate," after writing, producing, and in some cases directing odes to teen angst including Sixteen Candles and The Breakfast Club. Those movies are part of an oeuvre that have led the likes of Tina Fey and Judd Apatow to cite Hughes as an influence or pay homage to him on screen, and that make him beloved by both Gen Xers and Millennial figureheads like Taylor Swift. For many, Hughes captured the experiences of young people with the kind of empathy and nuance no other filmmaker had before.
1990 marked the beginning of a particularly lucrative time for Hughes with the release of his biggest film to date. A departure from the teen movies that made Hughes famous, 1990's Home Alone would nonetheless go on to be the third highest-grossing film ever at the time. This was thanks to a simple formula: Take a precocious, adorable, misunderstood kid, put him in a situation where he can get into good old-fashioned trouble, but make sure everything turns out alright in the end (Hughes would later use this formula for dogs as well).
Home Alone succeeded because the heavy doses of schmaltz and whimsy necessary for a family film were balanced out by the slapstick violence. Macaulay Culkin's Kevin McCallister doesn't come of age or really learn much besides how to aim paint cans at the heads of the two burglars trying to break into his house—but he does have to take on grownup responsibilities until his parents get back. While he gets to set up a number of elaborate booby-traps throughout his house, he also has to buy groceries and cook for himself. After all that, it seemed like Kevin could just return to his old life. But the man who created him found it harder to do the same after Home Alone's massive success.
After the success of Home Alone, Hughes's movies noticeably changed their focus to appeal to a broader audience. They grew more polished, but missed the originality and distinct appeal of his earlier works. Home Alone signified a change of direction for Hughes, and a shift in focus away from the fertile terrain he'd explored in his earlier films. While the McCallisters live in the Chicago suburbs where nearly every other Hughes film is set, the conceit is notably different from the more formulaic films of the 1980s (starting with 1984's Sixteen Candles and continuing through 1989's Uncle Buck).
Hughes himself said that he envisioned his characters all living in the same universe, the fictional town of Shermer, Illinois (based largely on the Chicago suburb of Northbrook where Hughes lived as a teenager). But the world of Home Alone doesn't bear any resemblance to the Shermer of his other films; it was filmed and takes place in the real village of Winnetka along Lake Michigan. In many ways, it's Hughes leaving Shermer behind.
* * *
The triumph of the first Home Alone movie marked the end of Hughes's great run, one that included three National Lampoon's Vacation films starring Chevy Chase and Beverly D'Angelo, the teen movies, and Planes, Trains, and Automobiles. Those films, untouchable by many standards, helped redefine comedy, but they didn't make nearly as much money as Home Alone did. For a comparison, Ferris Bueller's Day Off, one of Hughes's most successful films both financially and critically, made an admirable $70,136,369 when it was released in 1986. Home Alone had a final gross of $285,761,243 just four years later.
Financially speaking, it probably would have been difficult for Hughes to go back to making those kinds of films, the ones with curse words and teenagers realizing they were on the terrifying cusp of adulthood. A scathing 1992 article by Richard Lallch for Spy magazine took a behind-the-scenes look at what it was like working in "Hughesland" just two years after Home Alone came out. The piece portrayed Hughes as a "crazed, scary, capricious bully" who was "getting at least $10 million a year to crank out consistently mediocre money losers." Hughes Entertainment wasn't the seemingly fun and loose hangout that you imagined his earlier films coming from, but after a string of failures all released in 1991—Career Opportunities, Only the Lonely, Dutch, and Curly Sue—Lallch surmised that Hughes "badly" needed a hit. The result? Home Alone 2, which netted $173 million in the U.S. alone.
Over the following decade, Hughes went on to write and produce critical duds like the 1993 adaptation of Dennis the Menace, 1994's Baby's Day Out, and a quirky but forgettable remake of The Absent-Minded Professor starring Robin Williams, 1997's Flubber. None of these films resonated the way his earlier works did, but they made a lot of money (1996's 101 Dalmatians netted $136,189,294, while Flubber took in $92,977,226). But there are some bright spots in Hughes's post-Home Alone filmography, like the film's sequel and the surprisingly dark and sad 1994 remake of Miracle on 34th Street that Hughes wrote and produced.)
Many artists enjoy creative golden ages before hitting a peak, or a plateau, or fizzling out entirely. So why is Hughes's decline so exceptional? After all, he's not a critical heavyweight like Alfred Hitchcock, he's not associated with any film movement, he never won any major awards for his work, and he was never quite an indie darling. Hughes was always commercial to an extent, something that shouldn't be too surprising since he was writing copy at major advertising agencies before he got into film. And yet his movies are seen as definitive tales of the '80s, proof that Hughes had something special to offer audiences.
Hughes was a writer before all things; for him, the story came first. But after Home Alone, he just relied on that same formula, or worked on adaptations and remakes that already had built-in stories. In other words, there wasn't as much to create, which might explain why his '90s output just doesn't hold up as well as his work from the previous decade. Hughes himself said he was disillusioned by his time spent in Hollywood; his post-Home Alone success gave him a chance to move on. And yet he hadn't lost his creativity: According to David Kamp's Vanity Fair piece, the hyper-prolific Hughes left behind hundreds of notebooks filled with new stories, some completed, others just the seeds of ideas.
There's ample reason to wonder how Hughes and his work would be viewed if he'd gone down a different path and not simply chased the broad box-office appeal. There's an undeniable urgency and energy to the movies from the 1980s that bear his name that you just don't find in his later work. The formula he came up with for Home Alone, the one he found the most success with, was structurally sound and easy to replicate, but ultimately empty. It's Frank Whaley and Jennifer Connelly in Career Opportunities forced to defend a Target store against two dimwitted robbers, Dennis the Menace doing battle with a burglar named Switchblade Sam, the baby in Baby's Day Out outsmarting three kidnappers, and the very forgettable third Home Alone film.
Though his teen films continue to have an indelible hold on pop culture today, it's Home Alone that might ultimately be Hughes's most enduring movie. It spurred studios to clamor for high-yield, family-friendly movies while elevating the man who directed it, Chris Columbus. Hughes passed the torch to Columbus, whose greatest success before 1990 was Adventures in Babysitting—a film people often wrongly associate with Hughes because it's a story about teens in Chicago in the 1980s and features a Hughesian happy ending.
After directing the first two Home Alone films, Columbus went on to make hits like 1993's Mrs. Doubtfire and 1996's Jingle All the Way. He also kicked off the aughts by directing the first two Harry Potter films, and much like Hughes, he stepped out from behind the camera and into the role of producer for the third installment of the boy wizard's story. Yet with his string of popular all-ages films, Columbus succeeded at making great post-Home Alone movies where his mentor failed. As Jed Gottlieb pointed out in Paste, Columbus presented the stories of Potter and his friends with the same "honesty, insight and humor" as Hughes did in the 1980s.
Hughes's influence on Columbus can be felt throughout the biggest film franchise of the century so far. So although his career following Home Alone might be interpreted as a disappointment given the brilliance of his earlier films, his legacy is undeniable. Perhaps that, more than anything else, can be of some solace to fans who wonder what might have been.