Chris Stapleton's Heartwarming Conquering of Country Music
The 37-year-old's surprise success at the CMAs might be a sign of genre trends, but it's also a story of hard work paying off.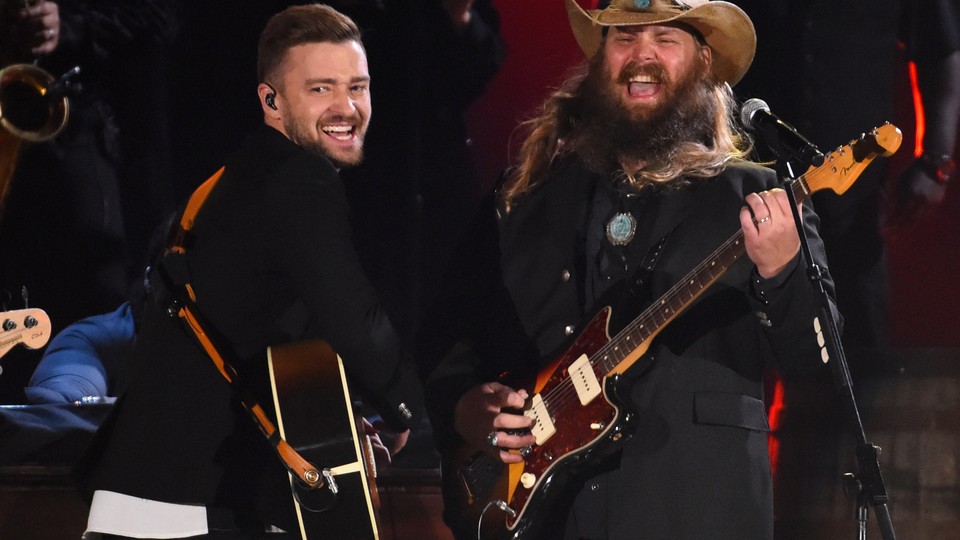 The third-to-last song on Chris Stapleton's Traveller consists of six slow-burning minutes in which the bushy-bearded singer makes his career sound like a pretty big bummer. He drives all night to Billings; he sleeps all day in Utah; he can't remember stopping in Denver—it's all a wasted blur because "I live my illusion that somebody needs me to play." The chorus ends, "I miss my son / I miss my wife / But the devil named music is taking my life."
It sounds like the confessions of a road-tested veteran, which the 37-year-old Stapleton in fact is. How, then, was he also named "Best New Artist" at the Country Music Association awards last night?
Stapleton was the story of the 2015 CMAs: He took home Male Vocalist of the Year and Album of the Year—in both cases beating far more famous, established stars—and he performed an instantly acclaimed set with Justin Timberlake. It was, if nothing else, the culmination of a lot of hard work. "I look at all the faces and all of the people who helped me support my family over the last 15 years, writing songs and playing out there," he said in his final acceptance speech of the evening. "It's an unbelievable thing and I'm not going to take it lightly."
It's hard to think of exact recent precedents for Stapleton. A former member of the successful bluegrass group The SteelDrivers, he's written hits for Nashville talents from Luke Bryan to George Strait, but Traveller is his solo debut. The album hasn't produced any radio smashes, and its sales have been merely solid, but critics have loved it for Stapleton's soulful wailing, huge haunting arrangements, and smart embrace of genre tropes (one song has him lamenting a breakup that "turned my life into a country song").
A lot of headlines about country music in recent years have cemented the notion of a Nashville machine that's as corporatized and profit-minded as Hot 100 pop. Derivative "bro-country" supposedly rules; women can't make the airwaves because of consultants; and radio is seen as the only avenue for success that matters. At the same time, country remains—despite outside impressions—perhaps the most self-aware genre going, continually lively with discussions about what it has been and what it should be. For example, one of the biggest hits of past year, Maddie & Tae's "Girl in a Country Song," explicitly attacked the genre's clichés, and Little Big Town's "Girl Crush" trolled listeners with metaphorical confessions of same-sex attraction. Stapleton's CMAs can be seen as a backlash or protest against glossy superstars, or as a sign of change, as Jon Caramanica at The New York Times theorizes:
The wins for Mr. Stapleton and [Little Big Town's] "Girl Crush" might be an indication that country's mainstream is doing a more expedient job of assimilating its fringes. Or maybe the center of country is now the syndicated radio DJ Bobby Bones, a self-styled outsider and a heavy advocate for both Mr. Stapleton and "Girl Crush," a fact he was eager to remind people about on Twitter during the show.
You could also make the argument that Stapleton's victory is a conservative one, in some ways. Looking at the wider musical landscape, his CMAs night seems analogous to the Grammy ceremonies that have surprised viewers by rewarding anti-mainstream but classically talented artists like Arcade Fire and Herbie Hancock—thereby shoring up the supposed respectability of the award in the face of electronic, heavily studio-controlled pop. Stapleton's music, after all, is explicitly a throwback: "If somebody tells me it sounds dated, I'd say that's great, as long as the date is 1978," Stapleton said of Traveller to Rolling Stone.
But even compared with the Grammys' examples, Stapleton's story is unique, heartening. He's neither a revered veteran with built-in acclaim nor an over-hyped newcomer but rather someone who has worked and worked behind the scenes and finally decided to make his own statement. Whatever factors went into his CMAs sweep, Traveller's tales of struggle and misspent youth make his success seem especially poignant. It's no illusion that someone needs him to play, and the devil named music has finally paid him back.