Chicago Med and the State of the Hospital Drama
NBC's new series wants to be ER, but it forgets how well-crafted and original that show was.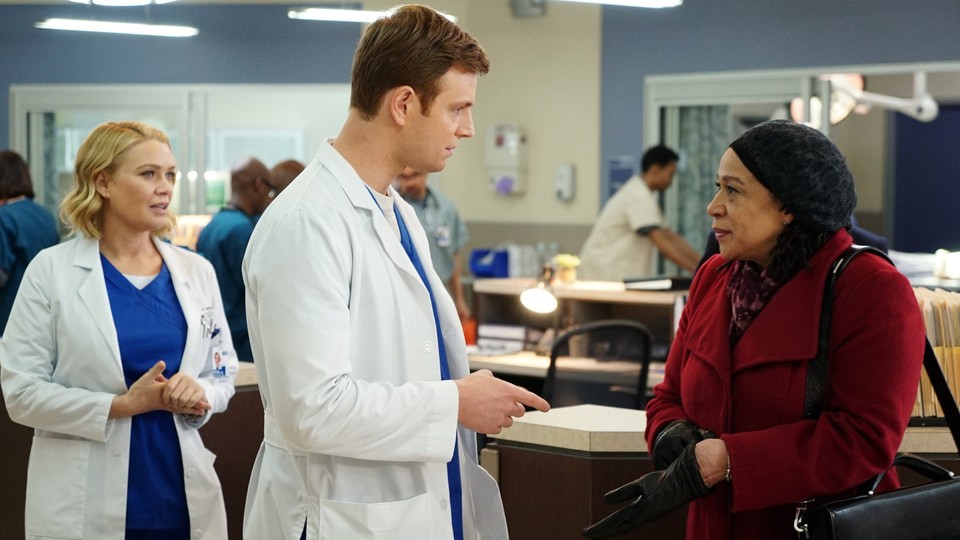 "Doctor, it's okay," a dying patient gasps in the pilot episode of Chicago Med, which premiered Tuesday night on NBC. "I've had a good life."
"Whoa, whoa, whoa!" Dr. Charles (Oliver Platt) responds, with faux incredulity. "What movie is that from?" It's from all of them—and all the TV shows, too, since the hospital drama is among the most stagnant formats in television. Perhaps unsurprisingly, Chicago Med marks yet another routine entry and doggedly follows the same beats as its forbears, most notably the Chicago-set ER.
When ER debuted in 1994, it was fairly revolutionary. It felt like small-screen cinema, complete with long Steadicam tracking shots, rapid-fire editing, and characters barking medical mumbo-jumbo while chaos unfolded around them. The hospital drama wasn't a new subgenre at the time, but ER's approach embraced shocking realism alongside the soapy plotting that defined earlier hits like St. Elsewhere and China Beach. The central twist of ER's pilot episode, "24 Hours," told through the eyes of newbie medical student John Carter (Noah Wyle), was that Nurse Hathaway (Julianna Margulies) clocked out for the day only to be wheeled in hours later after a suicide attempt. It immediately united the show's personal and professional stories for maximum drama, a trick the show pulled again and again in its 15 seasons, to diminishing returns.
Chicago Med does little to distinguish itself, right down to the setting. The pilot revolves around another crazy day in one of the city's biggest emergency rooms; the central, uninventive crisis is an elevated-train crash. Every character type you'd recall from ER is present: the stiff and steady floor chief (here played by Nick Gehlfuss) and the handsome renegade (here, Colin Donnell), as well as a nervous med student, a handful of wise and helpful nurses, and authority figures played by recognizable stars—here Platt and S. Epatha Merkerson.
There's another reason for Chicago Med's inherent flatness—it's created and produced by Dick Wolf, the Law & Order mogul whose NBC drama Chicago Fire inspired a whole new franchise of shows. Now there's Chicago P.D. and Chicago Med, each of which follows the rigid storytelling style Wolf has always preferred, making it easy for new viewers to jump in each week. So when characters from Fire drop by the hospital to help pass the torch in the pilot, it hints at the upside of Wolf adding a medical drama to his stable of shows: The firefighters rescue people, the cops catch the bad guys putting them in danger, and the doctors patch the injured folks up. Law & Order always excelled at providing a satisfying conclusion each week; now Wolf has taken that feeling network-wide.
But outside of that, Chicago Med is just a template, a faint echo of the better hospital procedurals it owes its existence to. There have been more successful reinventions of the format—most notably Shonda Rhimes's Grey's Anatomy, which hearkened back to the even soapier days of St. Elsewhere and dialed the melodrama up from the very beginning. Chicago Med is trying to blend in a little of that—Donnell's character is a particularly absurd creation, sewing up his own wounds and darkly mentioning his past as a surgeon in the Middle East.
There will always been room for a competently executed hospital-drama series, which is why networks keeping making them. The subgenre is perfectly matched to network TV, which prefers to cycle out actors as they get famous and expensive, and swap up-and-comers in one by one so the audience barely notices that things are changing. Plus hospital shows offer near-constant life-or-death stakes in a workplace setting, meaning the same storylines work just as well in a sitcom (M*A*S*H, Scrubs) as they do in a gritty drama.
This year, CBS has Code Black, which focuses on the most intense crises possible every week. Last year, Fox's Red Band Society revolved around teenage patients, while NBC's The Night Shift tried to inject some wild comedic antics into typical emergency-room storylines. Despite all the new hospital pilots over the past five years, there hasn't been an outright hit since Grey's, which is now in its 12th season. Chicago Med clearly hopes it can attract some of its NBC forebear's fans, and given that its early viewership numbers were strong, perhaps it can. But what made ER a hit wasn't its setting and its frenetic energy so much as its intelligence, its grit, and its well-drawn characters. That's something most medical dramas would do well to remember.