'Fancy Sweats' and the Era of Conspicuous Comfort
Because the hand that frocks Tom Brady is the hand that rules the world.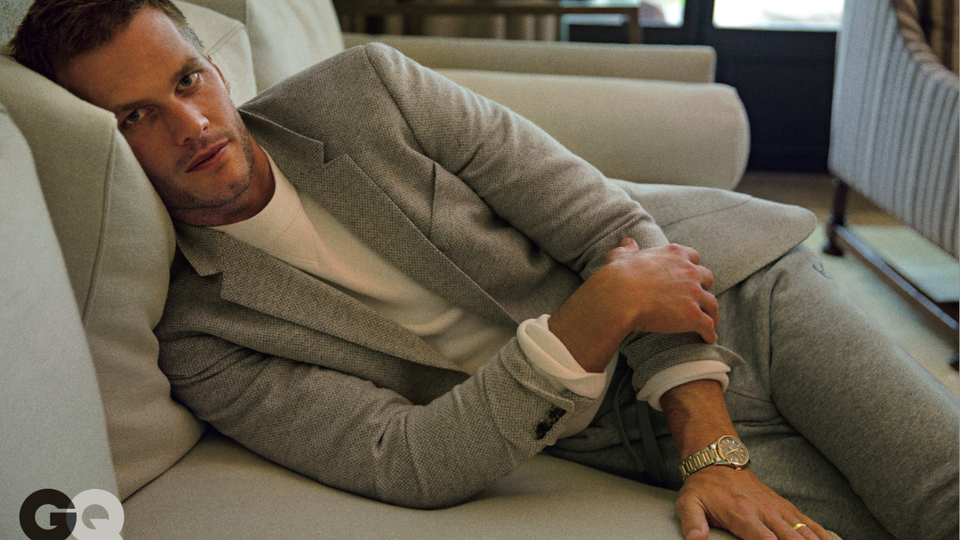 In its naming of Tom Brady as its Man of the Year—
yet again
, and
despite everything
—the newest issue of
GQ
offers a selection of photos of its honoree. The
spread
, rendered across several pages in the print magazine and as a slideshow of portraits on
GQ'
s
website, features Brady wearing black jeans and a quilted tech vest, frolicking in a meadow; Brady, shot in black and white, lovingly cradling an infant-esque football; Brady in a shearling coat, smiling against a gray backdrop. The photos are weird and typical in their own unique ways; the most striking of them, though, features the Patriots quarterback clad entirely in a suit of heather gray, splayed come-hitheringly on a couch of muted taupe.
And the most striking thing about that: The suit in question is, effectively, a sweatsuit. Not in the sense of a sweatpants-and-sweatshirt combo, the fruits of lazy looms the nation over, but in the sense of a tailored sports jacket—lapels, sleek pockets, buttons, the whole deal—and not-quite-matching, slim-but-not-too-slim-cut pants. The pants are fabricated in what seems to be thick, soft cotton: Suit in form, sweats in function. And they're fastened not with a zipper or buttons; they're tied with a drawstring waistband.
Firstly: The suit in question looks ridiculously soft and comfortable, and the fact that Tom Brady got to wear it during the photo shoot may well be yet another reason to be extremely jealous of him.
Secondly, though: The suit in question is legitimately interesting! GQ is, through this one little entry in its photographic hagiography, shifting traditional ideas of what formal luxury is all about. Sweat suits, after all, are the traditional outfits of 1980s-set workouts and 1990s-set episodes of Roseanne, the garb of either extreme comfort or extreme laziness, the stuff you put on when you are either working hard or giving up. They are, whatever else you might say about them, very much not synonymous with historical conceptions of formality, luxury, The Living of One's Best Life, etc.
However. As worn by the superstar quarterback Tom Brady, as posed in what is ostensibly the opulent mansion he shares with his supermodel wife,
GQ
's sweat-suited outfit telegraphs luxury rather than laziness. Which, in the process, telegraphs something else: the new primacy fashion—high fashion, sure, but also fast fashion and all the other forms—has recently given to informality. It's an outgrowth of what Simon Doonan, a few years ago,
dubbed
"quiet luxury": the idea that the one percent, rejecting the thirsty extravagance of the merely rich, have replaced more obvious opulences with subtler forms. The resulting aesthetic, Doonan explained, is one of "spare simplicity with foncy labels; it's a white gold Rolex that resembles a plain old tin Timex; it's L.L.Bean-style basics with haute-couture prices."
Today, quiet luxury is,
Miranda Priestly-style
, filtering into everyday fashion. Its general idea—the foncy, as realized through the basic—is making its way to the world of the normals.
Thus: Tom Brady's fancy-pants sweatpants. Which have become popular not just among NFL quarterbacks, but also among everyday guys.
Betabrand sells a pair of "
gray dress sweatpants
" whose $108 price tag ostensibly accounts for the fact that the products in question offer, Betabrand insists, both "boardroom style" and "bedroom comfort."
This spring, Business Insider announced that "
men are now wearing 'fancy' sweatpants to work
." This week, Fruit of the Loom released a "
professionals collection
" featuring formal cuts and casual materials—"the end goal" of this being,
the company explains
, "to bring the look of success to sweats, without sacrificing comfort."
And it's not just men, of course, who are availing themselves of a new permission to be formal and comfortable at the same time: Women's fashion lines have been experimenting with their own versions of "fancy sweat pants." Which include both traditional sweat-pant designs and also their cousins,
the track pants
—and which tend to be fabricated in silks and microfibers and cashmeres and other quietly luxurious materials, the better to conflate comfort and confidence.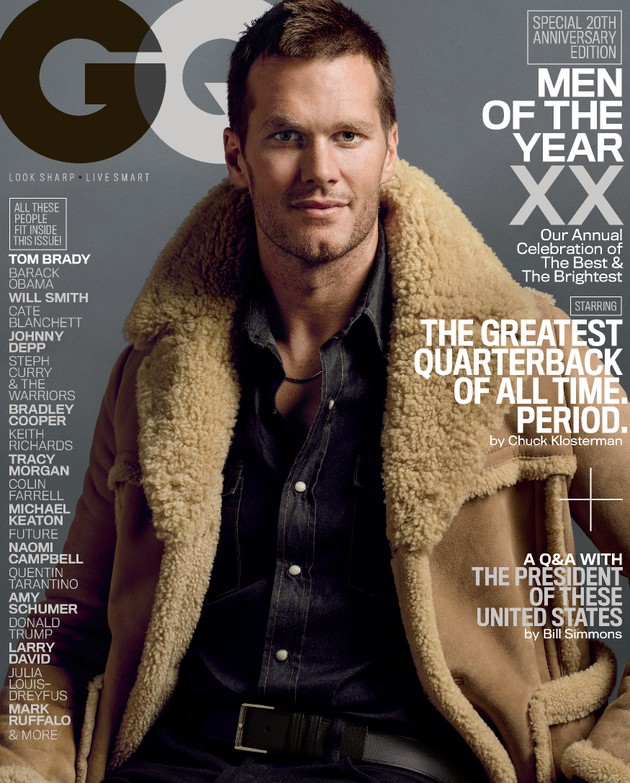 Those small shifts—bringing some slack to the world of slacks—are all, in turn, a reflection of bigger ones. They come from a culture that r
everes the be-hoodied men-children of Silicon Valley, that prizes informality in language and social interaction,
that can treat "work" as a dirty word. A culture in which yoga pants have become status symbols and "athleisure" has become a term of art. The fancy-ish sweat suit—a yin and yang of the formal and the fun—is the optimal outfit for a time that is replacing an ethos of "conspicuous consumption" with one of "conspicuous comfort." It rejects a longstanding assumption that formality must come with a degree of discomfort (see:
corsets and girdles and high heels, top hats and belts and neckties). It recognizes that dress suits, in particular, are uncomfortable and impractical and generally pretty terrible, and that people have worn them, for the most part, because
they have been what people have worn
.
Brady's sweat suit, in its softly heathered way, pushes back against that tautology. And so do its fellow outfits. Together they insist on something humans have long known, but that fashion has been slower to catch on to: that the biggest luxury of all is the simple ability to be comfortable.