Balmain: The Reinvention of a Fashion House
The storied French label's new collaboration with H&M reveals how efficiently the brand has adapted itself to the 21st century.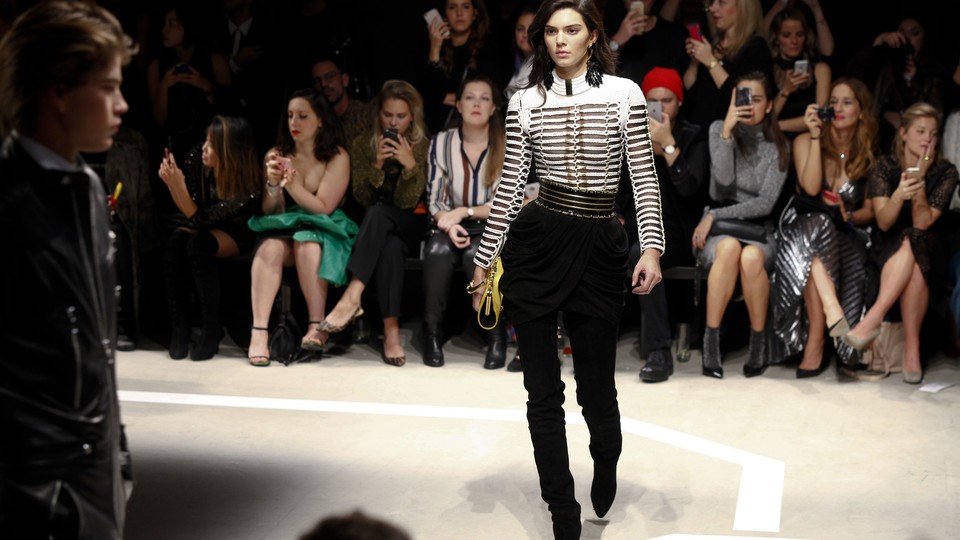 The Balmain x H&M collection went on sale this month, setting off a retail frenzy so violent that it spawned its own hashtag, #Balmania. The collection was praised for staying true to the creative director Olivier Rousteing's heavy, ornate runway looks, if less lauded for its runway-ready price tags: The $550 jackets may have been a bargain for Balmain, but they were out of reach for the typical H&M customer. It's a moot point, however—they're now selling for nearly eight times that much on eBay.
When he made his fashion debut in 1945, Pierre Balmain was, according to Vogue, "a shy, blond young man ... completely modest about his extraordinary success ... He designs with freshness and excellent taste ... with no resort to extremes." Though he was 31, roughly the same age Rousteing is now, the comparisons end there. Balmain became known for dressing the prim and proper "Jolie Madame" of Paris. By contrast, neither shy nor modest, Rousteing has become an Internet star, and his collections have garnered more attention for the celebrities wearing them than for "freshness" or "excellent taste." But Rousteing's reinvention of the Balmain brand is just one example of the conundrum facing fashion houses in the 21st century: How do you maintain a label's legacy and spirit while staying relevant in a rapidly evolving industry?
Christian Dior may get all the credit for inventing the famed "New Look"—a lavish, ultra-feminine corrective to wartime austerity—but Balmain subscribed to the same elegant aesthetic. Along with Dior and Cristóbal Balenciaga, Balmain revitalized the French couture industry, bled dry by years of clothing rationing and the German occupation. Vogue gushed about how Balmain's first collection was "beautiful" and "full of ideas," while steering clear of "bizarre."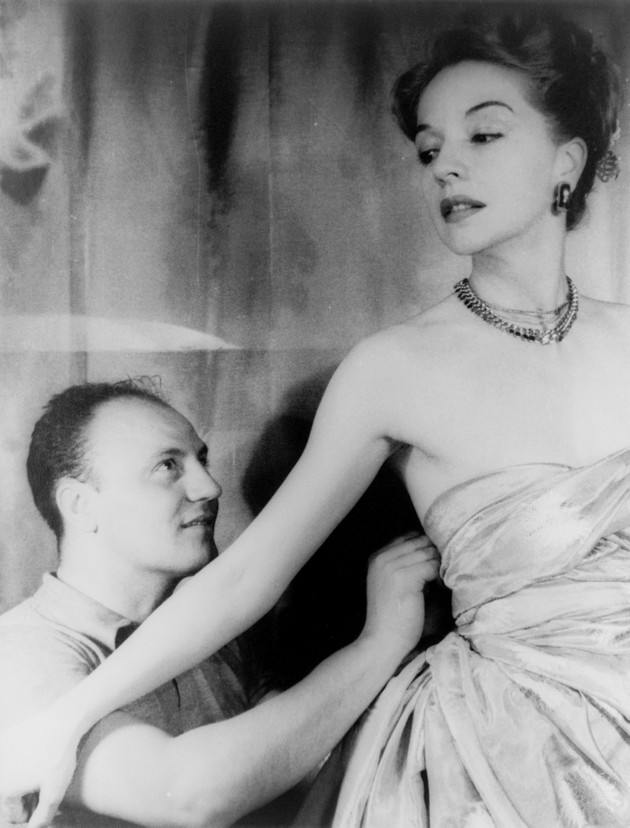 But Balmain didn't really hit his stride until the 1950s, when his slim suits and strapless evening gowns with romantic bouffant skirts conquered the American market. Stars like Marlene Dietrich, Katharine Hepburn, Brigitte Bardot, and Sophia Loren wore his designs onscreen and off, introducing them to a vast global audience. Balmain succeeded by playing it safe; as he was fond of saying, "Good fashion is evolution, not revolution." It was a more conservative era, and some of Balmain's best customers were royals such as Queen Fabiola of Belgium and Queen Sirikit of Thailand, who couldn't risk appearing too unconventional or even too interested in what they wore. More recently, icons of classic style like Angelina Jolie, Tatiana Sorokko, Penélope Cruz, and Kate Moss have worn vintage Balmain on the red carpet.
The house struggled to find its way after the death of its founder in 1982, going through several creative directors. (Rousteing is the seventh since Balmain's death.) Until recently, Balmain's most notable successor was Oscar de la Renta, whose poised, ladylike clothes were a natural fit for the label when he took over in 1993. As Time noted, "If Balmain wants to catch up to the 1990s without leaping into the 21st century, the house made a very shrewd choice."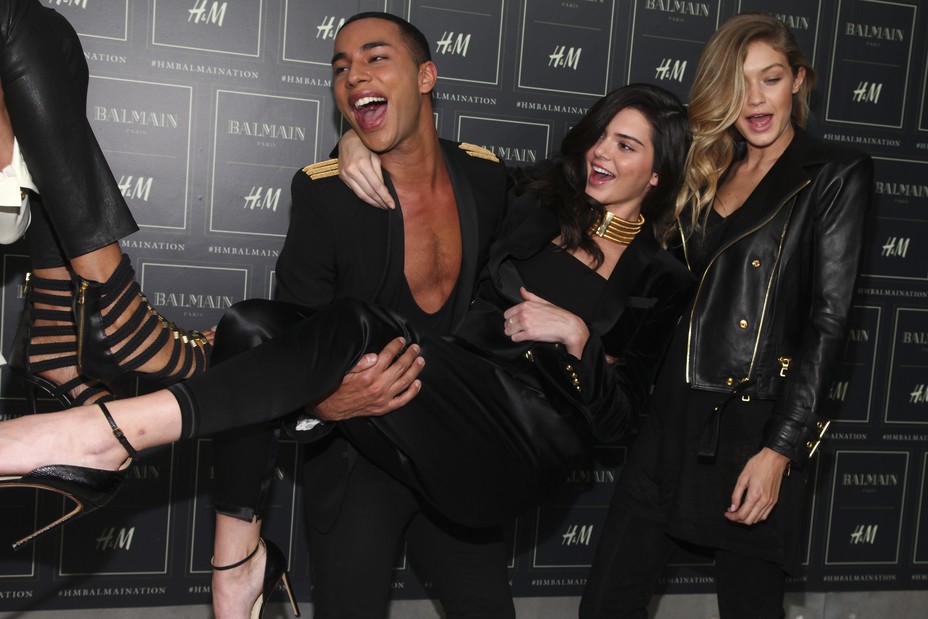 For better or for worse, Balmain is now firmly planted in the present moment. The change started 10 years ago, when Christophe Decarnin arrived as creative director. He brought to Balmain the personality—and look—of a rock star, at prices only a rock star could afford. Then, in 2011, Decarnin's assistant Rousteing took over, only to see his first runway show widely panned by critics. For New York magazine's Cathy Horyn, the over-the-top embellishment and 1980s-inspired excess didn't evoke the house's beloved founder so much as Evil Knievel.
Rousteing's approach marks a major departure from Balmain's more demure style. In 2012, he became one of the first luxury-brand designers to embrace Instagram, where he parades his more outlandishly dressed celebrity muses. Shiny, braided, and bedazzled, Rousteing's clothes seemed calibrated for viewing on the small screen; the intimacy of the format has had the effect of making something inherently exclusive seem accessible to the masses. And Rousteing has found a family of fans who share his taste for excess and his talent for exploiting social media: the Kardashians.
"If you want guidance for your fashion just consider this," Tim Gunn recently quipped in a live chat with The Huffington Post. "If a Kardashian is wearing it—don't." While the Project Runway host meant this as a dig at Kanye West's Adidas collection rather than Rousteing, the latter has become so closely associated with the reality-TV clan that his fortunes seem inevitably tied to theirs. Kardashians appear in his ads, favorite his tweets, and hold court in the front row—or on the runway—at his shows. Perhaps it's Rousteing's penchant for hobnobbing with reality-television stars as much as his vision that's led critics (including The Washington Post's Robin Givhan) to describe his work as "vulgar."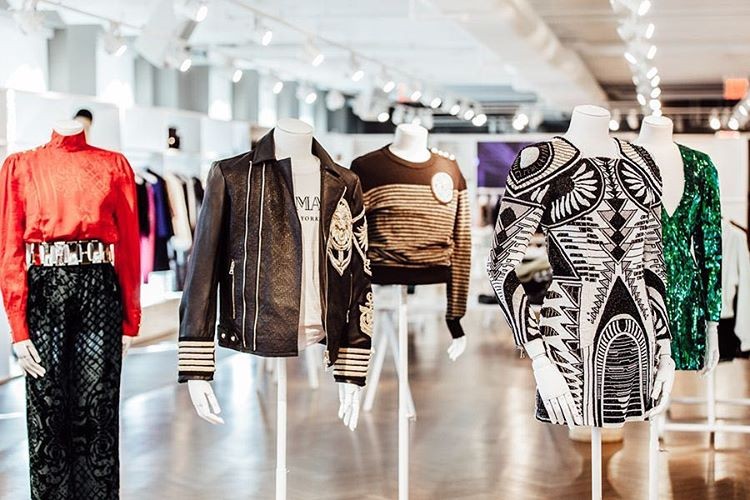 At the same time, no one can deny that Rousteing's strategy has been effective, rebranding Balmain for customers who can't remember—or pronounce—Pierre Balmain. (In her 2014 single "Anaconda," Nicki Minaj rhymed it with "romaine.") And there's no question that a strategic rebranding was necessary. Unlike Coco Chanel, Christian Dior, or even Alexander McQueen, whose namesake labels are bigger than ever years and even decades after their founders' deaths, Pierre Balmain might ring bells among the fashion cognoscenti, but he's hardly a household name.
For decades-old fashion houses seeking to stay fresh, so much rides on a creative director's particular sensibilities. How much should the brand remain faithful to its origins? How much should it move forward? When Karl Lagerfeld was chosen to reboot Chanel in 1983, he wisely drew upon the designer's archives, reintroducing (and then exaggerating to the point of parody) signatures like white camellias, pearls, bouclé suits, spectator pumps, and the interlocking "C" logo, which had become iconic long before the designer's death in 1971. But Balmain never achieved—or aspired to—icon status. His style can't be instantly recognized by, and wittily updated for, a new generation. Rousteing has never attempted to recreate the sleek suits and billowy ball gowns that made Pierre Balmain's name; however, he has said that he's inspired by the house's tradition of handcrafted detail and sharp tailoring.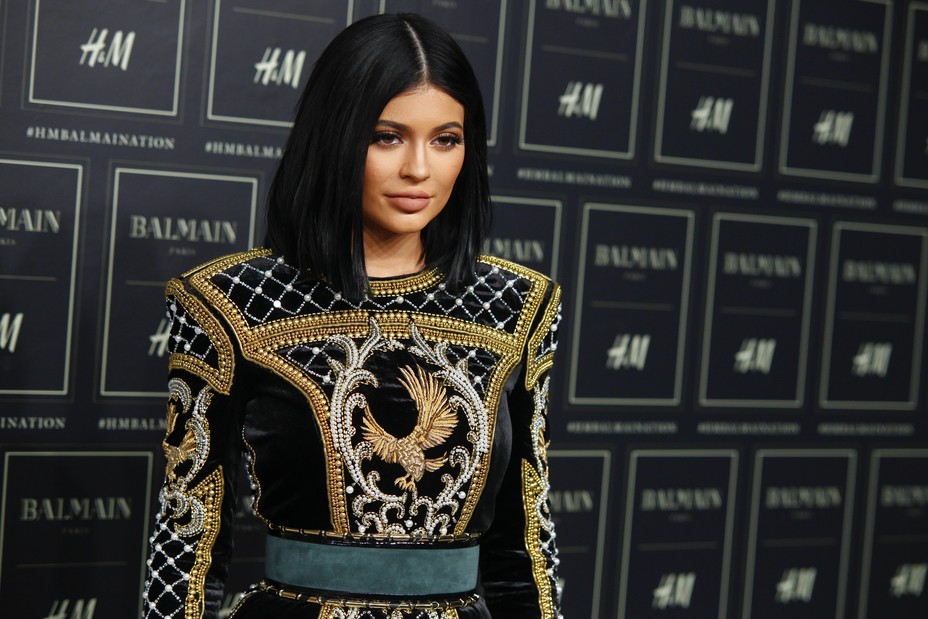 Though the same could be said of virtually any other postwar couturier, invoking the spirit of a house while functionally ignoring its heritage is a strategy that's worked before. Lanvin hadn't been relevant since the 1930s when Alber Elbaz took over in 2001. Elbaz treated Jeanne Lanvin's archive with unusual reverence, incorporating trademarks like lamé dresses into his collections and remaking the house's packaging in Lanvin's favorite shade of forget-me-not blue. Not that it mattered; clients may have been buying Lanvin's name, but the look was all Elbaz, not bias-cut evening gowns and embroidered robes de style.
Balenciaga—another venerable couture house that reclaimed its former glory when Nicolas Ghesquière took the helm in 1997—had always been slightly better known among consumers and worshipped among designers. But, as a handful of museum retrospectives over the past decade have made painfully clear, Cristóbal Balenciaga's bread and butter was sensible suits for sturdy Paris matrons, with the occasional showstopper of a sculptural evening gown. Perhaps it was fortunate that Ghesquière didn't gain access to the designer's extensive archive until 2001. Unlike Chanel's reboot, it was a question of total reinvention, not revival.
Another fashion label made its sort-of debut last week, albeit with less hype and fewer (literal) punches thrown than Balmain. Bill Blass was rebooted under a new creative director, Chris Benz. No camping out on the sidewalk was necessary here: The clothes are available online only (for now, at least), and, in a timely break with tradition, the selection will be updated continuously rather than presented seasonally, in keeping with the "philosophy" the label inherited from Blass. Benz's collection is consciously distancing itself from the designer's extensive archive, but it still embraces his cool, casual sophistication.
The first luxury designer to collaborate with H&M back in 2004 was, somewhat appropriately, Karl Lagerfeld. H&M doesn't make money on these collaborations—half of the clothes immediately get resold at a huge markup—but it does reap plenty of publicity and the cachet of collaborating with a hot designer, not to mention a wave of new customers willing to spend $500 on a dress. The Balmain C.E.O. Emmanuel Diemoz insists that Balmain, too, will benefit from this most recent collaboration, as its customers are reminded just how covetable the label is. As he recently told The New Yorker, "So many people now are making money so fast, maybe the H&M customer will soon become the Balmain customer."
Rousteing—who's young enough to have shopped at H&M in his teens—proves Diemoz's point. But the Balmain CEO seems to be missing the increasingly porous lines between high fashion and the mall. If anything, the success of Balmain x H&M proves how democratized fashion has become, which itself is all part and parcel of the digital wave that's helped make Rousteing so famous. The young designer is savvy enough to realize the power of having a brand that's recognized by millions rather than worn by a small handful: Precious few of today's H&M customers will ever shop at Balmain, but today's Balmain customer can shop at H&M any time she wants. In an inversion of Balmain's original words, it's not evolution—it's revolution.
---
In Photos: Balmain's Fashion Revolution