All Hail Disco Coldplay
Forget taste. Give in to 'Adventure of a Lifetime.'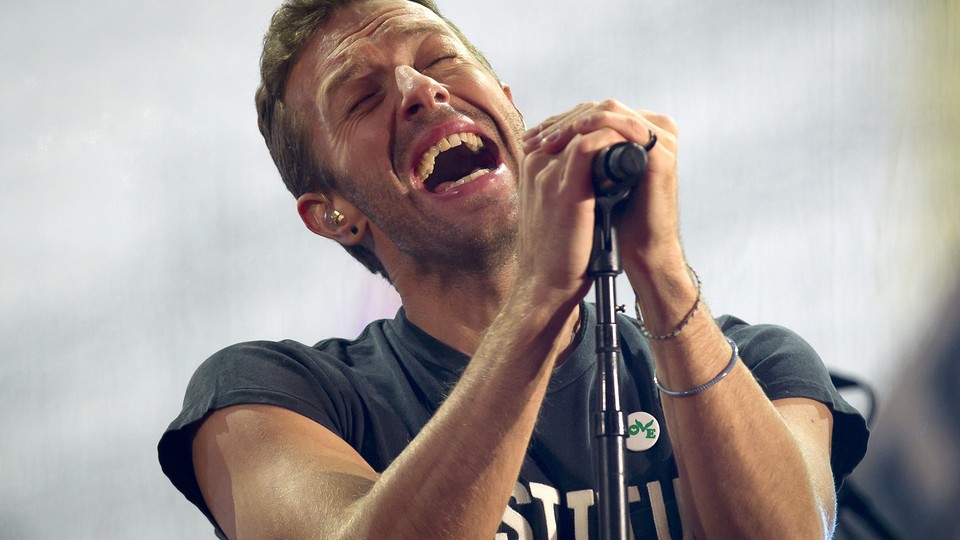 At some point, it's typical for rock bands who've conquered their genre to dabble in dance. The Rolling Stones did it, the Clash did it, U2 did it, Arcade Fire did it. Now Coldplay has done it, with a gloriously absurd, "Get Lucky"-aping new single called "Adventure of a Lifetime." Some fans have reacted in the manner of many others whose guitar gods suddenly embraced funk bass and handclaps. A sampling of YouTube comments: "Goodbye, good Coldplay. Your Rock/AltRock Phases will be missed." "coldplay is a pop band now :/." "it just sounds like Coldplay collab with some independent EDM producer."
To casual consumers or active haters of the band, these protests will sound a bit hilarious. When most people think of Coldplay, they do not think capital-R Rock 'n' Roll. They think about Chris Martin's mushy vocals, or about arrangements meant for teary montages on TV dramas. They think about four guys covered in rainbow confetti. Coldplay ditches classic guitar music's aggression and horndogging, and even indie's restraint and cleverness, for open weeping, pining, New Aging; the result is that rock culture has about the same contempt for them as it once did for Saturday Night Fever. In fact Coldplay probably should have been a disco band all along.
They're pretty good as one now. When Daft Punk's Random Access Memories disrupted the pop conversation a few years back, it did so not only by resurrecting Studio 54-era style, but also its lushness. Coldplay gets this. Why wouldn't they? The band's career has been a years-long seminar in the potential of the studio as an instrument; their various reinventions have seen them polishing up old genre elements to sound bell-clear, sleek, shimmery. X&Y is the best sounding ambient-space-rock album anyone could ask for; Viva la Vida is the best sounding fake revolution on CD; "Adventure of a Lifetime" is the best sounding psychedelic four-on-the-floor document of life after conscious uncoupling imaginable.
The squiggling guitar pattern that opens it up is a classic Coldplay sound, fey and high and ever-so-goosebump-making and totally recycled from something they've made before (in this case, "Strawberry Swing"). The music that follows is a little more interesting than the work of nu-dance-rockers like Walk the Moon, who've been kind enough to hold the band's spot in the charts in the past few years. With the trippily mirrored single art, that spiraling guitar, and the looped chanting throughout, it's clear that Coldplay is interested in the spiritual potential of dance music's repetitive nature—they want to hypnotize as much as they want to make feet move. The shrill, distracting riff also makes clear that unlike most real disco, they're not trying to be sexy.
As for the lyrics, they're about as embarrassing as always. But this particular song can become more poignant than what's on the page, if you want it to evaluate it in the context of GOOP. The unraveling of Martin's marriage to Gwyneth Paltrow begat Coldplay's 2014 album Ghost Stories, the first time in the band's career that it wildly missed the target of creating music that people want to listen to. Its songs were almost trollishly quiet and defeated-sounding, often free of drums or sticky hooks (except for on the band's most shameless hit yet, the Avicii-assisted "A Sky Full of Stars," which that YouTube commenter who just accused Coldplay of selling out to EDM must be too young to remember).
The contrasts couldn't be starker between that Coldplay period and "Adventure of a Lifetime," the first single off of a "free and happy" album that's supposedly Coldplay's last and definitely will feature Beyoncé. Martin's singing to some mystical woman who makes his heart beat fast, and the chorus—weaker than Coldplay's biggest hits, but still likely to lodge in the brain—has him proclaiming that he's "alive again!" If, as it's been recently argued, subtlety's no virtue, then the fact that this proclamation is accompanied by a thump-thump in the rhythm section should be celebrated—perhaps with one hand on the hip and another pointed diagonally toward the sky.