The Humanity of Adele's 25
She's followed one of the best-selling albums ever with a symphony of self-deprecation.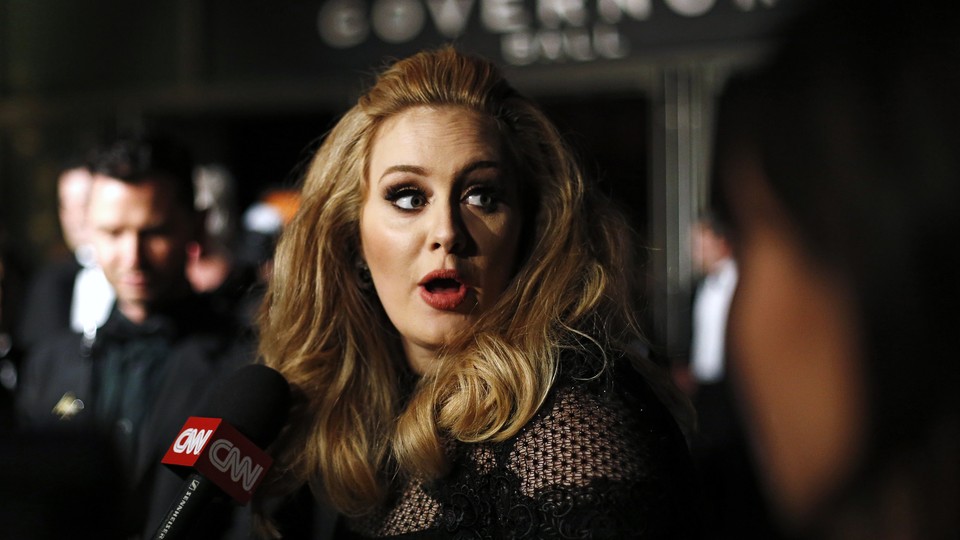 The world has problems, but pop music in the 2010s for the most part only has confidence. Rihanna, Beyoncé, Lady Gaga, Katy Perry, and Taylor Swift have spent the last few years shaking off haters while popularizing alliterative affirmations—fierce, fabulous, flawless—that have been inherited by a 2015 class of even happier warriors. Hailee Steinfeld: "I love myself!" Rachel Platten: "This is my fight song!" Demi Lovato: "What's wrong with being confident?" Even when these singers are down, overcoming is usually just a chorus away.
Adele is different from all these people for a lot of reasons, most of which are subsets of the fact that she doesn't make dance music. Even more important, though, may be the fact that for Adele, overcoming is almost never the point. Wallowing is. Owning your self-loathing is. On her new album 25, she sounds great—her voice is somehow more powerful than ever—but she almost never sounds like she thinks she's great. In fact, she thinks that she's terrible, worthless, unlovable. Which is striking, given that her last album sold a lot more than anyone else's did this decade. 25 won't repeat that achievement after the pre-release hype dies down: It's too unsure, too slow, too introspective. But it will surely help a lot of people through hard times.
When it hit the Internet, "Hello" was widely heralded as Adele's victory lap, which was fair: That slowly cresting, shiver-inducing chorus reminded people of what she can sing and others can't. But it was also a document of torrential self-deprecation. She's picking up the flip-phone to apologize, even though she realizes the person she's apologizing to has mostly forgotten about her. She says she's embarrassed she talks about herself so much. What's she sorry for? Oh, just "everything that I've done." No wonder Greg Kurstin included a bell toll in the mix. The kind of guilt she's dealing with is the kind you go to church for.
Throughout 25, she's singing up: The "you" she addresses is almost always someone she admires and respects, even if it's an ex who did her wrong, even if it's a guy she's about to leave. The entire first verse of "When We Were Young"—a thinner, weaker "Hello"—is about her working up the courage to approach an old flame who "everybody loves." Finally, she applies the overapologetic-female-meme to a classic pickup scenario: "If, by chance, you're here alone, can I have a moment?" The song is another version of the revisitation narrative of "Someone Like You"—she nearly quotes that song's title—but this time, there's no "never mind, I'll find someone else" portion. There's only her begging for a photo, because she's worried the future won't ever be as good as the past was.
That same fear of tomorrow shows up again on the wrenching album highlight "All I Ask," where, over gently upwards-swirling piano, she repeats a bombshell of a question: "What if I never love again?" That line calls to mind something she told Jon Pareles at The New York Times about the difference between 25 and its predecessor: "How I felt when I wrote 21, I wouldn't want to feel again. It was horrible. I was miserable, I was lonely, I was sad, I was angry, I was bitter. I thought I was going to be single for the rest of my life. I thought I was never going to love again. It's not worth it."
What's strange is that 21 now sounds relatively peppy. On that album, breakup anger and hurt burned like fuel, powering not only her singing but also the drums—marching and militant on "Rumour Has It," thumping and crashing on "Rolling in the Deep"—and the hooky, insistent songwriting. For 25, though, there are lots of slow songs, some of which ("Remedy," "Love in the Dark") are memorable only because of Adele's performance. Others rely on interesting juxtapositions. For "Million Years Ago," she uses the backdrop of Spanish guitar and a familiar torch-song melody to deliver some of the most indelible vocals of her career. The subject is, again, existential regret and shame, but the soul of the song, and maybe the record, is in how she seems on the verge of a sob when singing, "It's like they're all scared of me."
I hear four potential new hits, none as big as anything on 21. There's the roiling, night-black "I Miss You," a sex song that's too bombastic to actually be sensual but will work really well in a dystopian movie trailer. There's Max Martin and Shellback's "Send My Love (To Your New Lover)," a playful, faintly hip-hoppy sibling of Taylor Swift's "Blank Space," offering the one moment when Adele is righteous towards an ex—though that's only on the way to forgiving him. There's the album-closing "Sweetest Devotion," a self-consciously saccharine ode to eternal (probably maternal) love that blossoms with zig-zagging melodies and somehow evokes "We Are the Champions" in the chorus.
And there's "River Lea," a sumptuous gospel song produced by Danger Mouse. It includes a few exquisite examples of Adele trash-talking Adele, including one verse in which she apologizes to someone "years in advance" of whatever horrible crime she expects she'll commit. But instead of merely relaying her discontent, she analyzes it, looking for the original source. "I blame it on the River Lea, the River Lea," goes the chorus, the last syllable undulating like the body of water it references, the body of water she grew up near. She's essentially saying she was born this way, baby—unconfident and flawed, probably like most of the people listening.