A Jury of One's Fans
A few headline-making lawsuits in the music world remind that legal filings can double as press releases.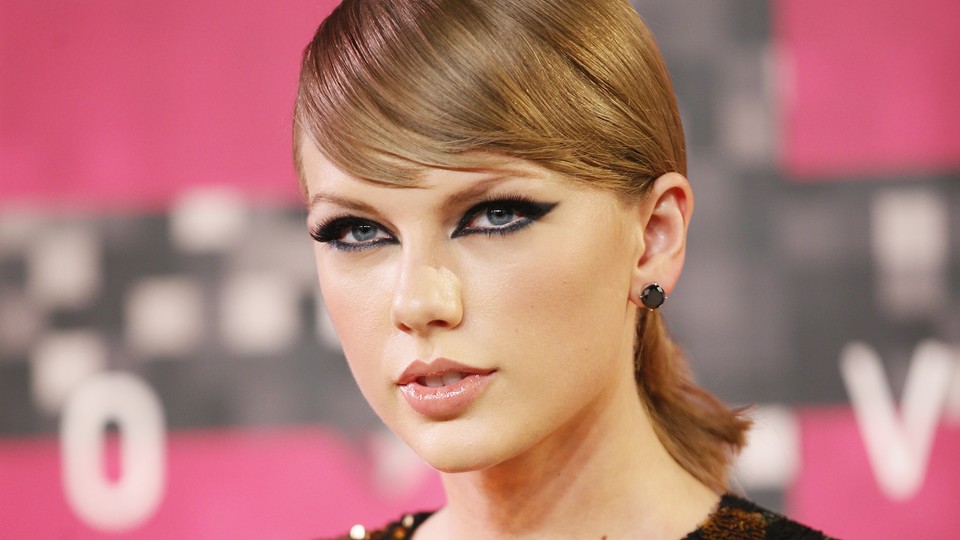 This weekend brought yet another volley of publicity about Taylor Swift, though for once it wasn't thanks to her own efforts. An R&B singer who goes by the name Jesse Graham has sued the star who spent part of Halloween dressed as a snowman, saying she stole the lyrics for her multi-platinum hit "Shake it Off" from his 2013 song "Haters Gone Hate."
The Internet's main reaction, so far, has been to laugh at the claim for $42 million: "Haters gonna hate" and "players gonna play" are a common phrases that predate Graham's song by years, and the two tunes in question don't resemble each other musically. But even if the lawsuit is, as Nylon's Gabriel Bell has called it, "the dumbest thing ever," it's worth noting what Graham stands to gain by filing it. He boasted paltry Google mentions before his accusations against Swift made headlines around the world; "Haters Gonna Hate" had fewer than 1,000 Spotify streams as of this morning, a fact that may now change out of sheer public curiosity. Even if Swift's lawyers efficiently filet this challenge to her integrity, even if he ends up having to pay legal fees, he'll have at least gained some fame for a music career that didn't appear to be earning it on its own.
The fact that court maneuvers can also be publicity campaigns is one that's likely familiar to Swift, as well as to the many other pop-music figures who've taken civil action in recent months. Reading the news lately might give you the impression that it's suing season for celebrities, though that's probably just an illusion given the United States's notoriously undying love for litigation. As is the case with so many aspects of life that get crossed with celebrity culture, legal filings for stars necessarily speak in the court of public opinion, and what they say can be as interesting to dissect, and as influential on how stars are perceived, as any song.
Earlier this year, the former radio DJ David Mueller sued Swift and her team for telling his bosses he'd groped her during a meet-and-greet, an accusation that he says is false and cost him his job. A star of Swift's stature and means could, no doubt, make the situation go away relatively quietly. But she instead blew it up into bigger headlines this past week by filing a strongly worded countersuit that makes the groping allegations formal. It's easy to understand why she'd not want to settle, given that he's accused her of lying, but she's doing more than just defending herself: She's seeking a jury trial and monetary damages, which her lawyers say will go to charitable organizations "dedicated to protecting women from similar acts of sexual assault and personal disregard." She wants, as her complaint says, to "serve as an example to other women who may resist publicly reliving similar outrageous and humiliating acts."
The suit is a classic Swift move in the way it savvily combines her interests: standing up for her own credibility, seeking justice against someone she says wronged her, and serving a greater cause that also bolsters her feminist-role-model credentials. As she's done so many times before—whether with romantic relationships, friendships, or her mom's cancer diagnosis—she has leaned into the fact that her personal affairs are a matter of public scrutiny.
In other cases of music-legend litigation, the PR calculation is even more straightforward. On Friday, the former manager of N.W.A., Jerry Heller, sued the musicians and filmmakers involved in the summer biopic smash Straight Outta Compton, alleging defamation and breach of contract due to the way he was portrayed in the film as villainous. Heller had already gone on a counter-propaganda tour around the time of the film's release, telling his side of the N.W.A. story to outlets like Grantland and World Star Hip-Hop. He even released a book about his experiences in 2007. But by filing a lawsuit, he brings more attention than ever before to his claim that he didn't swindle anyone. Regardless of who's right, regardless of whether he succeeds in court, he—somewhat like the women abused by Dr. Dre who've recently spoken out—has affixed an asterisk to a film that's likely to be the most influential on-screen depiction of the birth of West Coast gangsta rap.
The other pop legal drama in the news this past week was about the singer Kesha and the music producer Dr. Luke, who Kesha says abused her sexually and emotionally over the years. She filed a complaint against him in October 2014 that featured wrenching details about a mentor relationship that allegedly went to very dark places; Luke then countersued, saying she was making things up to get out of her record deal. As I wrote when she embarked on a tiny tour this past spring, the saga has appeared to derail a career that a few years ago seemed unstoppable. Now, she and her lawyers have filed motions endorsing that perception, asking a judge to issue an injunction that would allow her to record music independent of Luke and his record label: "Her career tick-tocks away … She is precluded from working in perpetuity because the terms of her contract can only be satisfied if she records three more albums. Kesha needs the Court's assistance." In September, Kesha's camp also filed a motion saying Sony Music endangers female artists by employing Dr. Luke and not releasing Kesha from her previous agreement.
In court, Sony has said replied that it's simply a bystander to the dispute; in the media, Dr. Luke's representatives have said Kesha's purgatorial status is her own fault. But the apparent difficulty of her situation has now become a poignant part of the musician's public persona; as one ThinkProgress headline put it, "Kesha Faces Impossible Choice: Work With Her Alleged Abuser or Destroy Her Career." Maybe the weight of the meta-narrative will eventually make one of the involved parties budge. If not, the courts may have to decide this particular famous lawsuit as, well, a matter of law.