In a squeaky voice, a little girl with a mousy bob asks, "Where are all the people?"
It's a good question. She's looking at an enormous dollhouse, clocking in at 29 rooms, including a wine cellar, armory, ballroom, and library. The opulent Astolat Dollhouse Castle—appraised at $8.5 million—is artfully appointed, but nearly abandoned.
It's on view for the first time at the Shops at Columbus Circle in New York's Time Warner Center through December 8. Before this exhibition, the owner—who wishes to remain anonymous—kept it in storage for nearly two decades, arranging the 30,000 little pieces in climate-controlled boxes.
The home was designed in the 1980s by Colorado artist Elaine Diehl, who specialized in miniatures. Assembled, the structure is nine feet tall and weighs 800 pounds. It took 13 years to build.
Story continues below
---
In Photos: Welcome to the Dollhouse | By Emily Anne Epstein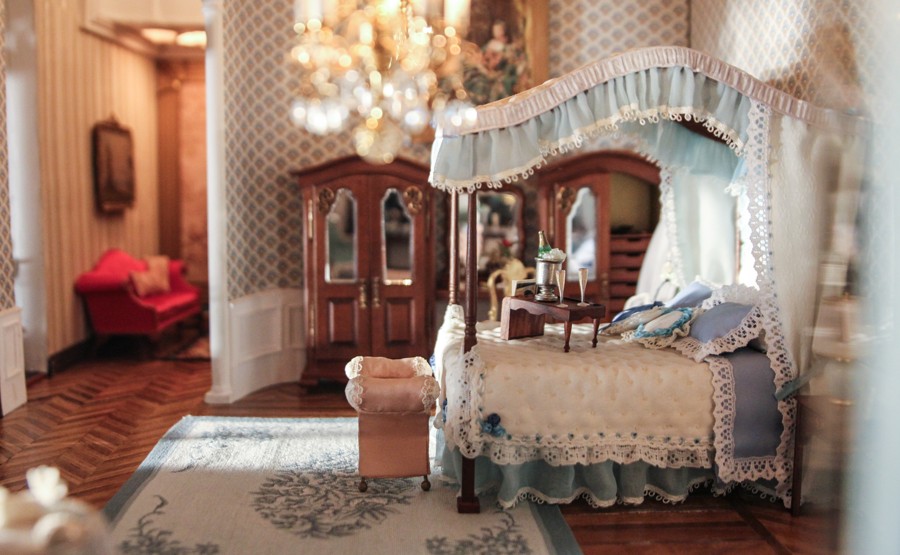 ---
Dorothy Twining Globus, former curator at the Museum of Arts and Design, was enlisted by the Time Warner Center to serve as a docent. She gave CityLab a tour, crouching to point out bottles filled with real whiskey, or craning to show off portraits made in the style of old masters, using a single-haired paintbrush.