Why Oscar Nominations Make No Sense
Each year, politics and star power determine which actors get campaigned for in different categories, with frequently illogical results.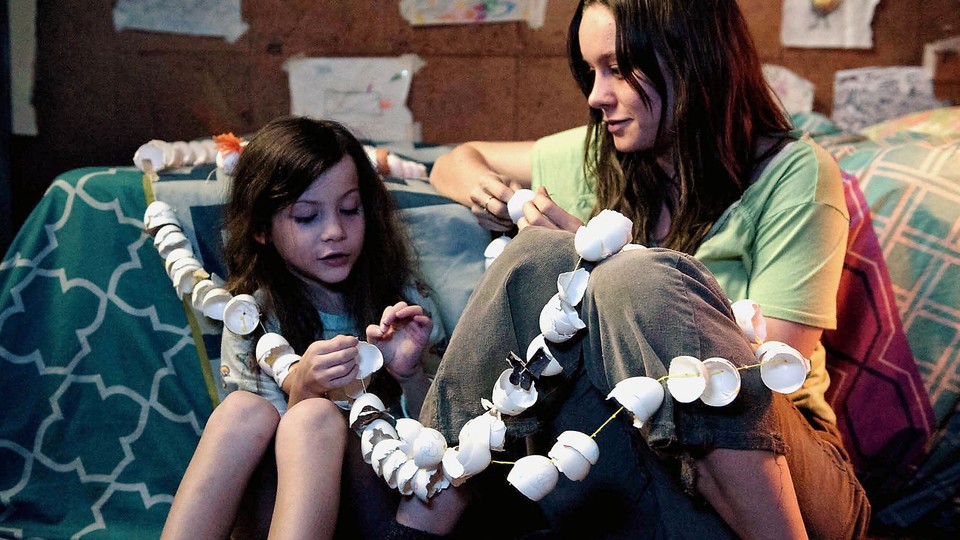 By minutes spent on screen, Jacob Tremblay is the real star of Room, the acclaimed film adaptation of Emma Donoghue's novel. Though the movie is about a woman (Brie Larson) who's been held captive for years, the story is mostly told from the perspective of her son, played by Tremblay, who's 8 years old. Both actors attracted awards buzz for their performances, but they're now also at the center of long-standing Oscar debate. The film's distributor, A24, is campaigning for Larson as best lead actress, but it's promoting Tremblay as a supporting actor—a decision that's given rise to accusations of "category fraud"—when a lead performance is nominated as a supporting one to boost its chances.
Is A24's decision a cynical ploy to game the system? Or is it just good business? Because winning an Oscar is, of course, as much a matter of business as anything else. Yes, a film needs good reviews and industry support to get noticed by the Academy, but the publicity campaigns mounted by studios are crucial as well and usually dictate whether an actor is considered for a "leading" or "supporting" role. Overall, claims of category fraud are relatively rare; each year might have one instance, if that. But the 2015 awards season have proven particularly controversial, with several stars seemingly being promoted for supporting roles to make them more competitive, and it's bringing to new light the Academy's lax rules on the subject.
Though Tremblay may offer as much of a star performance as his co-star, Best Actor in a Leading Role is always a stacked field, and 2015 is no different. Additionally, young performers like Tremblay also tend to be promoted in the supporting category, which has been friendly to Abigail Breslin (Little Miss Sunshine), Tatum O'Neal (Paper Moon), Anna Paquin (The Piano), and many others. Mary Badham, who played Scout in 1962's To Kill a Mockingbird, is in almost every scene of the film, but because she was 10 years old at the time of filming, she was nominated as a supporting actress. The trend has been bucked a few times in recent years: For the New Zealand coming-of-age drama Whale Rider, Keisha Castle-Hughes was campaigned for as a supporting actress but voters (who are under no obligation to obey studio suggestions) nominated her in lead. Beasts of the Southern Wild's 9-year-old star Quvenzhané Wallis was billed as a lead in 2013 and became the category's youngest-ever nominee.
Sometimes, performers get bumped down because of their relative fame: Casey Affleck was the protagonist of The Assassination of Jesse James by the Coward Robert Ford, but was nominated in a supporting category because Brad Pitt was the film's top-billed star. The same thinking seems to be behind Rooney Mara's apparent placement in supporting for the upcoming Todd Haynes film Carol, a drama about a budding relationship between two women in the 1950s. The film opens and closes on Mara's shrinking violet of a character, Therese, and watches her blossom as a result of her romance with the titular Carol (Cate Blanchett). The two are undoubtedly co-leads, but Blanchett is the bigger name, so she'll get the bigger stage, so as not to split the vote.
It's harder to explain the news that Alicia Vikander will run as supporting actress for her work in The Danish Girl, a Tom Hooper drama about Lili Elbe (Eddie Redmayne), one of the first-known recipients of gender-confirmation surgery. Vikander, an emerging Swedish star who already made waves in Ex Machina this year, has received raves for her work as Elbe's wife, and she has just as much screen time in the movie as Redmayne. One reason could be this year's crowded lead-actress field, and the hope that Vikander could have better luck with the supporting slate. It's the same thinking that led the Weinstein Company to bill Kate Winslet as a supporting actress in 2008's The Reader, advice voters ignored (she ended up winning the trophy for Lead Actress).
Screen time isn't the only metric of course. After all, Anthony Hopkins barely appears in The Silence of the Lambs, but his Lead Actor win in 1991 was hailed as well-deserved because his Hannibal Lecter so dominated the movie, whether on- or off-screen. And it's easy to argue that the awards season's amorphous "lead" and "supporting" designations have a different meaning to Hollywood insiders: An actor with a big role might still lend "support" simply by not having a big enough name to attract audiences: Whether or not a top-billed star puts in the work, it's still his or her name at the top of the poster, after all.
But the number of controversies in 2015 might spark enough conversation for the Academy to more firmly address the issue, which has been sporadically debated since the very first Oscars in 1929. The only rule now is that you can't be nominated in two categories for the same performance (something that, hilariously, happened in 1944). The issue is probably too complex to resolve, though: Bringing issues like billing order or screen time into what is supposedly an artistic judgment of people's acting work would be too crass an acknowledgement of the awards industry, even by Oscar standards. More likely, people will continue to bicker about the nominees's worthiness on the sidelines every year—which is what film awards are really about, anyway.