The Unbreakable Optimism of Janet Jackson
Her first album in seven years is a moving, self-aware plea for a better world.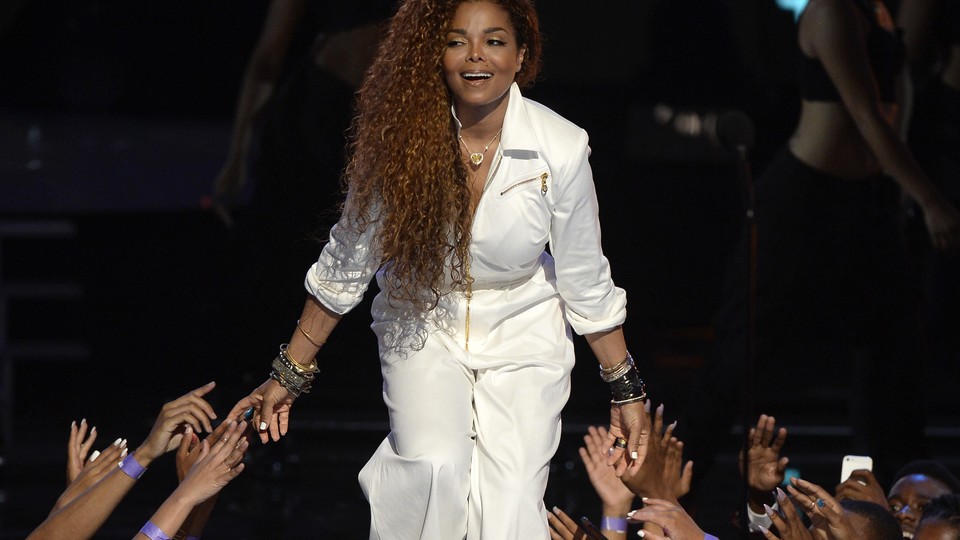 "I'm not naïve—I know an album or a song can't change the world," said Janet Jackson around the time of the release of her 1989 album Rhythm Nation 1814. "I just want my music and my dance to catch the audience's attention."
That it did. Rhythm Nation's commercial achievement seems more and more improbable with each passing year: four No. 1 hits, 20 million copies sold, with factory-floor sound effects and strident lyrics about bummer topics—poverty, racism, war, homelessness. But its political legacy is about as mixed as Jackson expected. Looking at the 2015 headlines, it's clear her pleas for listeners to heal society's divisions through love and dance were not 100 percent effective.
The question of whether the world can be saved by art comes up again on Unbreakable, Jackson's first album in seven years, on a song called "Shoulda Known Better." Alternating ballad-like verses with frothy crests of marching-band beats and EDM whooshes, Jackson coos that she "doesn't want to be the poster child for being naïve" but says that she "just can't feel casual about casualties." In the outro, over contemplative piano with a touch of Disney sparkle in her voice, she sings, "I had this great epiphany, and Rhythm Nation was the dream / I guess next time I'll know better."
The interplay between moony optimism and the weariness of a 49-year-old pop star who's fought huge obstacles—the famously tough showbiz parenting of the Jackson family, two divorces, one big Super Bowl scandal, and the sudden death of the iconic brother she deeply loved—is what makes Unbreakable more fascinating than most would-be comeback albums for one-time chart-toppers. Whereas in the past Jackson has alternated periods where she's obsessed over politics and obsessed over sex, here she merges the two into a soft-focus portrait of yearning for bliss in its various forms: eternal and momentary, universal and personal. At one point, she sings "Wish I could create a perfect place, without jealousy, abuse, or hate," and you might be tempted to laugh. But the lush R&B backing intertwined with a syrupy soul sample, plus the song title—"Dream Maker/Euphoria"—makes clear she realizes how fantastical that vision is. She really does know better, and that's what's so moving.
Everywhere, the sonic mix is warm, inviting, gesturing upward toward the many kinds of heaven Jackson sings about. But there's an inescapable, though not fatal, datedness to the entire affair. Often, her longtime collaborators Jimmy Jam and Terry Lewis seem to be chasing the hits trends of the mid-aughts rather than right now, with big, fuzzy beats recalling Timbaland's work with Justin Timberlake and Missy Elliot, who appears (with fabulous energy but no lyrical verve whatsoever) on "BURNITUP!" Other times, they play with Calvin Harris-style electronic dance, but seem to be using outdated software. Smartly, though, most of the mega-DJ imitations are brief, used to prop up the more ebullient lyrics and melodies. On one club workout, "Night," it's hard to tell whether they're working from the Electric Daisy Carnival playbook or the Giorgio Moroder/Donna Summer one; either way, it's so silky, so unafraid to sound cheesy, that it's hard not to root for it to become a hit.
There's precisely one song that might endure in the list of Jackson classics: "No Sleeep," the comeback single that's enjoyed a solid run on the R&B charts. It's about as far away from Rhythm Nation's juxtaposition of hard beats with Jackson's soft, breathy voice as you can get—here, as they did for many of her '90s and 2000s albums, Jam and Lewis pair gentle with gentle, keeping time with a slow, swinging snap (I prefer the bonus version tacked to the end of the album, in which the rapper J. Cole doesn't barge in, but oh well). She's not political here, either, singing about staying up 48 hours with a lover. But you can imagine the song being employed by listeners to set the mood for the very same, glorious fantasy situation that Jackson's lyrics describe; for them at least, she will have succeeded in changing the world through song.