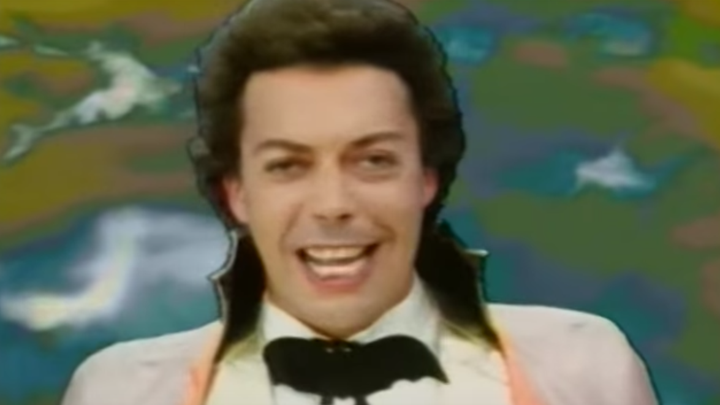 1986 wasn't a spectacular year, especially if you were Oliver North, or one of the few hundred people who purchased the first New Kids on the Block album and were promptly blinded by Donnie's sweater. Still, there were highlights: The Oprah Winfrey Show debuted. Pixar Studios was founded. Lady Gaga was born. And HBO and Central Independent Television inexplicably partnered to produce a 70-minute children's movie featuring some of the greatest actors and worst special effects of the past three decades.
The Worst Witch was based on a British children's book series by Jill Murphy, and is almost like a feminist precursor to Harry Potter—except all the characters are constantly trying to undermine each other, and students and teachers alike share a ferocious crush on the lone male character (the Grand Wizard, played with demented panache by Tim Curry). The heroine is Mildred Hubble (Fairuza Balk), an endearing but terrible student at Miss Cackle's Academy for Witches. Mildred is, Miss Cackle (Charlotte Rae) informs her early on in the movie, "the worst witch in the entire school."
The obvious question is: What is Charlotte Rae, star of The Facts of Life, doing in this movie? The answer: playing not one but two roles. Rae is both Miss Cackle, a good witch with a refined British accent who nevertheless could use some advice on the art of the pep talk, and Miss Cackle's evil sister, Agatha, a witch with bright pink hair, a Southern drawl, and a coven of punk-inspired crones, who's disgusted at her sister's goodness and hell bent on turning all the girls at Miss Cackle's Academy evil. She even has a song explaining her plan:
If you're filthy
Smelly
Evil wicked and cruel
You'll be right at home
In my little school
Does this sound familiar? Agatha is indeed the Voldemort to Miss Cackle's Dumbledore (with sibling rivalry adding an extra frisson of tension in the relationship), while Mildred, like Harry, is plagued by two school bullies, the patrician and snotty Ethel Hallow (Anna Kipling), and the terrifying potions mistress Miss Hardbroom, played by the former Bond girl and old-school Avenger Diana Rigg. Rigg's Miss Hardbroom is more Professor Snape than Snape himself: She appears out of nowhere in a puff of green smoke while Mildred and her friend Maud are gossiping about her late at night, and terrifies Mildred every time their paths cross in the school hall. She sports a topknot. She embodies the word "glacial." She is the best thing in the movie apart from Tim Curry.
At some point during the casting of The Worst Witch, someone decided it wasn't enough to have Charlotte Rae, and Diana Rigg, aforementioned icon and classical actress, and Fairuza Balk, tiny moppet star of Return to Oz and future coven regular. So they added Tim Curry, whose resume included playing a transvestite alien in The Rocky Horror Picture Show, a child-murdering clown in Stephen King's IT, and Rooster, Miss Hannigan's no-good brother, in Annie. And decided to make his appearance the centerpiece of a 1986 music video accompanying the song "Anything Can Happen on Halloween," in which he stands in front of a green screen and serenades a skeleton, a pumpkin, and a giant black cat whose eyes expand until they fill the entire screen, and Curry's head pops out of the pupil.
Much of the kitschy splendor of The Worst Witch lies in its transparently low-budget special effects, which are of a kind not seen since the VHS home-workout boom of the late '80s. The nadir is during Curry's big number, but a scene in which Mildred tries to master her broomstick—and persuade her wayward kitten, Tabby, to cling on—is almost as hokey. But to pick apart the mechanics of stunts that presumably thrilled children at the time is to miss the heart of the film. Unlike The Boy Who Lived, Mildred is an outcast, a misfit, and a terrible, sloppy, disorganized student, but she redeems herself by being brave and gets to fly around on Halloween with the most desired man in witchdom. But none of this matters as much as the fact that all these people are in the movie.
So, if you watch one Halloween-themed production this weekend, you could do worse than The Worst Witch. It's inspirational (mostly in that it's a reminder of how valuable CGI actually is, and how everyone has something on their resume they'd rather not remember). It's got groovy musical numbers. And most importantly of all, it's available to watch in its entirety on YouTube.
We want to hear what you think about this article. Submit a letter to the editor or write to letters@theatlantic.com.
Sophie Gilbert
is a staff writer at
The Atlantic,
where she covers culture.