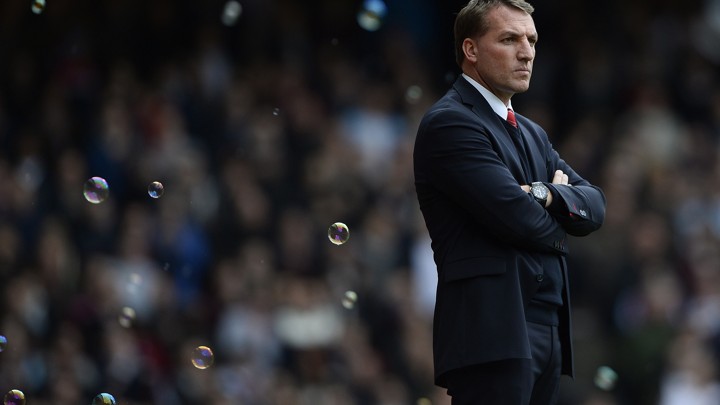 Whenever news emerges that a soccer club has fired its manager, the cliche most frequently spouted by fans and members of the media is that the ill-fated boss in question "just needed more time." Brendan Rodgers, the newly sacked manager of the English Premier League's Liverpool FC, is the latest figure to prompt this line of inquiry: The Independent's Sam Wallace has pondered the logic of letting Rodgers oversee summer transfers only to sack him a mere two months into the season, while the former Liverpool striker John Aldridge has admitted he "thought Brendan was going to be given a bit more time to turn it around."
Northampton Town's former manager, Aidy Boothroyd, agrees that soccer managers do in fact need more time—only the currency required is practical hours in a day rather than theoretical weeks to implement a managerial vision. An average day on Boothroyd's watch often included fixing a flood under one of the stadium stands, booking a training ground at a local university, and meeting a local groundsman to ensure the field was adequate: All before he could get to the "football" part of his job.
Boothroyd's testimony comes from the British sportswriter Michael Calvin's recent book, Living on the Volcano: The Secrets of Surviving as a Football Manager, in which the author interviews several current or very recent soccer club managers about the unique and intense pressure the job entails. The author tries admirably to humanize English soccer-club managers, who often face overwhelming (and unrealistic) pressure to succeed with limited resources. But he also reveals something of the madness inherent in the role itself. In return for the impossible promise of future success, managers are given an incredible amount of power by their clubs, with responsibilities ranging from team selection to tactical planning, motivational speaking to media relations, transfer negotiations to youth player development. As football has grown more complex in recent years, it's clear that very few people can handle this kind of workload and expect to succeed.
The manager-as-all-powerful-leader approach generally worked in a bygone era when the financial stakes in professional soccer were lower and the player pool more local. Almost every major-league club in England today features a stand or statue commemorating a successful manager from the past —Stan Cullis at Wolverhampton Wanderers, Bill Shankly at Liverpool FC, and more recently Arsène Wenger at Arsenal and Sir Alex Ferguson at Manchester United—leaders whose skill on and off the pitch led their teams to glory, in some cases for long stretches.
Club soccer in England, however, has changed considerably in the last two decades. Since the top-tier Premier League began negotiating its own rights deal in 1992, English football has witnessed an enormous influx of TV money—the league's latest broadcast agreement with Sky Sports came to a whopping £5.136 billion, a 71 percent increase over the previous year.
While this has been a boon for some teams, it's also raised the cost of failure. Clubs that finish in the bottom three of their respective leagues at the end of the season are forced to move down to the next competitive tier, a punishment known as relegation. This fate was once at worst a source of humiliation for most teams; now, with most clubs failing to break even to pay increasingly exorbitant player wages and transfer fees, it can threaten their ability to stay solvent. Whenever clubs endure a slump, the easiest thing for a nervous chairman now to do is to sack their struggling manager and pray the next one will do better.
This tendency is borne out by the data on average managerial tenures in England. Earlier this year, the League Managers Association released numbers that showed the average manager in England lasts 1.23 years on the job; in the Championship, the tier directly below the Premier League in the English soccer pyramid, it's 0.83 years. Long managerial stints are a thing of the past. Calvin, in an op-ed for The Independent this past August, painted an even bleaker picture:
There were no fewer than 62 managerial changes last season [in the English League pyramid]: 47 were sacked and 15 resigned. The average tenure of a manager is less than 15 months … Fifty-six percent of first-time managers fail to secure another job.
This instability has arguably undermined the club game as a whole, with teams constantly shifting direction as they change leadership every year. Yet while Calvin paints managers as romantic figures holding out against the cruel, financially driven technocracy that is modern football, the truth is they share much of the blame for their current lot. A deeply conservative group, many are unwilling to admit the game has fundamentally changed around them and refuse to share some of their responsibilities in order to focus on what should matter most—winning the next weekend fixture.
Since the 1995 European Court of Justice edict known as the Bosman Ruling effectively outlawed foreign-player quotas for domestic clubs, player recruitment has become a complex international business involving a lot of moving parts. To add a new player, clubs must deal with a host of intermediaries including agents, managers, board members, and others. Worse, as club football gets richer and transfer fees and wages keep increasing, mistakes in player recruitment are getting more and more costly. Avoiding mistakes is for some clubs a full-time job.
That's why many teams have opted for the continental "director of football" role, meaning a more long-term appointee who partners with a manager and focuses full-time on budgetary matters, including player recruitment. When the model works, a director of football will work in tandem with the manager to allow them to focus more on the day-to-day preparations of the first team.
While the director of football role has been adopted by several English clubs in various forms over the last few decades, many managers still resist it, refusing to concede even the slightest bit of control over player recruitment. When the Premier League club West Bromwich Albion—which had employed a director of football for some time—hired the manager Tony Pulis for example, it gave him total control over transfers, effectively undoing its recruitment model. The Queens Park Ranger director of football Les Ferdinand has also hinted at some pushback from the team's manager, Harry Redknapp, over his own appointment: "I suppose managers get a bit paranoid," Ferdinand recently told The Guardian. "But this wasn't done without Harry knowing. I spoke to the owners and made sure Harry was happy with me coming in. I wasn't here to take Harry's job or tell Harry what to do. I was here and I am here to help the owners get this football club back to where it wants to be."
There's another area too where managers have rejected a tool that might help them be better at their job: the burgeoning field of soccer analytics. Amid concerns about "boffins" reducing the game to spreadsheets, managers will constantly reiterate the primacy of the human touch. Speaking to The Guardian last year, the Everton manager Roberto Martínez warned that feeling, not data, had the final say in his team selection.
"When you see a player," Martínez argues, "you'll watch his warm-up, the way he speaks to the referee, the way he speaks to other teammates after missing a chance, the way he celebrates a goal, the way his teammates react when he scores. Data might help you narrow the margin of error, but the decision is still a feeling. It's a gut instinct."
What managers may not realize is the chairman's decision to sack them is also often a gut instinct, born out of fear and an inability to discern the difference between a poor run of luck and incompetent management. But this is where statistical analysis can clear the fog a little. Converting shots to goals for example is a notoriously messy business, and more often the result of chance than intention. There are several ways in which good analysts use that information to tell the difference between an unlucky streak and a true slump.
Armed with this kind of data, managers could ward off nervous chairmen with reassurances the tide will turn, or at least provide them with concrete evidence of areas where the team needs improvement that goes beyond simply firing the person in charge. In the end, some chairmen might be induced to take their finger off the trigger and trust that this too shall pass. That might eventually take some of the pressure off the person in charge so they can take the kind of daring risks that are sometimes necessary to win.
By accepting help with player recruitment or in data analysis, managers might be able to get back to what Aidy Boothroyd called "the football stuff." He, like most of the figures interviewed by Calvin throughout Living on the Volcano, seems to strongly echo the words of the Chelsea and Feyenoord manager Ruud Gullit: "Being a football manager is no fun at all. You have to put up with all the hassle. It is not surprising that so many turn grey or have heart attacks. I enjoyed working with the players, creating the team—that was fun. But all the rest I hated."
Today, "the rest" is simply too much for most English soccer managers to handle; thankfully there's help available, if only they'll put pride aside and accept it.
We want to hear what you think about this article. Submit a letter to the editor or write to letters@theatlantic.com.
Richard Whittall is a writer based in in Toronto. His work has appeared in
The New York Times
and
The Guardian
, and at NewYorker.com.