Project Runway: Chanel Builds Itself an Airport
With his latest show, Karl Lagerfeld found yet another way to put the "conspicuous" in "conspicuous consumption."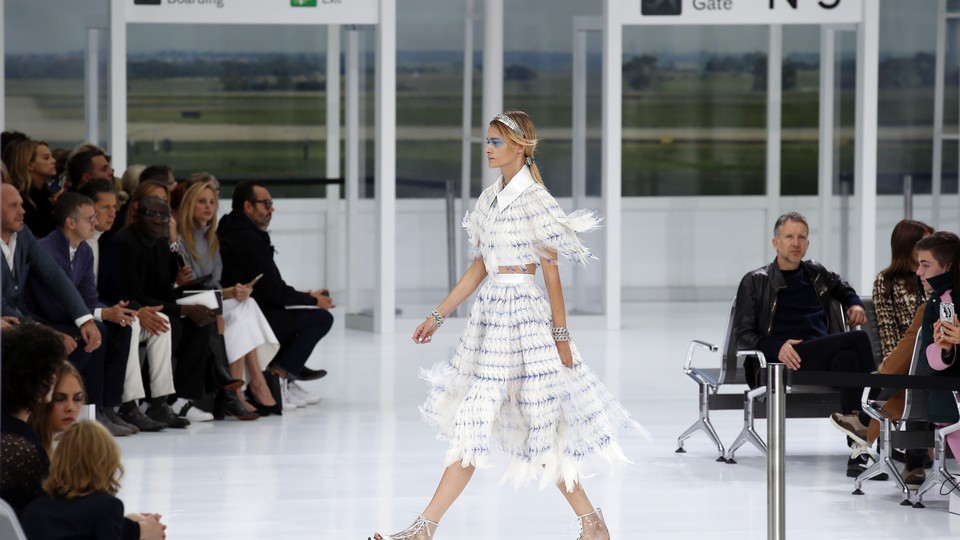 He's done
gardens
. He's done
supermarkets
. Now—and also
again
—Karl Lagerfeld
is taking on airports
. The head designer and creative director for Chanel is known for putting on fashion shows that blend spectacle and artistry and camp, shows that put the "conspicuous" in "conspicuous consumption." His latest show, for Paris Fashion Week, carries on the tradition: It was set in an "airport terminal" re-constructed in
Paris's Grand Palais. Lagerfeld christened it the Chanel Airlines Terminal. It includes Gate "No. 5."
Cue the "project runway" joke.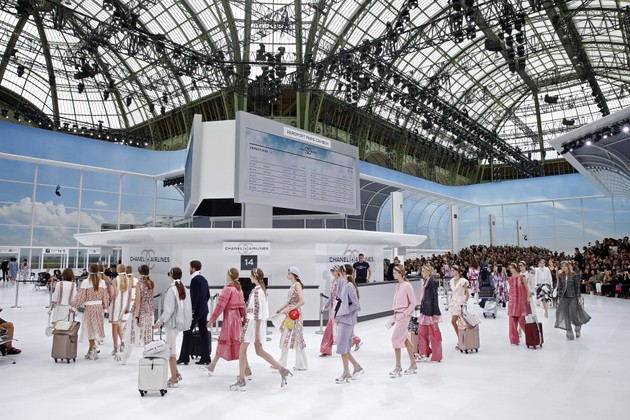 Cue, also, the irony. Lagerfeld's continued interest in commercial air travel—his 2012 couture show was inspired by, and set inside, a reconstructed plane—is especially remarkable because, if the 2007 documentary
Lagerfeld Confidential
is to be believed, the designer

resolutely flies private

.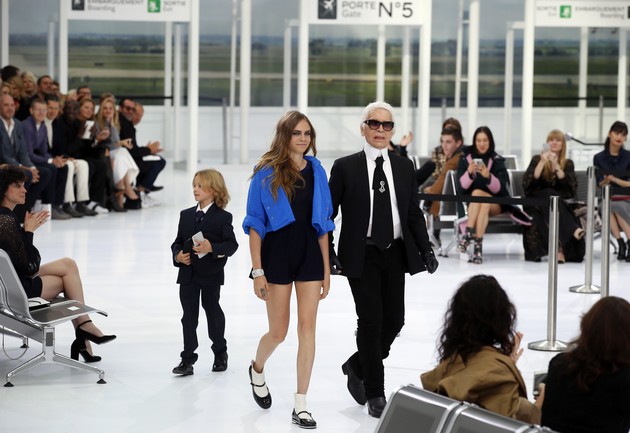 Nevertheless, the
show offered an eloquent argument against that traditional bête noire of fashion designers: travel clothing. Which often involves some version of yoga pants, sweats, or jeans. In place of these comfy standbys, Lagerfeld offered suit sets in explosive, primary-colored plaids. And full skirts wrapped around even fuller pants. And boxy jackets in hot pink and royal blue. And accessories that included Lagerfeldian fingerless gloves and, because of course, red aviators.
Chanel, with the show, also took a more literal approach to the idea of "plane clothes": Down Lagerfeld's runway walked silver-and-black designs more reminiscent of an airplane than of any of the clothes that might be jetted around inside it.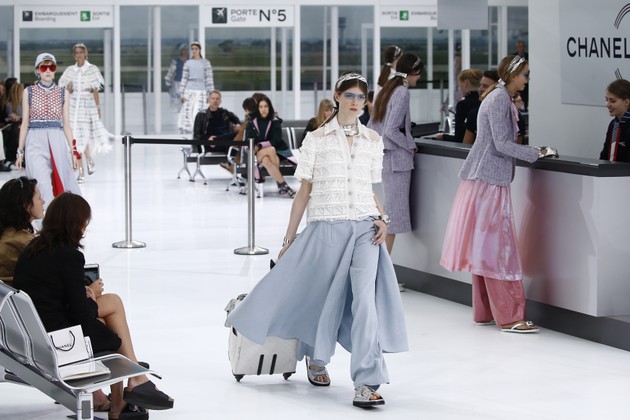 Also on display, though, was the message that comes through in all of Chanel's over-the-top shows: the difficulty of gaining attention for one's collection, even when the "one" in question is Karl Lagerfeld. The sense that clothes, in a crowded fashion marketplace, are not enough to make a splash—that something more is needed to win a big audience. (Remember when
Chanel shipped a 265-ton glacier from Sweden for Lagerfeld's 2010 show?)
Lagerfeld's latest follows in that tradition: It insists that clothes double as art, and therefore that their unveiling deserves much more than a utilitarian runway. "Chanel Airlines Terminal" argues that fashion deserves, in fact, an art installation of its own.