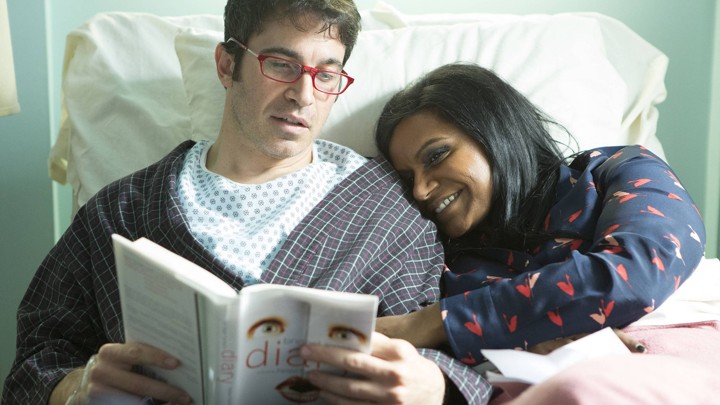 For a season that began in fantastical fashion—complete with an alternate reality where Joseph Gordon Levitt played the title character's seemingly picture-perfect husband—The Mindy Project's recent episodes have tackled issues of much more general concern. The central focus of "The Bitch is Back" and "Stay-at-Home MILF" was the agonizing internal debate Mindy faced on whether to go back to work after giving birth to her son, and how to communicate her decision to ultimately do so to her fiancé Danny.
The show's latest episode, "Mindy and Nanny," dodges this question while Danny is away visiting his sick father, and instead highlights the challenges of balancing work and childcare (at one point, Mindy hides her son in a cardboard box in the supply closet at her office), and of finding someone Mindy can trust to help watch over Leo while she temporarily returns to work.
While Mindy's conflicting feelings on the subject of staying home—she wants to be there for her son, but remains passionate about her job as an OB-GYN—are clear throughout the season so far, what's most powerful about these episodes is what's left unsaid.
Although Danny (a fellow doctor) continuously prods her to consider staying home, he's never once asked what his choice would be. True, his character has long been depicted as the epitome of an alpha male, but Mindy has also typically been portrayed as the archetypal alpha female navigating work, dating, and now, motherhood—so it's surprising that while he may not question this assumption, she doesn't either.
Instead, it's simply taken for granted that if anyone were to leave work to be a long-term primary caregiver, it would be Mindy. (And in this case, the salary of either partner doesn't seem to be a deciding factor, given that the show has previously hinted that Danny and Mindy attended medical school together and have what appear to be comparable jobs as OB-GYNS at their practice.)
The Mindy Project's overall portrayal of parenting provides a spot-on reflection of the current moment, but doesn't dare to question its constraints. "Being a working mom is really tough," says Danny in "The Bitch is Back," glossing over how hard it is to be a "working dad." In a recent interview with our business editor, Becca Rosen, Anne-Marie Slaughter notes that the term "working dad" isn't even part of broader vernacular because the responsibilities of fatherhood and work have long been viewed as ones that don't coexist.
The assumption that Danny wouldn't even consider being the stay-at-home parent—all other things equal—captures the prevailing nature of existing norms about parenting and the need for a fundamental shift in perspective. The question shouldn't by default be, "Will Mom stay home?" if parents decide this would be best for their child, but rather: "Which one of us will?"
We want to hear what you think about this article. Submit a letter to the editor or write to letters@theatlantic.com.
Li Zhou
is a former editorial fellow at
The Atlantic.