How Stephen Colbert Is Bringing Religion to Late Night
With Oprah as the Late Show guest on Thursday, the two swapped favorite Bible verses and discussed the differences between "belief" and "faith."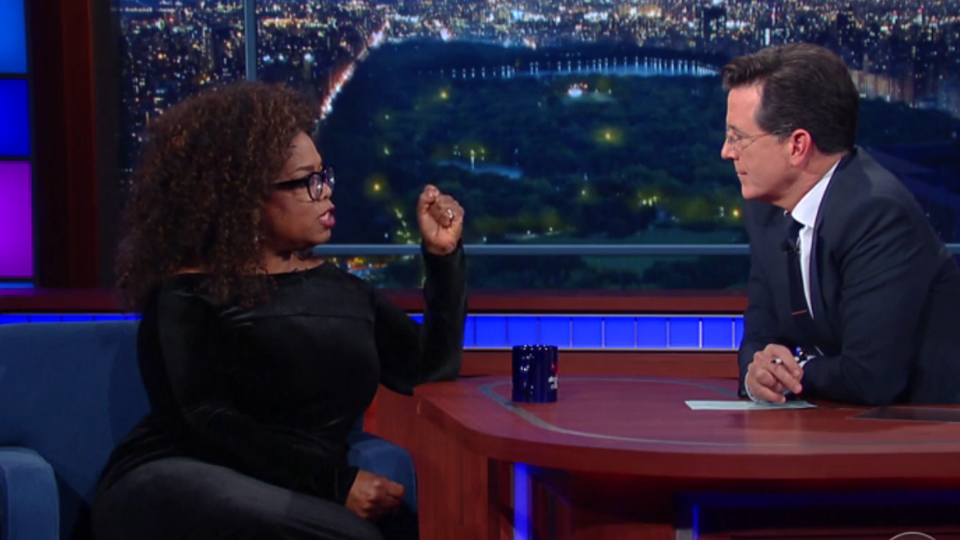 Stephen Colbert is
a practicing Christian
. He is
an ordained minister
. He
teaches Sunday school
. He is a person of deep faith and, more generally, of
deep spirituality
. That fact doesn't come up very often in his work—certainly not when he was playing an arrogant blowhard on
The Colbert Report
, and not a lot in his new role, playing himself, as the host of
The
Late Show
. Late-night comedy and religion—indeed, late-night comedy and spirituality—have traditionally had very little to say to, and about, each other.
Religion came up last night, though.
The context was this: Oprah was guesting on The Late Show to promote
Belief
, a seven-night miniseries on her cable network, OWN, that will explore the origins and impacts of different religious—and not quite religious—faiths. Oprah, reverting easily to her days as a talk-show host, was charming and chatty. She
joked about how, when she was younger ("
I'm talking 7, 8, 9, 12, 15"),
she'd been "
a little preacher." Her fellow students used to say, she recalled, "Here comes that preacher girl again." And their comments seemed warranted. "I was preaching the Gospel, yes, I was," Oprah said. "I remembered the Bible verses and passages."
Which was occasion for Colbert to ask her which of those Bible verses and passages is her favorite.
Oprah, perhaps knowing his background, asked him what his favorite verse was.
"Mine's from Matthew," Colbert replied. "I like it because Jesus says, 'So I say to you, do not worry, for who among you by worrying could change a hair on his head, or add a cubit to the span of his life?'"
He added: "What I like about it is that it's a commandment to not worry, and I'll go with that."
Then it was Oprah's turn. "Mine is Psalms 37:4," she said. "'
Delight thyself
'—I love that word 'delight,' don't you? I'm so glad that David knew it," she said (referring to King David, the author of the Psalms).
She continued, quoting the full verse, "
Delight thyself in the Lord. He will give you the desires of your heart."
Now what that says to me is "Lord" has a wide range. What is "Lord"? Compassion, love, forgiveness, kindness. So you delight yourself in those virtues where the character of the Lord is revealed. Delight thyself in goodness, delight thyself in love, kindness, and compassion, and you will receive the desires of your heart. It says to me, if you focus on being a force for good, good things will come.
Which … is not the typical stuff of late night. Colbert has gone of out his way to infuse his show with a kind of moral sensibility; on Thursday, however, his normally holistic humanism took a specifically religious (and specifically Christian) bent. It wasn't the first time, to be sure, that Colbert has discussed his religion publicly. It wasn't even the first time that Colbert has discussed his religion on his show.
D
uring his faith-infused interview with Joe Biden—a fellow Catholic—Colbert asked his guest,
"How did you maintain your real soul in a city that is so filled with people who are trying to lie to us in subtle ways?"
This time around, with the "little preacher" as his guest, Colbert used Belief's blunt title to ask Oprah whether she thinks there's a distinction between "belief" and "faith."
"Yeah, there is," she replied. "Because there are a lot of people who don't think they're faithful people, but have beliefs. You cannot be in the world without believing in something, even if you don't call it a deity. So there are people who believe in working hard and striving for their best, but don't necessarily have a religious belief."
Faith, on the other hand, she continued, "is very different, I think."
Faith "is knowing that no matter what, you're going to be okay. And I've always been a part of that faithful."
So, by all accounts, has Colbert. And now, significantly, the host seems to be actively ignoring
Frank Rich's declaration
, made after the premiere of
The
Late Show With Stephen Colbert
, that "his key to late-night success is avoiding piety." Piety was there, Thursday night, in abundance. And, perhaps even more significantly, without apology.
Which did not stop the two late-night Christians from appreciating the context of their quasi-theological discussion. When Oprah shared her favorite Bible verse with him, Colbert responded not just with a nod of recognition, but with a perfectly juvenile quip. "Oh, David was into delighting himself," he said.
To which the two dissolved into giggles.