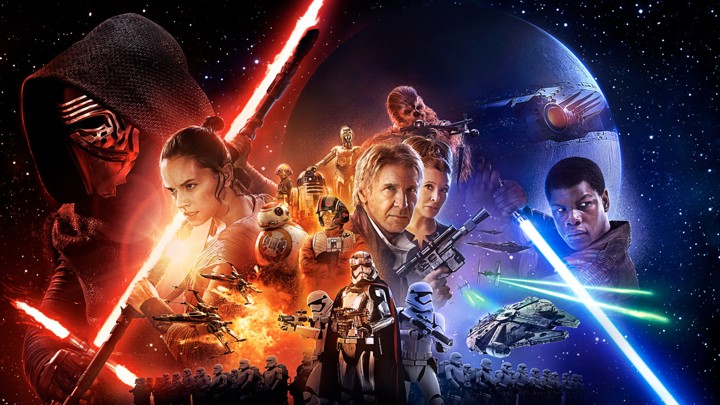 Let's face it, James Taylor was wrong. Sunday morning ain't easy; it's for the faithful. Churchgoers go to church, political junkies swerve between the Sunday shows, and pro-football fanatics tailgate or dabble in unregulated activity. All told, a pretty sizable swath of America seems decidedly busy on Sunday mornings.
You can add Star Wars hobbyists to the equation. The build-up to Star Wars: The Force Awakens got very real when a poster for the series' seventh installment was released on Sunday morning, exactly two months before the movie's December 18 premiere. (The first full trailer will premiere during Monday Night Football tomorrow.)
The great reveal sent franchise devotees into a conspiratorial frenzy, divining what plot points and particulars The Force Awakens might remit with the zealousness a new detective might bring to a first crime scene. Here are some of the primary developments.
Death Star 3.0?
The object in the top-right corner of the poster got the most attention right off the bat. Over at Entertainment Weekly, Anthony Breznican explains:
The new poster offers us something both new and ominous—the background of what looks to be an entire planet or moon, but … that's no moon. It's split in two and appears to be a massive weapon along the lines of the Death Star. Could this be the First Order's Starkiller base?
I'm not entirely sure what that last sentence means, but if it is a new Death Star, this would confirm what my colleague David Sims observed earlier this year about the franchise's recent efforts to trade in nostalgia to get older fans excited again.
Some of them were:
Is that a Death Star...AGAAAAAIIIINNN??????!!?? pic.twitter.com/SkcTpNN0tQ

— Mike Peterson (@MIKESMOIST) October 18, 2015
DUDE LIKE THATS A DEATH STAR HOW ARE WE NOT FREAKING OUT ABOUT THIS RN pic.twitter.com/oi1kNxM5nP

— Austin (@Pamaj) October 18, 2015
Some of them were not:
Death Star 3.0 - Now with an even bigger trench. pic.twitter.com/DKZxIENehb

— Emperor Palpatine (@LordPalpatine) October 18, 2015
The #1 way to make me uninterested in the new Star Wars movie is to be like "oh yeah, there is yet another Death Star." #VPofOutOfIdeas

— Jonathan Blow (@Jonathan_Blow) October 18, 2015
No Luke Skywalker?
Some of the buzz surrounding The Force Awakens has to do with the return of characters from the original three (and much more beloved) Star Wars films. Princess Leia (Carrie Fisher), Han Solo (Harrison Ford), Chewie, R2-D2, and others are there on the poster, but where o' where, is Luke Skywalker (Mark Hamill)?
*Sees the new #TheForceAwakens poster* Wait where's Luke Skywalker? *hyperventilates* pic.twitter.com/H9kjI1wjDW

— Scott Skellington (@itsScott_who) October 18, 2015
Y dónde está Luke Skywalker en el afiche oficial del episodio VII de Star Wars ??

— Bernardo Riffo (@briffo) October 18, 2015
For some, his absence raises questions about whether he will live for long in the seventh movie. Others worried that, save for his voice, he was absent from the previous two trailers. Elsewhere, it was conjectured that he was never going to be in the marketing materials.
Other concerns involved the status of Princess Leia's hair—buns gone, updo enacted and C-3PO's missing left hand. The worrisome placement and size of Lupita Nyong'o's character. There is more, so much more. Too much more.
Expect the intensity of this conversation to double, if not triple, when the trailer drops tomorrow night.
We want to hear what you think about this article. Submit a letter to the editor or write to letters@theatlantic.com.