Spring Awakening and the Power of Inclusive Art
The success of Deaf West Theatre's Broadway revival of the 2006 rock musical, performed in American Sign Language and English, proves how culture thrives by serving more communities.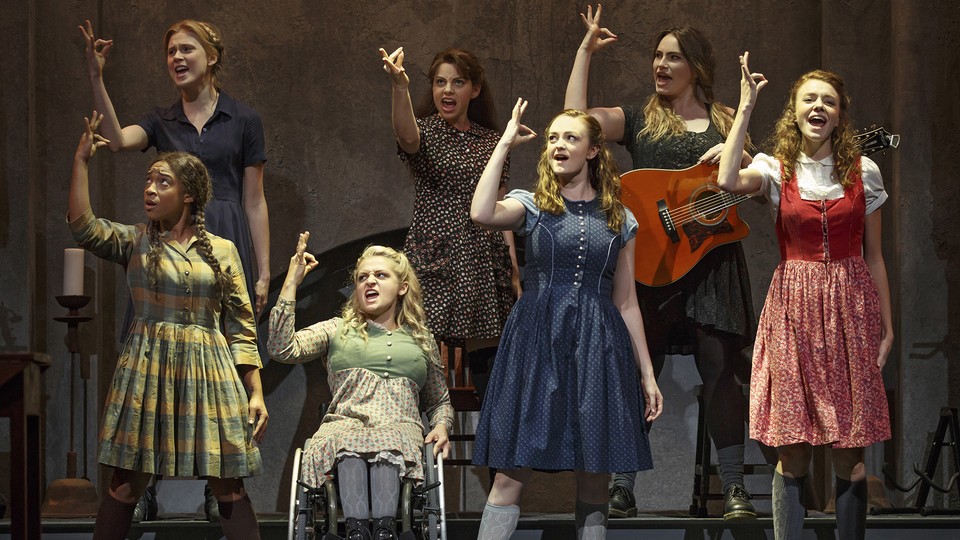 The scale and allure of Broadway theater has often made it a window of sorts into the popular American cultural imagination. Within the last year, Lin-Manuel Miranda's production of Hamilton has shaken up traditional conceptions of the Founding Fathers with its diverse cast and hip-hop soundtrack, while Lisa Kron and Jeanine Tesori's adaptation of Alison Bechdel's memoir, Fun Home, explores the complexities of sexual identity. Deaf West Theatre's revival of Spring Awakening, the rock-musical adaptation of Frank Wedekind's 1891 play about adolescent sexual exploration and tragedy, likewise considers a question that is increasingly relevant in culture: how to tell stories in more inclusive ways.
The production had already achieved commercial and critical recognition in California before it opened on Broadway on September 27. But the acclaim and attention the show—performed in American Sign Language alongside English—has received in the mainstream media speaks to a rising interest in ASL, as well as its cultural potential. The New York Times described it as "thrillingly inventive." The Wall Street Journal marveled at the accomplishment of combining deaf and hearing actors' talents, then ranked it "among the most emotionally charged renderings of a musical to come to Broadway in the past decade." The Washington Post called it "inclusionary, astonishingly alive," stating, "Sign language unlocks so much in the dialogue and emotion that you might wish more shows follow its example."
It almost goes without saying that the visual nature of ASL lends itself to this kind of theatrical impact, affecting even predominantly hearing reviewers. Since ASL has no written form, performance has a unique place at the heart of Deaf culture. (Although I will use its lower-case version henceforth, "Deaf" with a capital D refers to a distinct sense of cultural and linguistic identity that many individuals feel, intimately related to using ASL.) Whether in theater, storytelling, or poetry, the power of ASL has long created a sense of vibrancy in deaf communities, with performers such as Peter S. Cook, C.J. Jones, Clayton Valli, and Linda Bove drawing respect for their evocative signed performances in ASL theater and literature (Bove, who had a longstanding role on Sesame Street, was a consulting ASL translator for Spring Awakening). Until recently, many of these ASL performers had bypassed mainstream attention: Perhaps the most recognized deaf artist is Marlee Matlin, who drew wide acclaim for her Academy Award-winning performance in Children of a Lesser God and her appearances on The West Wing, and who makes her Broadway debut in this revival.
Spring Awakening, as innovative as it might feel compared to traditional musicals, isn't the first ASL-centered show to open on Broadway. The Los Angeles-based Deaf West Theatre, which has been in operation since 1991, received accolades in 2003 for its adaptation of Big River, co-produced with the Roundabout Theatre Company. Similarities exist between the two shows: Both are musicals featuring deaf and hearing actors, and both have been praised for their innovative reinterpretation of classic themes. However, the current relevance of ASL further enables Spring Awakening to bridge the divide between deaf and hearing worlds. The show's critical success reflects some of the ways in which modern mainstream audiences are encountering ASL anew, but it also presents a vision of how culture can be simultaneously inclusive, revelatory, and thrilling, giving audiences a space to encounter both deaf and hearing experiences of the world.
Story continues below
---
In Photos: American Sign Language and Spring Awakening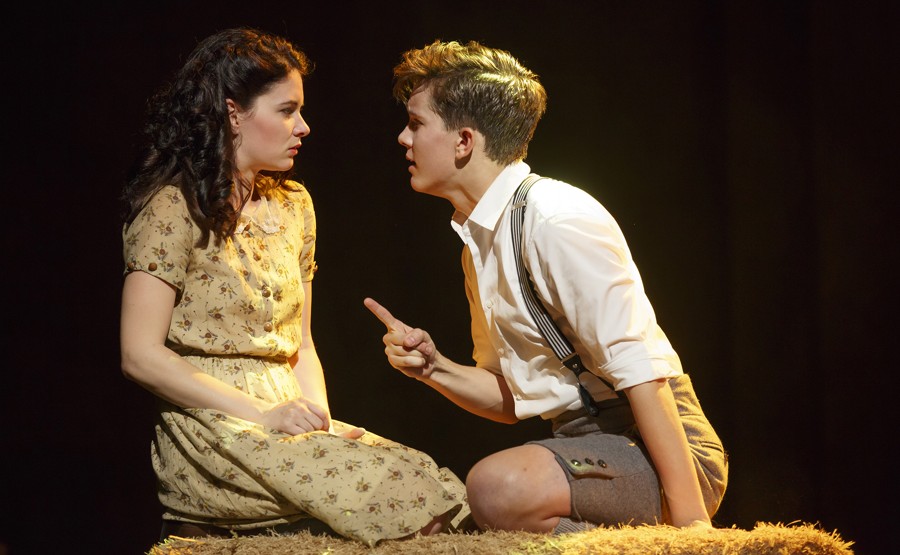 ---
Among the many cultural shifts sparked by the Internet is the fact that mass and long-distance means of communication have now become primarily visual rather than auditory. Platforms like YouTube, Skype, FaceTime, and social media have enabled a greater deaf interconnectedness, which has in turn prompted an explosion of creativity among the deaf community. Deaf artists share and promote their videos over outlets such as the Deaf Professional Arts Network (D-PAN). Signing deaf individuals routinely broadcast their thoughts on video blogs ("vlogs"). ASL music videos by deaf artists have risen in popularity. An ASL video of Pharrell Williams's "Happy" went viral last summer, as did (to a lesser extent) a recent rendition of Frozen's "Let it Go." On Twitter, a hashtag has emerged: #DeafTalent, proclaiming the importance and power of diversity in culture.
At the same time, the hearing mainstream has increasingly become fascinated with this visual, signing culture. As a deaf individual, I've been asked countless times how I can possibly appreciate music. But these days, I'm almost more likely to receive a message from a hearing friend saying, "Look at this ASL music video! How cool!" (Admittedly, whether these viral videos are created by deaf or hearing artists is an ongoing point of contention.) ASL classes are increasingly popular at colleges, and ASL interpreters like Lydia Callis, who played a key role in Michael Bloomberg's press conferences, have become stars in their own right.
Some of the current hearing curiosity about ASL can feel like voyeurism, without allowing much understanding of the deeper issues that deaf people still face in the U.S. and worldwide. Misunderstandings persist about how to communicate effectively with deaf and hard-of-hearing individuals, fraught discussions continue about the medicalization of hearing loss and technologies such as cochlear implants, and deaf and hard-of-hearing individuals are still more likely than their hearing peers to be underemployed. A gap remains between deaf and hearing communities, and culture might be one way to bridge it.
To say, then, that Spring Awakening dazzles mainstream audiences with its staging of that astounding novelty, a deaf musical, might be to overlook the full significance of this show. With every production element, Spring Awakening prompts audiences to consider fundamental questions about the nature of full inclusion and communication. Without being remotely voyeuristic, it invites viewers to engage with the signs and choreography of its deaf and hearing actors, without any further explanation. Whether deaf or hearing, signing or speaking (or singing), the cast appear to the audience simply as individuals.
Their use of sign language, which often includes touching each other's bodies to create explicit physical and linguistic meaning, heightens the musical's sexual themes. One scene at the beginning of the musical, talking about love, humorously misplaces the signs for "heart" and "vagina." Phallic signs abound, as do penetrative ones; the signing actors leave no doubt about how relationships are consummated. By its very nature, signing often communicates openly and without euphemism or elision, making it that rare cultural product that can be open and honest about sex.
Even for deaf theatergoers accustomed to gathering meaning through visual language, the design elements of Spring Awakening create such an optically rich experience that audiences have no choice but to engage. The musical's 19th-century period costuming isn't elaborate, nor is its set. Instead, the production draws energy from bright lighting, bold music, and choreography, which combines ASL with dance and gesture. It feels hyper-immersive throughout, especially during large musical numbers, when neon lights flood the stage and the actors' signing creates a sense of pulsating rhythm. The show also pays homage to its rock heritage via the costumes of the hearing alter egos who accompany some of the deaf actors onstage to voice their lines; instead of the corseted dresses and suits worn by the rest of the cast, these actors sport leather jackets and eye-catching jewelry, emphasizing the story's synergy with rebellion in other eras.
This production thematically connects the plot of the original Spring Awakening to a dark time within deaf history: the now-infamous Milan Conference in 1880, which banned the use of sign language in deaf education. This reference to the rise of oralist methods (which forced deaf students to learn via lipreading and speaking) emphasizes the dangers of marginalization and miscommunication already present in Spring Awakening's storyline of sexual self-discovery. A sense of oppression lingers in the show, particularly during an early scene in which a schoolmaster (Patrick Page) berates Moritz Stiefel (Daniel Durant) for signing his Latin recitations instead of speaking them aloud. Even as the audience marvels at the musical's feats of lyric coordination, the context points to the historical divisions that once (as the director Michael Arden puts it) doomed deaf children to a sense of "failure."
Historical context aside, the seamlessness of Spring Awakening's musical performance is indeed remarkable. The success of this staging is largely thanks to a highly coordinated system of physical and visual cues that enable its deaf and hearing actors to realize the musical's artistic vision. The overwhelming impression is one of inclusivity, assuming that members of the audience understand English or ASL (deaf or hard-of-hearing individuals who do not use ASL might be harder pressed to keep up given that the show has few subtitles). The musical often creates an impression of that rarefied state of being: a world where such distinctions as "deaf" and "hearing" might exist, but largely don't matter.
Perhaps the most remarkable example lies in the relationship between the two signing deaf leads and their hearing alter egos who sing and voice their dialogue, standing often (but not always) in the background. These "doubles" offer a fresh twist on the literary idea of "twinning" or "mirroring." The musical opens with the character Wendla (Sandra Mae Frank) smiling at her hearing double (Katie Boeck) in the mirror, then drawing upon her encouragement to speak to her mother. Later, Moritz and his hearing double (Alex Boniello) experience a joint moment of crisis, during which the double pulls out the pistol that will lead to Moritz's suicide. Before Wendla's own death, she's forcibly parted from her double, lending visible weight to the idea of worlds being rent apart. Instead of having the hearing actors merely "interpret" or "translate" for the deaf leads, Spring Awakening creates a space for deaf and hearing individuals to enter a relationship that feels two-sided, communicative, and almost unspeakably intimate. The musical suggests that these dimensions, the visual and the auditory, can become two very integrated sides of the same thing.
This intimacy, from an audience standpoint, also feels profoundly personal. As a deaf individual, I have rarely encountered performance spaces that are neither deaf nor hearing, but open to both. My prior experiences of the theater, when they have been accessible at all, have been mediated by an ASL interpreter, which—despite the level of the interpreter's practice or skill—doesn't achieve this same thrill of direct communication.
This diversity in outlook is a fundamental reason for Spring Awakening's appeal, as well as its role in prompting America's awareness of its vibrant deaf minority. The musical depicts an integration of culture and vision that some theatergoers—and, indeed, many hearing reviewers—might not have known they lacked. I went to see Spring Awakening with a hearing friend who knew no ASL. As the music began and we sat side-by-side, I felt very aware that the two of us were having two rather different theater experiences. When the lights came on for the intermission, I turned to him and asked what he made of it.
He told me the musical was inviting him to engage with different layers of communication he had never considered before. Well, that almost made two of us. Being deaf has made me consider, over and over again, the complexities of how we can communicate with people very different from us. But I, too, had never experienced a performance that did so much to erase those differences. When the encore came around, Spring Awakening, in keeping with its cultural moment but also outside of it, compelled many of us to do something that almost never happens in a mainstream space: forego clapping, together, and instead wave our hands in the air, expressing our admiration in entirely visual terms.