The New Politics of Late Night
With a segment called 'A Closer Look,' Seth Meyers is doing the kind of longer topical news pieces that Jon Stewart pioneered.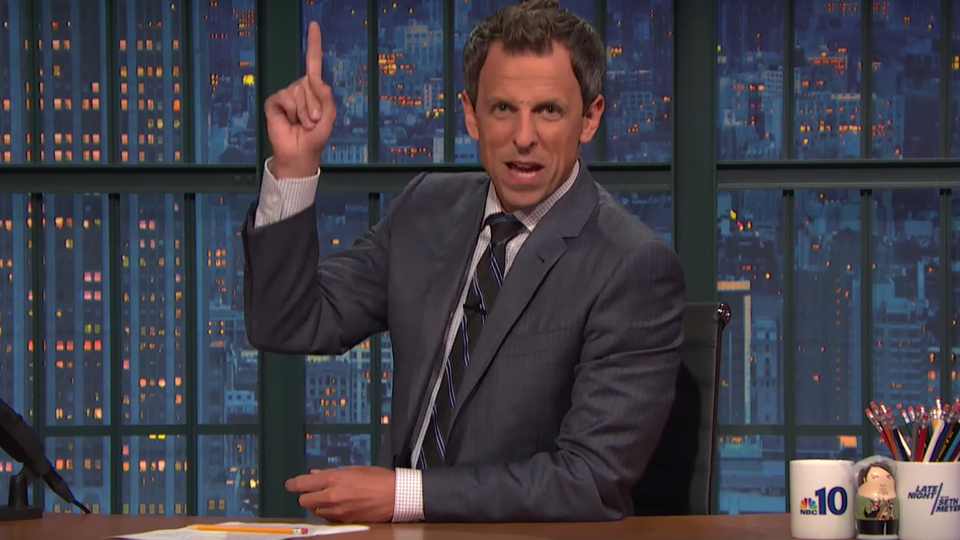 Jon Stewart might be gone from late night, but his influence is anything but forgotten. In the good old days, the "fake news" model pioneered by The Daily Show was the safest bet for stalwart truth-telling about current events. But these days, thanks to the success of Stephen Colbert and John Oliver and an increasingly dysfunction political system, half of the late-night universe is getting in on the game, none more incisively than Seth Meyers.
On Wednesday, the SNL alum examined a Congressional hearing about Planned Parenthood funding on Late Night.
Meyers has long excelled at political humor from his years chairing "Weekend Update" (and serving as head writer of Saturday Night Live during the 2008 and 2012 presidential elections), and he delivered a memorable turn when emceeing the White House Correspondent's Dinner in 2011. Still, Late Night, which follows The Tonight Show With Jimmy Fallon, has never been a brand known for topical humor. Under Conan O'Brien, it tended towards the absurd, and Fallon's emphasis on celebrity stunts and affable recurring sketches helped promote him to the top slot on the network.
But Meyers continues to find his voice on the show—moving his opening monologue behind a desk (to deliver jokes Jon Stewart-style, rather than David Letterman-style), and focusing his attention on longer segments about the news, rather than the short punchlines he was best known for at Saturday Night Live. "A Closer Look" splices the most inane congressional questions asked of the Planned Parenthood president Cecile Richards with Meyers's glib fact-checking. Recently Meyers used the bit to examine Donald Trump and Ben Carson's anti-Muslim sentiments, to similar success.
As Stewart and his colleagues proved, there's a real appetite for longer-form political comedy in the typically pithy late-night world. When Colbert moved his act from Comedy Central to CBS, pundits wondered if he would change his format, but the transition from The Colbert Report to The Late Show has been surprisingly seamless. Meanwhile, Oliver's Last Week Tonight on HBO has become such a pop-culture phenomenon, it's spawned its own genre of instantly mockable online content.
Trevor Noah has had a confident start to his time at The Daily Show, but his early ratings so far are relatively soft. Still, for late night, the battle for influence is waged online more than anywhere, and that's where these instantly shareable seven-minute takedowns of a specific issue can spread like wildfire. That's why Meyers is wise to focus his perspective to longer political bits—well, that and the fact that he's really good at it.