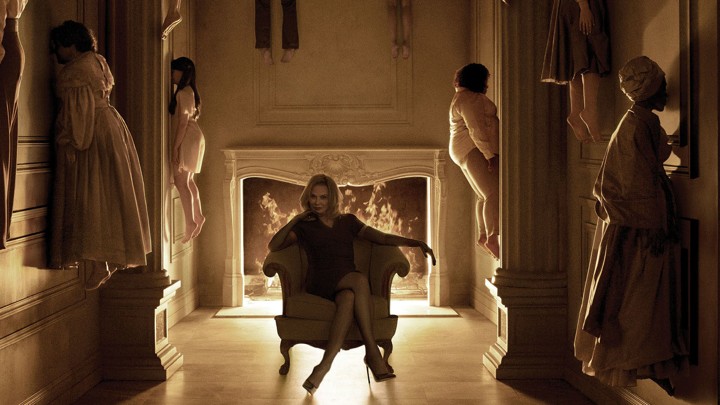 The Year We Obsessed Over Identity
Wesley Morris | The New York Times Magazine
"After centuries of women living alongside men, and of the races living adjacent to one another, even if only notionally, our rigidly enforced gender and racial lines are finally breaking down. There's a sense of fluidity and permissiveness and a smashing of binaries. We're all becoming one another. Well, we are. And we're not.
Dear Ryan Murphy: Please Stop!
Sonia Saraiya | Salon
"Murphy's method of grabbing the audience is either caustic, 'ironic' humor or horrifically awful sexualized violence. And it appears that each time you deploy a shock missile, your next one has to be twice as shocking. The result is a body of work that exploits as a prop and then quickly disposes of any number of actual social ills and real issues of oppression: rape, racism, homophobia, disability, eating disorders, murder. It's possible to make art out of narratives of violence, offense, and horror. I am really not sure if art is what we're watching, though."
The Problem With Cereal
J. Wesley Judd | Pacific Standard
"When a cereal café moves into a traditionally poor or minority community, the problem isn't necessarily that locals will suddenly begin eating Froot Loops for dinner, but instead that these places work to slowly fragment the local culture, to replace tradition with privilege, to create a new norm."
How ESPN's Fear of the Truth Defeated "Black Grantland"
Greg Howard | Deadspin
"Even now, there is nothing stopping ESPN from having the best black site in the world. Instead, ESPN brass is searching for an editor to keep the site safe, inoffensive, and mainstream."
The Price Is Right
Emily Nussbaum | The New Yorker
"Advertising is TV's original sin. When people called TV shows garbage, which they did all the time, until recently, commercialism was at the heart of the complaint. Even great TV could never be good art, because it was tainted by definition. It was there to sell."
First, Let's Get Rid of All the Bosses
Roger D. Hodge | The New Republic
"After wandering through a hip collection of retail establishments, including a vinyl record shop, an independent bookstore, and several restaurants, we arrived at the large open courtyard of the Zappos headquarters, a squat, almost Brutalist, building. A petting zoo had been installed for the afternoon."
How Tom Wolfe Became … Tom Wolfe
Michael Lewis | Vanity Fair
"I'd never really stopped to ask who had written any of those books, because … well, because it didn't matter to me who had written them. Their creators were invisible. They had no particular identity. No voice …  I asked a new question: Who wrote this book? Thinking it might offer a clue, I searched the cover. Right there on the front was a name!!! Tom Wolfe. Who was Tom Wolfe?"
Stop Sending Me Jonathan Franzen Novels
Barrett Brown | The Intercept
"Characters will sometimes think clever thoughts or even say them out loud, but not so often that this becomes unseemly. Now and again we are even presented with snippets of real insight. One can see how Franzen could have written a much better book 15 years ago."
The New York Film Festival Grapples With the Death of an Icon
Mark Harris | Grantland
"I wonder, now, what moviegoers will make of one of its final moments — a twist, in a way, in which suddenly it is Chantal Akerman who we see, far from her mother, in her own space. It's a room of her own but also a room that seems not to belong to her, and that will eventually be defined by her absence. She draws a curtain, and we are left, now permanently, looking for an answer in the emptiness of where she used to be."
Where Are the Female Thrill Killers in Fiction?
Melanie McGrath | Aeon
"Which is not to say that women who commit crimes of violence aren't ever victims too, but our willingness as a society to default to the idea of women as victims both of their own and others' frailties (principally men's) is open to exploitation­—not least by women themselves."
We want to hear what you think about this article. Submit a letter to the editor or write to letters@theatlantic.com.