Remembering Henning Mankell
The author best known for the Kurt Wallander mystery series died in Sweden of lung cancer. He was 67.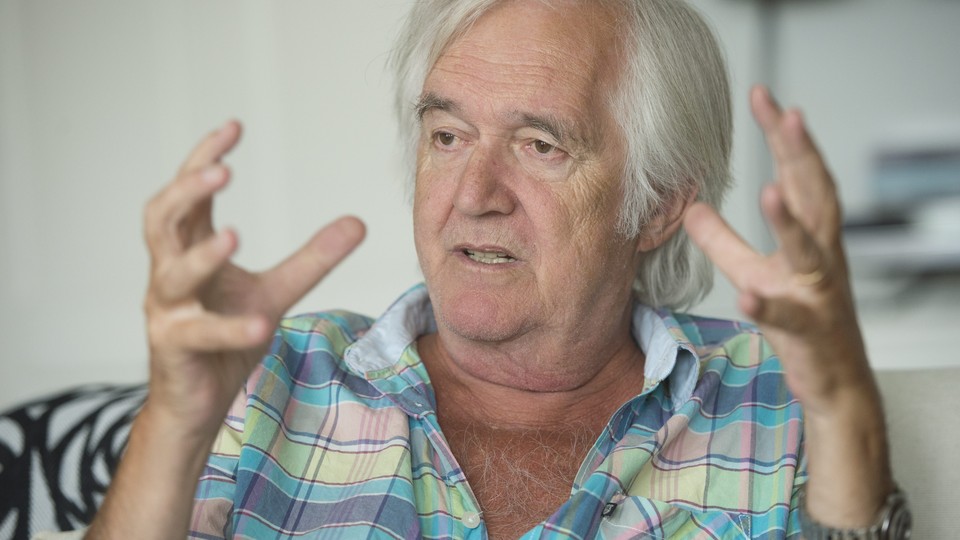 The author Henning Mankell, who died Monday at 67 from lung cancer, came up with the idea for Kurt Wallander after he returned to Sweden from Africa in the late 1980s and was shocked by the racism he saw there.
"Racism for me is a crime, and therefore it seemed natural that I wrote a crime novel," he said in an interview on his website. "It was after that the idea of a policeman was born."
What's striking about Mankell's series featuring Wallander is its ordinariness. An ordinary policeman, Inspector Wallander, solving crimes in an ordinary town, Ystad, with fewer than 20,000 people. Mankell used the inspector, whose name he fished out of a phone book, and the town to chronicle what was happening in Sweden.
"When I write, I always try to reflect the reality we live in," Mankell said. "A reality that is becoming rougher and more violent. This violence and its impact on people around it is what I try to reflect in Wallander. But reality always surpasses the poem."
Mankell certainly wasn't the first author to write about what he saw as the deficiencies of his society (Per Wahlöö and Maj Sjöwall did that with their Story of a Crime series); nor was he the most successful (that title arguably belongs to Stieg Larsson's Millennium trilogy). But what he did do was take a genre whose modern plot was crafted by Edgar Allan Poe and transform it into a lens through which to view the modern world—a trait Mankell shares with one of his literary heroes, John le Carré.
In the Wallander books, Sweden is racist, rife with corruption, and has betrayed the ideals of the 1960s. Still, as Mankell told The Telegraph in 2011, that wasn't how he viewed his home country.
"Sweden is still a very peaceful country to live in. I think that people in Britain have created this mythology about Sweden, that it's a perfect democratic society full of erotically charged girls," he said. "That's bullshit and one of the things I've tried to do is correct that."
And correct it he did. From Faceless Killers, published in 1990, to Troubled Man, published in 2009, Mankell—and through him Wallander—chronicled many of the changes witnessed by Sweden and, indeed, Europe. It explored Sweden's immigration policy, crime in Europe caused by the fall of the Soviet Union, child abuse, and torture.
The Murder at the Vicarage this is not. In fact, he saw Macbeth as the ideal crime story because it is a "terrible allegory about the corrupting tendency of power." Readers across Scandinavia, Europe, the U.S., and eventually the rest of the world lapped it up. Mankell saw his work translated into more than 40 languages and sell more than 30 million copies, cementing his place as the dean of Nordic Noir. There were also Swedish film and TV adaptations, as well as the British series starring Kenneth Branagh as Wallander.
It didn't hurt that Wallander was relatable—and likable. He is diabetic, a workaholic, drinks too much, overeats, is divorced, and has a hard time with relationships. He has a complicated relationship with his daughter, and is the caregiver for his father, an artist afflicted with dementia.
"We share the love of music and we both have a Calvinist attitude towards work," Mankell said of his hero. "But otherwise, I am not very fond of Wallander as a person, but it doesn't matter since he is fictional and only exists in my head."
Mankell did not like being asked about his similarities to Wallander, but there were a few: Like Wallander, he was abandoned by his mother and raised by his father, and he apparently had trouble with relationships. Mankell was divorced three times before marrying Eva Bergman, Ingmar Bergman's daughter, in 1988.
"It shows I am an optimist," he told The Guardian in an interview.
But there are differences, too; one being the fact Mankell was an outspoken member of the Swedish left, and a strident critic of Israel and its policies in the Palestinian territories. He was aboard the Gaza-bound flotilla that was blocked by Israel in 2010, and arrested. He accused the Israelis of being "out to commit murder."
In January 2014, Mankel was diagnosed with cancer, and he decided he would chronicle the treatment and its effects in columns published in several newspapers.
To say Mankell had a complicated relationship with his most famous creation is an understatement. Before his success with the Wallander novels, Mankell was a well-known playwright and the author of 40 books, including some for children. He ran a theater in Mozambique, where he spent much of the year. Upon consigning Wallander to a facility for those with Alzheimer's in Troubled Man, he said: "I shall not miss" him, before adding: "It is the reader who will miss him."
It's safe to say that while Wallander will live on in reprints and adaptations, readers will miss the man who created him.